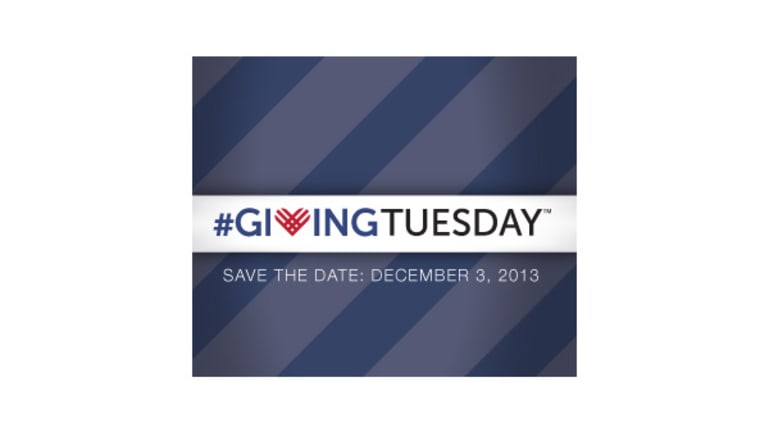 Publish date:
#GivingTuesday Plans a Generosity Celebration
An organized national day of giving is serving to highlight both the needs and selfless charity of our citizens year round.
An organized national day of giving is serving to highlight both the needs and selfless charity of our citizens year round.
NEW YORK (TheStreet) -- Nonprofits for years have been faced with pressure from a too-slow rise in private donations, declining subscriptions and a long-term erosion of government support. Understanding that it's a national problem, they're now organizing to do something about it.
#GivingTuesday, a national day dedicated to doing good deeds and encouraging others to do the same, was created in 2012 in part to counteract the pressures nonprofits are facing. The idea was for a day of giving coming on the heels of the big retail events of Black Friday and Cyber Monday. #GivingTuesday falls on Dec. 3 this year.
Founder Henry Timms, the interim executive director of New York City's 92nd Street Y, said in an interview Thursday that the goal was to bring the country together around a theme of helping one another.
"We're a community center -- that's what we do," said Timms, referring the 92nd Street Y. "And reimagining what a community center could be" led to the #GivingTuesday concept, he said.
The 92nd Street Y, a New York Jewish community center open to the public and unaffiliated with the YMCA, is itself a large nonprofit and an important cultural presence internationally as well as locally within New York City. While the Recession and its aftermath have hit nonprofits hard, seeing those problems only as a matter of money is missing the point, Timms says.
"All nonprofits are facing the same problems now," he said. "How do we handle innovation? We have to think about how we can renew traditions and new ways of serving our mission... I think the driving force is how we serve our mission in the 21st century. When the nature of community is changing so much, how do you scale your values as an organization?"
To that end, he sees #GivingTuesday as a catalyst. The inclusion of a hashtag in its name indicates not just the push to reach audiences through new channels, but also that giving -- doing good for the community -- is a topic of common concern.
"Everyone from [multibillionaire] Bill Gates, who endorsed the #GivingTuesday campaign, to the average American -- we were always hoping to create something that would be relevant to everybody. Something that can unite people," Timms says.
"There's so much that can divide people. We really hope #GivingTuesday can be a unifying force."
The idea for #GivingTuesday received critical input and support in its initial stages from the UN Foundation, which signed on early as a partner, and representatives at Mashable and Facebook (FB) - Get Facebook, Inc. Class A Report, who helped to refine the parameters for the project. During the planning, Timms said, the project came to be thought of not just as a single-day fund drive, but as a kickoff for holiday contributions that would ultimately help boost momentum for giving for the entire year.
While many nonprofits will set aside the day for fundraising under the #GivingTuesday logo, the group encourages each organization to incorporate the concept into its mission in its own way. The Family Dinner Project, for example, promotes the day as a time to encourage families to talk about the importance of giving. Some employers have offered to let workers have Tuesdays free to do volunteer work for the final weeks of the year.
Bank of America (BAC) - Get Bank of America Corp Report will use the day to highlight its partnership with Feeding America, offering a 2-to-1 matching gift up to $1.5 million toward Feeding America's Give a Meal campaign. The 2-to-1 match will apply to money raised between Nov. 18 and Jan. 10.
This year, #GivingTuesday has also branched out beyond U.S. borders, with organizations involved from Israel, Latin America and Singapore.
Positioned to come directly after the major holiday-shopping days of Black Friday and Cyber Monday, #GivingTuesday would seem to be shot across the bow of an out of control consumer culture. But Timms doesn't see it that way.
"We always thought about it in a very positive sense," he said. The months around the holidays have traditionally seen higher levels of charitable donations, he pointed out. "We literally call it the 'giving season'," he said.
The retail world in recent decades has become very good at coordinating consumers around a designated holiday shopping season, and the media attends closely to the numbers reported at the start and at the finish of each season.
"Just as the retail season has a big start and a big finish with Black Friday and Cyber Monday [into the holidays], we wanted the giving season to have a big start and a big finish," Timms said.
Coordination on a national scale is a key part of that effort and a big reason the group made the decision to integrate social media. People in general seem more willing to participate in an activity and more able to enjoy it, when doing so also gives them a sense of belonging.
So much in our culture emphasizes superficial views of personal lives, Timms says, but "nothing replaces people coming together." #GivingTuesday succeeds because it turns the act of building up community organizations into "a celebration," he said.
"One of the things that makes American great is generosity," Timms said. "It's one of the core themes of this country and I think #GivingTuesday can be a celebration of that too."
And it is working. The 2012 debut of #GivingTuesday saw 2,500 partners signed on and a 53% hike in charitable donations over the same day the year prior. Timms said the group was delighted with the response. This year, the effort has more than doubled its list of partners.
"We have now made the 5,000 goal, and the numbers are shooting up in the hundreds [more added] each day right now," Timms said. Asked whether the group expected to see a 53% increase in donations over 2012, Timms said, "We wouldn't be so bold as to think we could repeat those results, but we're hopeful."
But the greater outcome of #GivingTuesday could ultimately be a heightened awareness of charitable opportunities in general and an increased emphasis on giving as a way of participating in society, with both compassion and joy.
"That has to be our goal," Timms said. "If giving is a marriage we want #GivingTuesday to be the anniversary."
--Written by Carlton Wilkinson in New York and Asbury Park, N.J.