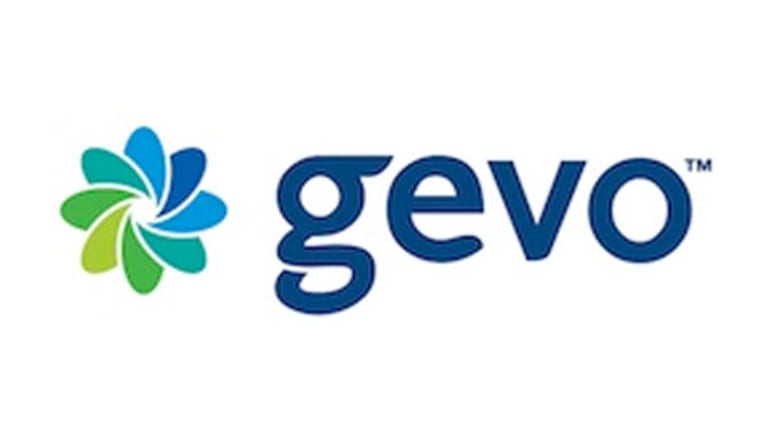 Gevo Biofuel Sees Growth on Ford, Coke Ties
Gevo's synthetic technology is showing up in some familiar brands.
NEW YORK (
) -- Shares of thinly followed small-cap biofuel company
Gevo
(GEVO) - Get Gevo, Inc. Report
have been in the spotlight thanks to its partnership with
Coca-Cola
(KO) - Get Coca-Cola Company Report
and a new use of technology by
Ford Motor
(F) - Get Ford Motor Company Report
.
Gevo's technology centers around renewable chemical and biofuels. Specifically, Gevo produces isobutanol from renewable sources. Gevo gives ethanol producers an opportunity to increase their margins through its technology. Gevo's ethanol and isobutanol produced can be bought at lower costs by customers like airlines and plastic container users. Isobutanol is a renewable fuel that can be turned into jet fuel and plastic through chemical processes.
Production is currently in the early stages for Gevo, saying it plans to expand production capacity to produce and sell over 350 million gallons per year of isobutanol by 2015. In June, the company
production of isobutanol at its Luverne, Minn., plant and is preparing to ramp up production for 2014. The Luverne plant currently produces 22 million gallons per year of ethanol and an additional 18 million gallons of isobutanol.
Back in 2011, Gevo
announced
a joint partnership with Coca-Cola to improve the beverage company's packaging. Coca-Cola's
PlantBottle
packaging is the first ever recyclable plastic bottle made partially from plants. Now, with Gevo, Coca-Cola is on its way to producing a 100% plant-based bottle using renewable para-xylene. Coke launched the plant bottle technology in 2009. Since that time, over 18 billion bottles in 28 countries have been sold in this plant based bottle.
Ford's
use of Gevo technology
was big news for the company. Ford is essentially using the Gevo technology used by Coca-Cola to improve the interior of its automobiles. The technology is being used as part of the interior fabric on the new Ford Fusion Energi Plug-In car. The polyethylene terephthalate, or PET for short, packaging will be used for seat cushions, seat backs, head restraints and door panel inserts.The new Ford Fusion Energi Plug-In hybrid car was recently displayed at the Los Angeles Auto Show. The Fusion Energi is the most fuel-efficient car Ford has ever produced and the interior of the car will now also use less oil with Gevos help. If all Ford model
interiors
used the Plant Bottle technology, it would save 295,000 gallons of gasoline and 6,000 barrels of oil, according to Gevo.
For Ford, the new interior could also help be a selling point as a more green car than competitors. In the month of
, Ford overtook the number one spot for plug-in hybrid automobiles. Ford sold a total of 2,179 vehicles of its Ford Fusion Energi and C-Max Energi models. (Rival
Toyota
(TM) - Get Toyota Motor Corp. Sponsored ADR Report
sold 2,095 cars in its Toyota Prius Plug-In Hybrid line.)
This was a large increase from the 1,508 number Ford posted in September. Ford now controls over 30% of the plug-in hybrid market.
The use of Gevo's technology in Ford vehicles is a clear winning strategy for Gevo as it will boost licensing and royalty revenue on the balance sheet. The deal also sets Gevo up for future deals with other Ford models or additional automobile companies.
Ford and Coca-Cola are two of several companies that are using Gevo's technology and products. Here is a list at how several produced items are being used by large companies:
· Synthetic rubber -Lanxess
· Gasoline blendsotck -- Total (TOT) - Get Total SA Sponsored ADR Class B Report
· Solvents -- Sasol (SSL) - Get Sasol Limited Sponsored ADR Report
· Materials, Plastics, Fibers -- Toray
· Biojet fuel - U.S. Air Force, U.S. Department of Defense, United Air Lines (at O'Hare Airport)
On Nov. 5, Gevo
reported third-quarter earnings
. The company saw revenue increase to $1.1 million, up from the previous year's $600,000. Revenue was helped by proceeds from deals with the U.S. Air Force and Coca-Cola. Research and development costs rose to $5.5 million. In the third quarter, Gevo signed a deal with the U.S. Navy and the U.S. Coast Guard, which called for a minimum of 20,000 gallons of jet fuel with an option for 90,000 gallons.
Another feature from the third-quarter earnings is Gevo's licensing power. Gevo holds over 450 patents and is in the process of monetizing its technology. The company licensed its GIFT technology to IGPC, an Ontario-based, famer-owned co-op. In the question and answer portion of the
, executives said they are talking to others about licensing this technology to additional companies.
The opportunities for international licensing of this technology could greatly boost the share price as every new deal is announced. I would also think that some large international company might consider a joint venture or partnership, taking a partial ownership stake and the licensing abilities in exchange for the financing Gevo will likely need in 2014.
With shares trading under $2, it's hard to believe that Gevo was once a $25 stock, a level it reached back in April 2011. The company went public in February 2011 at a price point of $15, which was the high end of given pricing range. Shares last hit the double digit mark back in April of 2012. The fundamentals for the company havent changed and in my opinion, Gevo is stronger today going forward than it was at the time of the IPO.
The short term is not incredibly bright for Gevo as analysts continue to see the company losing money. For the current fiscal year, analysts think the company will post a loss of $1.49 per share. This would be an improvement from last year's $1.86 loss per share. Revenue is expected to decline over 67% to $7.9 million. The picture for fiscal 2014 turns a little bit better, as loss per share is expected to improve to 99 cents. Revenue for fiscal 2014 is expected to rise an incredible 354% to $35.9 million. Investors are currently betting against the stock, as 25% of the float is held short.
Gevo has the right technology and, now, the right partners in place. With ramped-up production and new avenues of product use, Gevo could see a significant boost in its share price. I expect an update on isobutanol production soon and also an updated delivery announcement for jet fuel to military programs. Shares are ready to continue their break out and should double by the end of 2014.
This article was written by an independent contributor, separate from TheStreet's regular news coverage.
Chris Katje has been fascinated with the stock market since a young age. That passion turned into a freelance writing career that began in 2008. Mr. Katje has seen his work appear on Seeking Alpha, the Motley Fool, The Street, and Variety. Chris's annual top ten stock picks list continues to beat the market and grow in popularity. You can follow Chris on Twitter (@chriskatje).