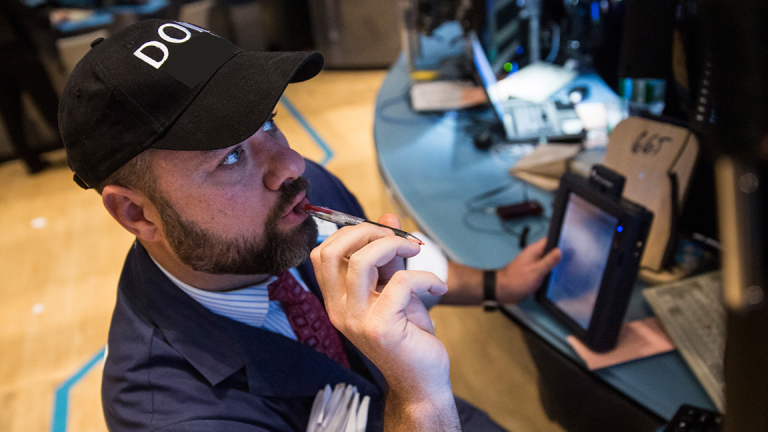 This Emerging Stock Market Phenomenon May Get Wall Street Excited: Market Recon
Forward guidance will greatly impact the equity markets in general. But in the meantime, the market's strength has begun to spread.
"The investor of today does not profit from yesterday's growth." -- Warren Buffett
All About Growth
Last week, stocks seemed to rally in methodical fashion, each day building upon the previous day's structure. It would appear that there wasn't much thought going on beneath the surface, where I believe the way that stocks are rotating is telling a significant story of growth. Over the last month or so, we have seen money pouring into the financial sector as yields have risen, and the probability of a hawkish move by the Fed in December has climbed. At first, it was plain to see that this money was being pulled from the tech space. That changed over the last week, as the two sectors showed some life together, outperforming the S&P 500. A rally led by the banks is precisely what you want to see in terms of quality. Obviously, the third-quarter earnings that we see later this week, more precisely forward guidance, will greatly impact not just the sector, but the equity markets in general.
It's not just sectors, it's also broader industry-based indices. The outperformance over recent weeks by the Russell 2000 over the S&P 500, as well as what the transports have done versus the broader markets in general, as well as the utilities, which have sold off for the same reasons that the banks have rallied. It's called growth or reflation, and its expectations are visible everywhere, despite skepticism over the possibility of tax reform. Just take a look at staples versus discretionaries. The tale is being told there as well.
Perhaps this growth is organic, and the equity market, as would be normal, is out in front by half a year to a full year. The improving manufacturing sector owes a lot to the weaker U.S. dollar this year, as does the improved trade balance. For the positive trajectory seen this year to continue, it is this growth that remains paramount, and nipping recent dollar strength in the bud would be a significant part of that.
Cost Cutting
Of course, being a trader who has pounded the table on behalf of the defense industry, and having told the world many times that I was long Lockheed Martin (LMT) - Get Lockheed Martin Corporation (LMT) Report , any news covering cost controls place over the F-35 fighter aircraft catches my attention. The plan is that the Department of Defense would spend about 30 years buying another 2400 of these aircraft. The DoD's goal is to get the price per fighter down to $80 million per by the year 2020. For reference, the last batch put in to service by the U.S. Air Force ran at a cost of $94.6 million each.
The possibly bad news, from an investment perspective, would be the Pentagon's rejection of Lockheed's own cost-cutting plan, which probably could have been expected. Parts of the aircraft are made by Northrup Grumman (NOC) - Get Northrop Grumman Corporation Report , BAE Systems (BAESY) , and the Pratt & Whitney unit of United Technologies (UTX) - Get United Technologies Corporation Report , so this impacts a lot of players. All have invested tens of millions of dollars in shaving the costs of such benefits, in order to sell more of them. U.S. allies also have plans to buy 500 of these planes over the next five years, on top of DoD purchases. This tale will be told going forward, and threats to present headline risk to asset prices will almost certainly be made, or perhaps tweeted.
I don't think it likely, but anything is possible. Should the DoD round out F-35 purchasing with a modernized version of the F-18 Super Hornet , the winners would be Boeing (BA) - Get Boeing Company Report , Northrup Grumman again, as well as components that are made by Raytheon (RTN) - Get Raytheon Company Report and General Electric (GE) - Get General Electric Company (GE) Report .
Earnings Season Calls
General consensus for third-quarter earnings growth on a year-over-year basis is for just about 3.2%. Don't look so sad. We all knew that double-digit growth would become tougher as comparisons became tougher. That 3% tag sported a six-handle before downward revisions to expectations started coming in. This, too, was expected. What's a little scary to me, is the lofty expectations across the energy space. Don't get me wrong, it's good to see, but we're looking at triple-digit growth there, which means absolutely meager growth elsewhere.
Look for outright earnings contraction across the financial, telecom, and utility sectors, and the tech sector possibly being the only sector away from the weak comparison supported energy sector to sport double digit growth. This is why the growth story referred to in our opening paragraph is so important. If the growth is there, the equities are not nearly as overvalued as many pundits are trying to make them out to be. Should that reflation story not materialize ... well, then, we'll have a problem. No fear.
There are no significant domestics macro-economic events scheduled for Monday.
Sarge's Trading Levels
These are my levels to watch today for where I think that the S&P 500, and the Russell 2000 might either pause or turn.
SPX: 2570, 2561, 2553, 2544, 2535, 2529
RUT: 1527, 1520, 1513, 1506, 1499, 1491
There are no quarterly earnings reports scheduled for Monday.
Some inspiration this Monday via Clorox (CLX) - Get Clorox Company Report .
_________________
Join Jim Cramer, CNBC's Jon Najarian and Other Experts Oct. 28 in New York
Jim Cramer will host CNBC's Jon Najarian, TD Ameritrade's JJ Kinahan, famed analytics expert Marc Chaikin and other market mavens on Oct. 28 in New York City to share successful strategies for active investors.
You can join them as they discuss how smart investors can make the most of options trading, futures contracts, fundamental and quantitative analysis and great ETFs to buy right now. Participants will also get a chance to meet Jim and other panelists and take photos.
When: Saturday, Oct. 28, 8 a.m.-3 p.m.
Where: The Harvard Club of New York, 35 West 44th St., New York, N.Y.
Cost: Special early bird price: $150 per person. (Normal price: $250)
Click here for the full conference agenda or to reserve your seat now.
More of What's Trending on TheStreet:
At the time of publication, Stephen Guilfoyle was long LMT, GE, RTN, although positions may change at any time.