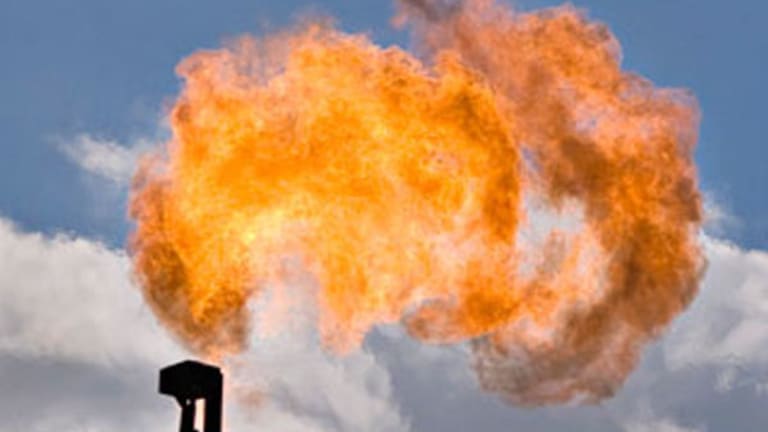 NEW YORK (TheStreet) -- The collapse of the price of oil is nearing its one-year anniversary and we're still waiting for the consolidation I think is required to really clear the supply glut that started it all.
While that avalanche of merger and acquisition deals may still be months away, we're clearly getting a lot closer to it because so many U.S. shale companies are finally reaching good values and becoming more likely buyout targets.
If you've read my book Shale Boom, Shale Bust: The Myth of Saudi America, you already know my timetable for when the end of the current oil bust will come. But one thing that I believe must happen is a whole scale reconstruction and consolidation in the U.S. shale oil producers -- not only the recapitalizations that have been already going on, but the wide-scale mergers and complete buyouts of very large and asset rich U.S. oil companies by the cash-rich majors and some private equity firms.
So far, very little of that has happened, as U.S. oil majors including Exxon Mobil (XOM) - Get Exxon Mobil Corporation Report and Chevron (CVX) - Get Chevron Corporation Report have shown extreme patience in waiting for the oil market decline to completely shake out the market players.
That has been happening because the share prices of the most tempting independent oil companies are now approaching very tasty levels for these cash-rich players and are proving that Exxon's and Chevron's patience has been a real virtue.
Let's look at Hess (HES) - Get Hess Corporation (HES) Report, for example, one of the original Bakken shale producers. Hess shares have dropped from $100 to now trade at $63 since the bust started in August 2014. Anadarko (APC) - Get Anadarko Petroleum Corporation Report, a shale expert as well as a Gulf of Mexico producer, is down from $110 to $75. Pioneer Natural Resources (PXD) - Get Pioneer Natural Resources Company Report, a Permian basin specialist, has dropped almost in half from $225 to $133 and Continental Resources (CLR) - Get Continental Resources, Inc. Report, another Bakken powerhouse, is down even more -- from $80 a share to trade now at $37.
It has been the sustained low price of oil that has continued to put pressure on all of these companies' share prices and put them in what I think are now very tempting buyout territory. The credit issues that plague them all are far less onerous for the majors and their ability to restructure debt using their much stronger credit positions and the shale assets of these large independents are undoubtedly some of the best.
While I am not recommending putting together a cocktail of these company stocks and waiting for the M&A avalanche to happen, I am saying the prices are starting to get right for you to see some of those long-awaited M&As begin.
Moreover, I am saying that the beginnings of this trend of buyouts and mergers is something to be aware of. It will mark the beginning of a very long, very profitable opportunity in the oil sector.
So, watch the M&A space for the best indication of when this shale bust is finally nearing its end.
This article is commentary by an independent contributor. At the time of publication, the author held no positions in the stocks mentioned.