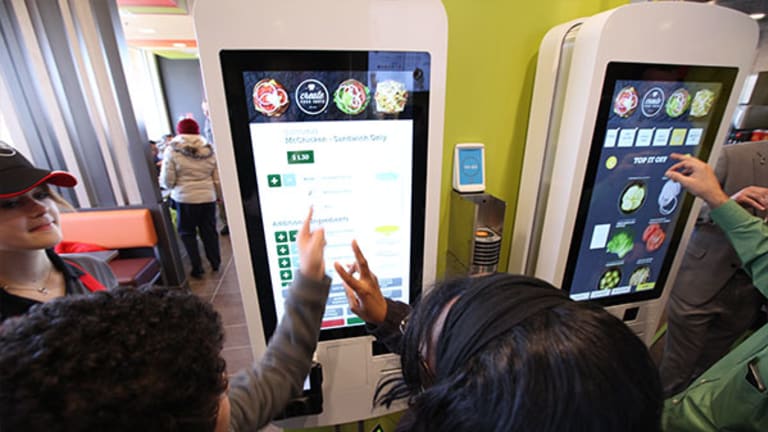 Get a Glimpse of the McDonald's of the Future
A McDonald's franchisee in Missouri is poised to unveil one fancy restaurant.
The McDonald's (MCD) - Get McDonald's Corporation Report  of the future could serve up a tech experience along with a side of fries.
According to a recent Facebook post, a McDonald's franchisee in Missouri is undergoing a remodel to his restaurant that will outfit it with large touch-screen ordering kiosks that allow for customized burgers, walls painted in earth tones, couches, digital menu boards and pendant lighting that looks fresh out of Ikea.  The restaurant, which is scheduled to open on July 26, will even have table service and offer unlimited fries.  
Talk about a far cry from most McDonald's restaurants in the U.S. today, which tend to feature rock hard seats, interiors that pay homage to the chain's heyday in the 1950s and 1960s, and exteriors with Ronald McDonald statues out front. 

My local McDonald's in Islip, N.Y. has a Chevy car bumper on the wall and no ordering kiosks.
The Missouri location is just the latest example of McDonald's attempting to improve its image at its more than 14,000 U.S. restaurants, while using technology to bolster customer service. According to a source who attended the annual McDonald's Worldwide Convention this week, the company now has self-ordering kiosks in 600 U.S. restaurants. By year's end, it plans to have them in 1,000 locations. In addition, the kiosks have a much sleeker look than earlier iterations (photo below).
McDonald's expects to "re-image" or remodel 400 to 500 restaurants in the U.S. this year, with enhancements including the addition of side-by-side drive thrus and potentially, digital menu boards in all restaurants.
McDonald's has pegged its capital expenditures at $2 billion in 2016, with half allocated to reinvestment in its best locations around the globe. The other half will be used to open roughly 1,000 new restaurants.