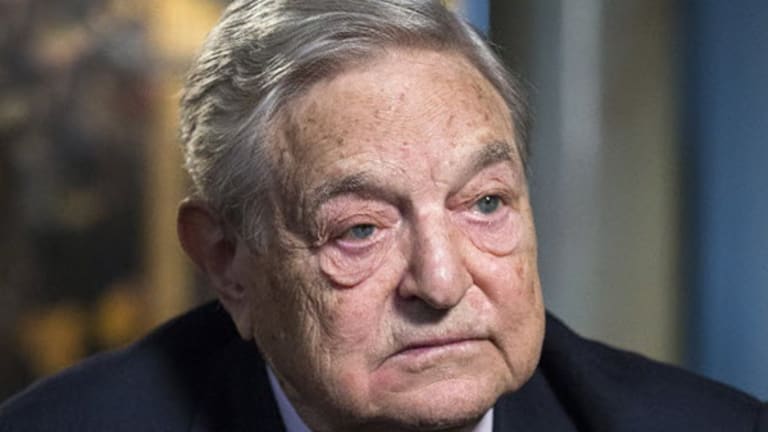 George Soros Is Betting on Gold and Against the U.S. Economy
The famous investor and chairman of Soros Fund Management is doubling his bet against the S&P 500.
George Soros, the man who broke the Bank of England by short-selling the British pound, is at it again. And although he seems negative on more than half the world, this time he has the U.S. in his decidedly not rose-tinted sights.
The chairman of Soros Fund Management has doubled his bet against the S&P 500 via a 2.1 million-share put option on the SPDR S&P 500 ETF, displaying his pessimism about the strength of the U.S.'s economic recovery. His fund also cut its publicly disclosed U.S. stock holdings by 37% in the first quarter, indicating caution. But perhaps most telling of all, he seems to find refuge in gold, a classic safe-haven investment during times of economic uncertainty.
In the first quarter of 2016, Soros purchased $264 million worth of shares in Barrick Gold (ABX) , the world's largest gold miner. Soros also acquired 1.1 million options to buy the popular SPDR Gold Trust ETF (GLD) , which mirrors the price of gold and is already up close to 21% this year.
At the World Economic Forum in Davos, Switzerland earlier this year, Soros expressed deep concerns about deflation in China, low oil prices and currency devaluation. 
Gold s a classic hedge in volatile economies because it tends to retain its value over time. 
The precious metal has recorded a nearly 21% rise this year, with no signs of stopping. Gold had hit an all-time high of $1,900 an ounce in August 2011, in the wake of the most recent financial crisis.
And on its upward journey it is also bringing along the stocks of gold mining companies. So far this year, Barrick's stock is up a breathtaking 174%, helped by a weak jobs report. Barrick sold off non-core assets, improved its internal efficiency and productivity, and reined in its debt. Further, its cost of production is among the industry's lowest. Higher gold prices are an obvious positive for gold producers because they add to the companies' earnings power. Barrick Gold is striving to achieve cash flow breakeven even if gold averages $1,000 an ounce (the yellow metal was recently trading above $1,240 an ounce).
Other names in the space include Newmont Mining, which has nearly doubled in value this year; Agnico Eagle Mines, which is up nearly 96%; and Goldcorp, which has gains of more than 56% year to date.
Soros famously led a group of traders who bet against the British pound in 1992, forcing the British government to pull its currency from the European Exchange Rate Mechanism. Soros made a reported $1 billion for speculating correctly. He had seen serious problems in the British economy.
Investors who swear by Soros are already taking bullish bets on gold. Be it Argentine bonds or China's yen, Soros has seen the moves before everybody else, and he's profited from them. Savvy investors who follow him have grabbed their share of cash as well.
---
Like Soros, you may be wary of the economy, as well as the stock market. But what if I told you there is a way to make $67,548 per year - or more - without stocks, just by following this simple step-by-step process? The trader who is sharing this secret has been right more than 8 out of 10 times, turning $5,000 into more than $5 million for himself. Click here to see how easy it is to follow his lead and collect thousands of dollars in "Free Money" every month.
This article is commentary by an independent contributor. At the time of publication, the author held no positions in the stocks mentioned.