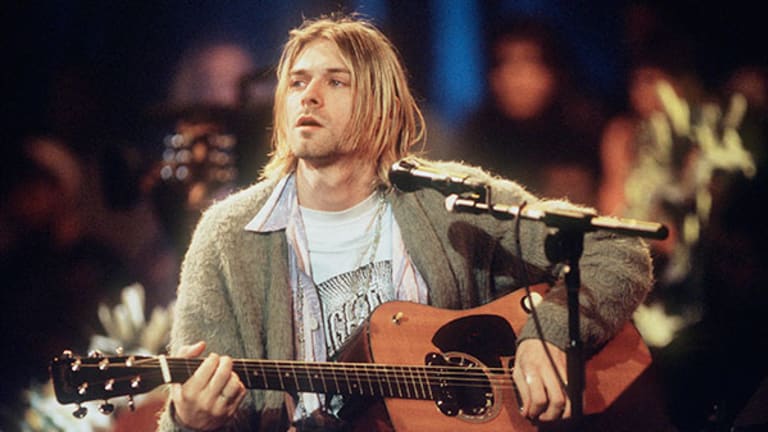 Generation X Sold Out Cobain and Biggie
As Nirvana heads to music executive heaven and Notorious B.I.G. is denied a street name in his own neighborhood, the blame falls to those who loved them first.
As Nirvana heads to music executive heaven and Notorious B.I.G. is denied a street name in his own neighborhood, the blame falls to those who loved them first.
Teenage angst has paid off well, now I'm bored and old, self-appointed judges judge / More than they have sold.
-- Kurt Cobain, from Nirvana's Serve The Servants
Spread love, it's the Brooklyn way.
-- Notorious B.I.G.,
PORTLAND, Ore. (
) -- Well, Generation X, we hope you enjoyed nodding or banging your head along to the songs above, because you sure weren't listening to them.
Within the last month, attempts to bestow posthumous accolades on both Kurt Cobain and Christopher Wallace -- Notorious B.I.G. or Biggie Smalls -- said more about the generation that grew up on their music than it probably would have liked. In mid-October, the Rock and Roll Hall of Fame announced that Nirvana had been chosen as finalists for induction in 2014. Around the same time, an effort to name a street corner in Brooklyn's Clinton Hill neighborhood after Christopher Wallace -- the exact wording was "Christopher Wallace Way" -- made its way to that neighborhood's community board.
The end result of either platitude was likely not what either of the deceased artists ever had in mind.
Let's get something out of the way first: Cobain silenced his voice in any of this when he took his own life on April 5, 1994. He hasn't had a say in nearly 20 years and all of the posthumous album and video releases, big-money multi-disc reissues, films, documentaries and everything else that has surrounded Nirvana since then is strictly in the hands of Courtney Love and Cobain's former bandmates Krist Novoselic and Dave Grohl. Any "that's not the way Kurt would have wanted it" discussions after the time he left this earth are moot.
That said, this induction isn't exactly a Nirvana decision or that of an organization that existed during Nirvana's tenure. The Rock & Roll Hall of Fame was the pipe dream of Atlantic Records founder Ahmet Ertegun,
Rolling Stone
publisher Jann Wenner and a bunch of attorneys and record executives. Please note the lack of, you know, musicians in that lineup.
This group basically picked artists it liked and started "enshrining" them in their offices in 1986. It wasn't until 1995, after the Hall of Fame folks passed the hat around the country and got $65 million in public funds from Cleveland, that they gave the Hall of Fame its current home on Lake Erie. While a nice tourism draw for Cleveland, the Hall is basically filled at its braintrust's whim, takes few token votes from the public, ignores petitions and overlooks entire genres. Its induction ceremonies are $25,000-a-table back-patting sessions for the recording industry that surviving members of the Sex Pistols famously referred to as "a piss stain" while spurning their own induction in 2006.
Cobain had already formed a few not-so-favorable impressions of the industry just before his death. Nirvana's third full-length studio album,
In Utero
was an aggressive push back against the surge of popularity, press and industry approval the group received in the wake of 1991's
Nevermind
and its anthemic breakthrough single
Smells Like Teen Spirit.
In Utero
turned 20 years old this year and is still the brash, unwelcoming work it was then.
Serve The Servants
opens the album with an indictment of the
Nevermind
period, while the wall of noise behind
Milk It,
Tourette's
and the executive jargon-titled
Radio Friendly Unit Shifter
defied the suits to find a single. "They want another
Nevermind
, but I'd rather die than do that. This is exactly the kind of record I would buy as a fan, that I would enjoy owning," Cobain told writer Michael Azzerad, who later used the quote in his 1994 book
Come As You Are: The Story Of Nirvana.
But
In Utero
didn't make it stop. Cobain's stomach ailments, the heroin he was using to self-medicate them and his loathing of the industry and the artist he'd become all grew too much to bear. In his suicide note, he went into depth about how the music and the process were not only no fun anymore, but killing him.
"..when we're back stage and the lights go out and the manic roar of the crowds begins, it doesn't affect me the way in which it did for Freddie Mercury, who seemed to love, relish in the the love and adoration from the crowd which is something I totally admire and envy. The fact is, I can't fool you, any one of you. It simply isn't fair to you or me. The worst crime I can think of would be to rip people off by faking it and pretending as if I'm having 100% fun. Sometimes I feel as if I should have a punch-in time clock before I walk out on stage. I've tried everything within my power to appreciate it (and I do, God, believe me I do, but it's not enough).
So would Cobain want to shell out five figures to sit at a banquet table among the execs and big stars and play in a big, show-stopping jam with Paul Westerberg, Kiss, Public Enemy and whoever else jumped up on stage? Maybe not but, again, he lost his opportunity to weigh in on that a long time ago.
The B.I.G. Sleep
Christopher Wallace, meanwhile, didn't get the choice. Shot to death in Los Angeles on March 9, 1997, on his way home from a party at the Petersen Automotive Museum by a still-unknown assailant, Wallace left behind only his children, his mother Voletta, his friends including Sean "Diddy" Combs and his music.
Wallace's life was by no means uneventful or even enviable. From his debut single
Juicy
off the 1994 album
Ready To Die
, Wallace referenced "all the people that lived above the buildings that I was hustlin' in front of that called the police on me when I was just tryin' to make some money to feed my daughters." He was arrested on multiple occasions before his career for dealing crack cocaine and on various weapons charges. Even during his career, he was arrested for attacking autograph seekers and having guns and drugs in his home in Teaneck, N.J.
However, his music helped influence his high school friend and collaborator Jay-Z and paid for his Christopher Wallace Foundation, which raises money for school equipment and supplies. Numerous rappers cite him as an influence, but there is perhaps no greater testament to his legacy than today's Brooklyn and Clinton Hill in particular. As director Nelson George shows so vividly in his 2012 documentary
, Wallace was a part of the same Brooklyn artistic renaissance that spawned Spike Lee, Chris Rock, Saul Williams, Branford Marsalis, Toshi Reagon, Talib Kweli, Erykah Badu and other notable performers and creators.
Wallace, however, was the neighborhood's evangelist. By showing Brooklyn an unending stream of love and turning "Where Brooklyn At?" into his calling card, Wallace helped make the world curious about the place that created him and, by the end of the '90s, sent a generation that grew up on his music to claim it as their home. While the influx was nothing new -- former Husker Du frontman Bob Mould mentions using Williamsburg as a base of operations for solo projects and his band sugar in the late-'80s and early '90s in his autobiography
See A Little Light
-- Wallace helped open up Brooklyn far beyond the East River and made it a place that former suburbanites would consider raising a family in.
This, of course, has its drawbacks as well. Within the last decade, Clinton Hill has undergone gentrification and a demographic shift that turned a neighborhood that was 80% black into one where blacks are less than 40% of the population. There are shops and restaurants, but rents have risen and families have been priced out. The change has been so drastic that
the petition by Clinton Hill resident LeRoy McCarthy
to co-name the intersection of St. James Place and Fulton Street -- the site of Wallace's childhood home -- "Christopher Wallace Way" was denied immediately by the local community board. Member Lucy Koteen was especially opposed to the measure.
"He started selling drugs at 12, he was a school dropout at 17, he was arrested for drugs and weapons charge, he was arrested for parole violations, he was arrested in North Carolina for crack cocaine, in 1996 he was again arrested for assault, he had a violent death and physically the man is not exactly a role model for youth," she said,
. "I don't see how this guy was a role model and frankly it offends me."
Apart from drugs, violence and Wallace's heft, board member Kenn Lowy didn't like the fact that Wallace used derogatory names for women in his songs. Meanwhile, McCarthy's petition in Wallace's favor included letters of support from two local churches, a mosque, a nearby block association and several local businesses. Councilwoman Letitia James can still approve the co-naming, but she's a candidate for public advocate and has steered clear of the debate thus far.
It's been noted that another rapper once accused of using misogynist lyrics, deceased Beastie Boys member Adam "MCA" Yauch, has a Brooklyn park named after him. Meanwhile, Ramones singer Joey Ramone -- who once sang songs including
Now I Wanna Sniff Some Glue
and
You're Gonna Kill That Girl
-- has a block on East 2nd Street in Manhattan named after him.
Culture of the Damned
But still the cry goes out: What about the children? We could ask how often those same nervous residents explain to children why their neighborhood is named Clinton Hill -- hint, the end result is Erie Canal-building former New York Governor DeWitt Clinton -- or why they would have trouble explaining to those children who the second name on a street sign was. These are children who will never call Sixth Avenue "The Avenue of The Americas," but they must be shielded from a rapper who used to eat hot dogs at the Gray's Papaya on that particular thoroughfare.
Why? Because they're Generation X and they've basically surrendered. The generation that grew up dancing on bars and tables Julia Styles-style to
Hypnotize
and used Nirvana albums to explore a world beyond the norms their parents established for them are now going to call Biggie a very, very bad man who shouldn't have existed and insist that Kurt Cobain was just a fun-loving guy who was part of their rock 'n' roll fantasy. They have kids to take to the brewpub now, they have CDs to hide in embarrassment and they have a little revisionist history to write in their lives.
"No Emma, put that 2Pac CD down -- he was a bad man. Now who wants to dance to
Aeroplane Over The Sea
again?"
It's not because of Wallace's or Cobain's troubled legacies. In truth, Gen X didn't really start caring about those complexities until just recently. It's because Gen X is stressed and doesn't need one more thing adding to a list of worries already making it miserable. The Pew Charitable Trusts says the leading edge of Generation X -- folks born from 1966 to 1975 -- lost about 45% of its wealth during the Great Recession. What little net worth it had plummeted from an average of $75,000 in 2007 to just $42,000 in 2010 and was further depressed by the fact that Gen X missed out on both the dot-com and housing booms.
According to a 2012 Insured Retirement Institute report, only a third of Gen Xers are "very confident" about having enough money to live comfortably during retirement. The Medicare and Social Security programs that could help will likely be cut by the time Generation X can collect.
Professor Glenn Crellin of the Runstad Center for Real Estate Studies at the University of Washington notes that, on the whole, less than 60% of Gen X owns a home -- well below the 70% to 80% rates of the three preceding generations. Their assets are only double their debts, Gallup says 53% of them hate their jobs, another 19% are actively trying to sabotage their workplace and its in a cycle of despair that's manifesting itself in ugly ways -- like Arcade Fire albums about the suburbs or mopey films like
This Is 40
,
Young Adult,
and
Greenberg.
They're miserable, and they don't need to be reminded of the personal failings of the artists they loved to feel like bigger losers. Letting the ponytail guys at the Rock and Roll Hall of Fame have Nirvana and letting NIMBY neighborhood groups gentrify over the legacy of one of the greatest rappers of their lifetime is just the path of least resistance.
Their stamp on pop culture is being wiped clean and their investment in it is being completely liquified. Gen X would love to reminisce a little more or save Cobain and Wallace's memory from the same folks who were scared of their music two decades ago, but it has a playdate at a brewpub and an impending hangover to work through. Sorry, Kurt and Biggie, but it was all a dream.
Whatever, nevermind.
-- Written by Jason Notte in Portland, Ore.
>To contact the writer of this article, click here:
Jason Notte
.
>To follow the writer on Twitter, go to
.
>To submit a news tip, send an email to:
.
RELATED STORIES:
>>Halloween Novelty Tunes Don't Wear Off
>>How America Killed The Live Event
>>Miley Cyrus: A Child Star's Rite Of Passage
Jason Notte is a reporter for TheStreet. His writing has appeared in The New York Times, The Huffington Post, Esquire.com, Time Out New York, the Boston Herald, the Boston Phoenix, the Metro newspaper and the Colorado Springs Independent. He previously served as the political and global affairs editor for Metro U.S., layout editor for Boston Now, assistant news editor for the Herald News of West Paterson, N.J., editor of Go Out! Magazine in Hoboken, N.J., and copy editor and lifestyle editor at the Jersey Journal in Jersey City, N.J.