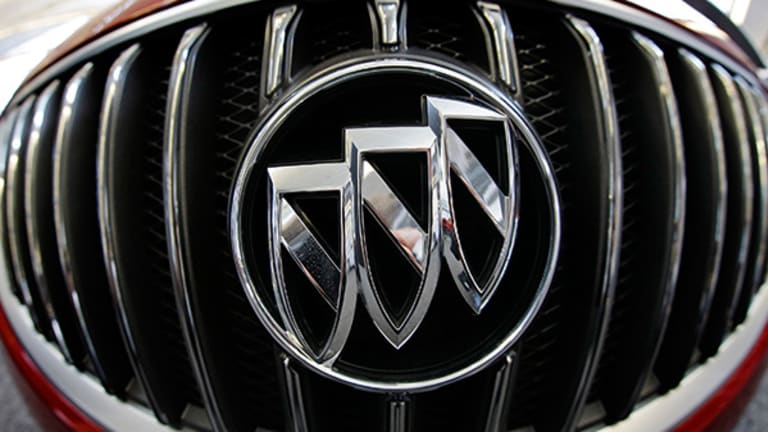 Publish date:
General Motors Posts Record Third-Quarter Profit on Strength of U.S., China Operations
The No. 1 U.S. automaker notes its robust pricing for vehicles and 'rich' mix of vehicles and features.
The No. 1 U.S. automaker notes its robust pricing for vehicles and 'rich' mix of vehicles and features.
General Motors (GM) - Get Report reported record post-bankruptcy net profit for the third quarter of $2.8 billion, double that of a year earlier, on the heels of strong performance in the United States and China.
The No. 1 U.S. automaker also posted record revenue for the period of $42.8 billion, up $4 billion from a year earlier. On an adjusted basis, per-share earnings were $1.72, compared with $1.50 a year ago, beating analysts' expectations.
The automaker cited increased wholesale shipments of 92,000 vehicles in North America, compared to a year earlier, supported by strong retail demand for full-size pickup trucks and new models such as Chevrolet Malibu and Chevrolet Cruze sedans.
GM said revenue also benefited from strong pricing for its vehicles, as well as a "richer mix" of vehicles and equipment selected by customers. Weakness of the British pound, Mexican peso and Argentinian peso hurt revenue slightly.
At a press conference in Detroit, GM billed its latest financial results as "a compelling investment opportunity," based on the expectation of continued growth of earnings per share, "disciplined reinvestment and returning cash to shareholders," and "downside protection" that enables "sustained performance" during a cyclical downturn of vehicle sales.
GM, which filed for bankruptcy protection in 2009 and was reorganized by the U.S. Treasury, has asserted to Wall Street analysts that its shares deserve stronger ratings and prices. Since the end of 2013, GM share prices have been trending downward and have sold at less than the initial offering price of $33 for nearly all of 2016.
Analysts have said higher ratings for GM shares are likely to be contingent on the automaker's ability to weather the next cyclical downturn in vehicle sales in strong financial condition. GM has amassed what it terms a "fortress" balance sheet to provide a financial cushion for investors and the company in the event of deep losses.
Consumer demand lately has softened slightly in the U.S., though GM remains optimistic for continued strong sales.
On Monday, GM's Buick brand became the first domestic auto brand in 30 years to be ranked in the top three for reliability by Consumer Reports magazine. The magazine relies on customer reviews to assess longer-term durability of vehicles, a different measure of quality than agencies that rate initial buyer satisfaction.
Doron Levin is the host of "In the Driver Seat," broadcast on SiriusXM Insight 121, Saturday at noon, encore Sunday at 9 a.m.
This article is commentary by an independent contributor. At the time of publication, the author held no positions in the stocks mentioned.