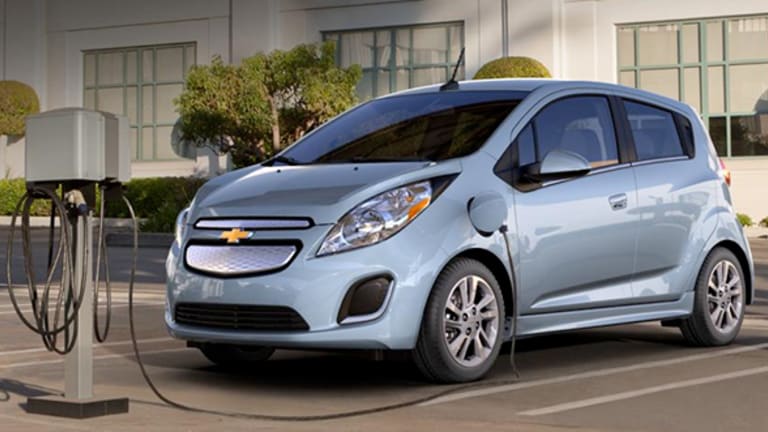 General Motors' Infotainment Challenge to Tesla With Apple CarPlay and Android Auto
GM has announced Android Auto and Apple CarPlay to be a standard feature on its cars, starting with 14 Chevrolet models this upcoming model year.
NEW YORK (TheStreet) -- General Motors (GM) - Get Free Report just announced that it will make Google's (GOOGL) - Get Free Report Android Auto and Apple's (AAPL) - Get Free Report Apple CarPlay standard in all of its cars, starting with 14 Chevrolet models for the 2016 model year. Those cars begin manufacturing this summer. Shortly thereafter, the remaining Chevrolet models and other brands (Cadillac, Buick and GMC) are expected to follow.
So, what does this have to do with Tesla (TSLA) - Get Free Report? To put it in practical terms, here is what is means:
Your $13,000 Chevrolet Spark will now have as standard:
4G LTE.
Android Auto.
Apple CarPlay.
In contrast, your loaded $125,000 Tesla has:
No 4G LTE.
No Android Auto.
No Apple CarPlay.
Why does a cheap car from GM offer options standard that a luxury car does not? It's not like GM is alone in this game -- cars from many other luxury automakers will also offer these options. 
You can see a list of the automakers Apple lists as being in the pipeline for CarPlay here. Here is the equivalent list for Android Auto.
You will see that Toyota (TM) - Get Free Report, Mercedes, Jaguar Land Rover and BMW are on the Apple list, but not on the Google list. All the other major groups and brands seem to be represented on both lists -- GM, Ford (F) - Get Free Report, FCA, Mazda, VW Group, Volvo, Nissan, and Hyundai/Kia.
But only one company that comes to mind, can't be found on either list -- Tesla.
It should be obvious, but you don't have to buy the $13,000 Chevy Spark in order to get infotainment superiority right away. GM makes a long list of pickup trucks, sedans, SUVs and sports cars, all of which will be outfitted with these technologies as standard, many of them on this 2016 model year, which starts pretty much right now.
The technology is remarkably simple to use. Just plug in your smartphone, the car recognizes it, and puts the approved apps onto the screen -- all while charging your phone. It also pairs Bluetooth automatically, taking that chore out of the equation.
Then, you have your contacts, maps, music, podcasts and in the case of Android -- your "Google Now" cards -- right on the car's screen. Voice commands generally work a lot better than your car's previous build-in system, and both Apple and Google are generally very good at predicting where you're going -- home, work, restaurant, gym, etc., so just click once on "the predictive card" and the map loads the directions with traffic and other information. Tesla does have its own infotainment system that does many of these things -- save for the apps. 
As early as next year, GM will be in a position to offer much larger touchscreens built into its cars. These technologies are going to be available on far less expensive cars than today's more expensive offerings.
Here is the big picture: GM is making a big bet not only on standard 4G in every single car, all the way from the very cheapest ones, but also on standard Android Auto and Apple CarPlay in every single car. Most other automakers are expected to follow this example as soon as they can get around to it.
Either Tesla has some surprise that it's about to spring on everyone, or it just won't offer compatibility with Apple's CarPlay or Google's Android Auto. And unlike GM where it's standard, it doesn't offer 4G connectivity either, even as option.
Kudos to GM for taking firm leadership in technology, offering as standard on a $13,000 car what other automakers won't even offer as an option on $125,000 cars.
This article is commentary by an independent contributor. At the time of publication, the author was short TSLA and long AAPL.