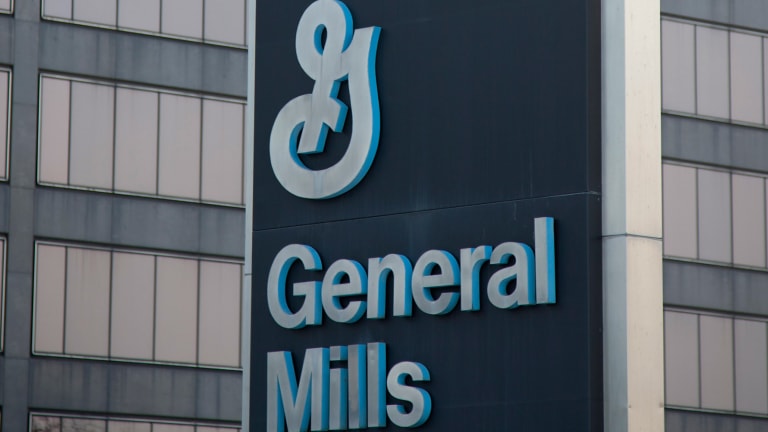 General Mills Stands Out in a Weak Consumer Staples Sector
There are plenty of catalysts to boost General Mills shares higher. The cereal company reports earnings early Wednesday
There are plenty of catalysts to boost General Mills shares higher. The cereal company reports earnings early Wednesday
NEW YORK (TheStreet) -- Consumer staples companies have been a disapointment so far this year, with year-to-date gains of less than half of 1% compared to the 2% gains in the S&P 500 (SPX) .
That makes the over-6% year-to-date stock gains of General Mills (GIS) - Get Report really stand out.
Known for its Cheerios cereal, Yoplait yogurt and other ready-to-eat foods, the Minnesota company will report fiscal fourth-quarter and full-year results Wednesday before the opening bell. Keep an eye on this stock as the company looks to reinvent itself at a time of declining cereal consumption by launching dozens of new products and marketing initiatives.
For the quarter that ended May, the company is expected to earn 71 cents a share on revenue of $4.53 billion, translating to year-over-year growth of 6% and 5.8%, respectively. For the full-year, earnings are projected to be flat to up 0.4% at $2.83 a share, while revenue of $17.86 billion is also expected to be flat.
Despite the tepid revenue forecasts, General Mills is positioning itself to regain market share from rivals such as Kellogg (K) - Get Report by unveiling 50 new products. These products are aimed at reviving both its cereal and yogurt businesses, which General Mills expects will drive higher revenue and profits in the quarters ahead in its U.S. retail segments.
General Mills, which has been around for almost 150 years, is adjusting to a packaged food industry that has suffered with weak demand as consumers adjust their eating habits. Consumers now want and demand healthier products -- those that are rich in protein like eggs, peanut butter and Greek yogurt. And they want them a competitive prices.
By ramping up its better-for-you snacks business, the company wants to meet those consumer needs. To move into the popular and high-growth natural and organic foods category, General Mills last year picked off Annie's, an organic and natural food specialist.
Not only does Annie's give General Mills a new way to ignite higher revenue, it also allows General Mills to better compete against companies including Kraft (KRFT) , which is also ramping up its organic portfolio.
So, while GIS stock, which is around $57, trading near 52-week highs, may not excite growth-hungry investors at this level, the company's 44-cent quarterly dividend, yielding 3.2%, is well worth the wait -- particularly for investors fishing for income.
Just in the last five years, for instance, General Mills has raised its dividend by almost 60%, to 44 cents from 28 cents per share. The company's long-term earnings growth potential puts it on track to raise its dividend again by at least 7% to 8% in the next 12 to 18 months.
So now is the time investors should to add GIS stock to their positions and hold for the long term.
This article is commentary by an independent contributor. At the time of publication, the author held no shares in any of the stocks mentioned.