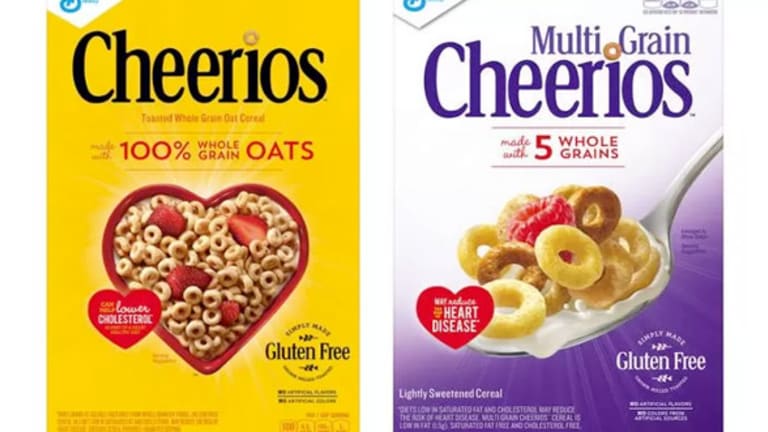 General Mills Looks Like a Target, Just Not to Who You Might Think
Continued consolidation in the branded products sector leads to all kinds of speculation, but don't overlook other suitors.
Guessing the next takeover target in the branded products sector has been one of Wall Street's favorite games of 2016. Lately, the rumor mill has alighted on General Mills (GIS) - Get Report .
This kind of speculation is largely the reason that General Mills has rallied this year. Sales have been on the decline, as the company's lineup of manufactured foods misses the target on consumer tastes, which has been moving toward natural, organic foods. Nevertheless, General Mills stock has climbed 26% this year. If the fundamentals are poor, but the stock is rallying, takeover chatter is likely the rationale.
The latest round of talk suggests Mondelez (MDLZ) - Get Report could be a suitor for General Mills, after Hershey (HSY) - Get Report rejected its $23 billion takeover offer late last month. Would General Mills be a good rebound candidate for a scorned Mondelez?
Not likely. Which isn't to say that General Mills couldn't be one of the leading candidates to be swallowed up like a brimming bowl of its Haagen-Daas ice cream. It's just not likely that Mondelez is holding the spoon.
Would General Mills look better in the portfolio of Jorge Paulo Lemann, the Brazilian billionaire whose 3G teamed up with Warren Buffett to buy Heinz and Kraft to create Kraft Heinz (KHC) - Get Report ?
Kraft Heinz is a portfolio company of the Action Alerts PLUS Portfolio co-managed by The Street founder James Cramer.
With sales sliding across the branded products sector, consumer companies need inorganic growth, the kind that can only come from consolidation. And the bigger the takeover target the better. When General Mills bought Annie's two years ago, the move was applauded as a recognition by the company's management that it needed more exposure to the natural foods business. That's why Wall Street has also been constructive on the disposition of the Green Giant line - it's good to get out of legacy operations that aren't in step with the direction of consumer tastes.
Granted, Mondelez needs the same kind of inorganic growth that a takeover can offer as much as any other branded products manufacturer. Ergo, it's Hershey bid. And in Bill Ackman of Pershing Square, it's got an activist investor - one with a big stake in the company - that is pushing for growth, and usually gets what he wants.
But in Hershey, Mondelez, the maker of Oreo and Cadbury, was eyeing another snack maker.
General Mills, the maker of Cheerios and Progresso, doesn't make the kind of products you eat with your hands. Unless you're strapped into a high chair, that is. Were Mondelez to snap up General Mills it would be tantamount to recreating its former structure when it was part of Kraft. Back to that future? Not likely.
But Kraft Heinz has a portfolio of products that, like General Mills, are part of meal making. Ketchup, macs 'n cheese, Jell-O. Because their brands aligned so nicely, the consolidation of what was Kraft with what was Heinz looked like a natural. General Mills would just build out that product portfolio.
In addition, 3G has shown it doesn't mind paying up. General Mills trades at a whopping (for branded products) 26 times multiple after its recent run. And 3G likes cost cutting opportunities, a strategy that General Mills is already pursuing with its recent announcements of plant closings and layoffs.
So there's no reason to think the consolidation in the branded products sector has ended. And you can't rule out what, strategically, might look like poor fits. Chances are that General Mills gets a suitor soon. It just might not be the one that the market is buzzing about now.