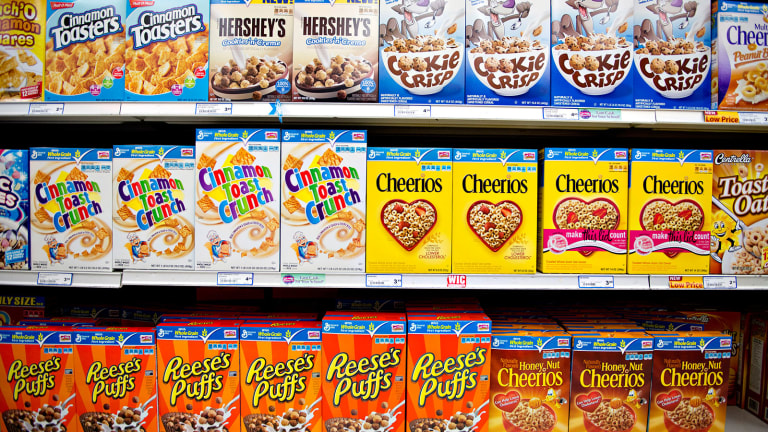 NEW YORK (TheStreet) -- As breakfast cereal sales in the U.S. continue to slide, big cereal makers are taking different approaches to rectify the hit to their businesses.
In the latest move, General Mills (GIS) - Get General Mills, Inc. (GIS) Report, which makes iconic cereals such as Cheerios, Wheaties, and Lucky Charms, said it will cut artificial flavors and colors from 90% of its cereals by the end of the 2016, and eliminate them altogether by 2017. Trix, Cocoa Puffs and Reese's Puffs will be the first to hit store shelves free of artificial ingredients by this winter.
Meanwhile, Kellogg (K) - Get Kellogg Company (K) Report , the world's largest cereal producer, has increasingly been putting new spins on old brands such as Special K Protein and Disney Frozen-themed cereal, rather than toying with the ingredients for popular products such as its brightly-colored Fruit Loops. The company is also launching new product lines for breakfast, including muesli and granola cereals without artificial additives.
General Mills saw its cereal sales fall 1% from 2013 to 2014, and they've tumbled 5% in the nine months ending February 22, 2015 compared with the same period a year earlier. Kellogg's said in May that its segment of morning foods, which includes cereals, continued to decline in the quarter ending April 4 after falling 3.7% from 2013 to 2014. 
Overall U.S. cereal sales have shrunk 5% in the past five years to about $11 billion and market researcher Euromonitor expects them to contract 8% more between 2014 and 2018.

Breakfast cereals have been hit hard by larger trends towards healthier eating, said Erin Lash, an analyst for Morningstar. Instead of spending their calories and budgets in big retailers'center aisles, where General Mills and its peers dominate shelf space, consumers are increasingly purchasing the fresh foods usually located in refrigerated cases that line grocery stores.
"[Consumers] don't want to feel like they're on a diet, but they want something healthier," said Lash, noting that many people have come to regard low-calorie options as tasteless and full of artificial shortcuts.
That's why General Mills is in good company among big food companies simplifying their labels and ingredients. Earlier this spring, Nestle USA announced that it would cut artificial flavors from frozen pizzas and other product lines by the end of 2015 and Kraft Foods (KRFT)  is retooling its macaroni and cheese to exclude preservatives and its iconic synthetic color.
Fast food chains, too, have been shaving dyes and other additives from their menus. Yum! Brands'  (YUM) - Get Yum! Brands, Inc. (YUM) ReportTaco Bell, for example, is trading in its black pepper flavoring for actual black pepper and cutting carmine from its red tortilla chips, perhaps to compete on an equal footing with Chipotle, which has been eating its lunch by marketing itself as a more natural alternative to older fast food joints.
But as General Mills swaps Red 40, Blue 1 and Yellow 6 for spices, fruit and vegetable concentrates, it will have to take care not to offend consumers' memories of the vibrant, "magically delicious" cereals they're used to eating.
"They're moving to make the ingredient list simpler. The challenge becomes making sure the taste profile doesn't change," said Lash.
Lauren Pradhan, a manager at General Mills whose official job title is "Cereal Wellness Manager," said the company cycled through hundreds of ingredients over a two- to three-year period before it arrived at new recipes for the three cereals that will eliminate artificial ingredients by the end of 2015.
"We tried hundreds of bowls of cereal before we put them in front of kids and families," Pradhan said.
Each cereal poses a different challenge, she added, with those containing marshmallows -- Lucky Charms, Count Chocula and others -- requiring extra attention to make sure the ingredient swaps don't hurt color, flavor or texture.
General Mills has also pledged it won't change prices nor its cereals' nutritional content as it makes its changes.