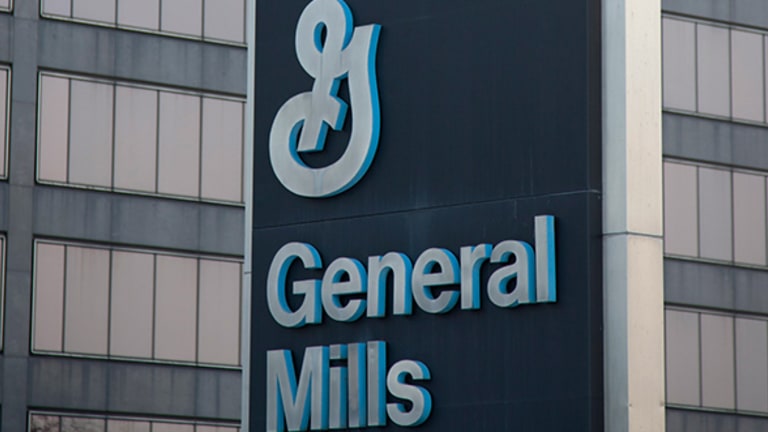 General Mills Cost-Cutting, Growth Prospects Make It a Solid Income Stock
This stock has paid dividends for 117 years and offers a dividend yield of nearly 3%.
Sometimes a stock shines from the start, offering both income and growth.
General Mills (GIS) - Get General Mills, Inc. Report is one such stock and it's ready to surge ahead and deliver significant value. The company has made sound, cost-cutting moves and is well-positioned to expand. 
Here's why it's a buy-and-hold stock well suited for an retirement strategy. It's not a true "Dividend Aristocrat" yet, but it's on track to soon becoming one, so the time to buy it is now.
data by
Robust and Reliable
To earn the title Dividend Aristocrat, a stock must be an S&P 500 constituent that has increased dividend payouts for 25 consecutive years. General Mills and its former parent entity have paid uninterrupted dividends -- without reductions -- for 117 years! However, General Mills isn't classified as a true Dividend Aristocrat, which by definition must raise dividends annually for at least 25 years, because it didn't hike its dividend every year during that period. But with the business doing well and a solid 2.95% dividend yield, the stock is extremely attractive at current valuations of 18.8 times forward earnings.
General Mills is truly a breakfast champion. With Cheerios, Chex, and Wheaties, Betty Crocker, Pillsbury, and other brands in its pantry, the company generates $17.570 million in revenues a year and $1.303 million worth of profit.
Over the last five quarters, the company has improved operating profit by keeping costs low. 
General Mills is one of the market leaders for the packaged foods segment, with a 30% slice of the U.S. ready-to-eat cereal segment, a 70% portion of refrigerated baked goods, and over 40% of the grain foods space. The company enjoys better operating margins (TTM) compared to the industry. On parameters such as ROA and ROE, the company is well ahead of its peers.
The result: Bearish bets have been on the wane. Short sellers have gone from 18 million shares shorted at the end of April to just about 11 million according to the latest data. The stock has jumped by nearly 10% in the year-to-date period to the detriment of short sellers.
Growth-Equipped and Stabilized
The growth story has made existing owners, including institutions, add General Mills to their stock portfolio. Glenmede Large Cap Growth Fund, Goldman Sachs U.S. Tax-Managed Fund and Vanguard Total Stock Market Index Fund are a few of them.
Analysts suggest that the company has taken a transformational bend, by initiating cost reduction measures and building a more refined promotional blueprint.
Along with the cost cuts, General Mills has also eliminated jobs under Project Compass restructuring and re-energizing itself and pushing long-term growth.
General Mills also announced that it's selling its Green Giant and Le Sueur vegetable businesses to B&G Foodsfor about $765 million.
Income-Friendly and Future-Protected
In terms of dividends, the company has an excellent track record. For the past five years, it has grown its annual dividend payouts from $1.05 a share in 2010 to $1.61 a share in 2014, a rise of nearly 60%. In 2015, it increased the dividend payout by nearly 7.5% to $1.73. That makes General Mills a darling of income investors who need to build a stable nest egg.
Over the last 12 months, the company's dividend pay is at over 50% of its free cash flow. This ratio, which has been largely stable for over 10 years, is attractive and indicates the capability to deliver further value.
Free cash flow per share from 2005 to 2015 has increased, reinforcing the company's path to becoming a Dividend Aristocrat.
Long-term debt to capital is also well within good parameters, and when the company cuts debt further, there could be acquisitions and possibly more wealth returned to shareholders. Senior management believes that the company can post low-single digit sales growth and high-single digit EPS (diluted) over time. 
Are you making the right investment moves for your retirement, or are you making all-too-common money mistakes? There are crucial steps that you should be taking now, to build wealth over the long haul. To determine whether you'll have enough money in your later years, download this free report: Your Ultimate Retirement Guide.
This article is commentary by an independent contributor. At the time of publication, the author held no positions in the stocks mentioned.