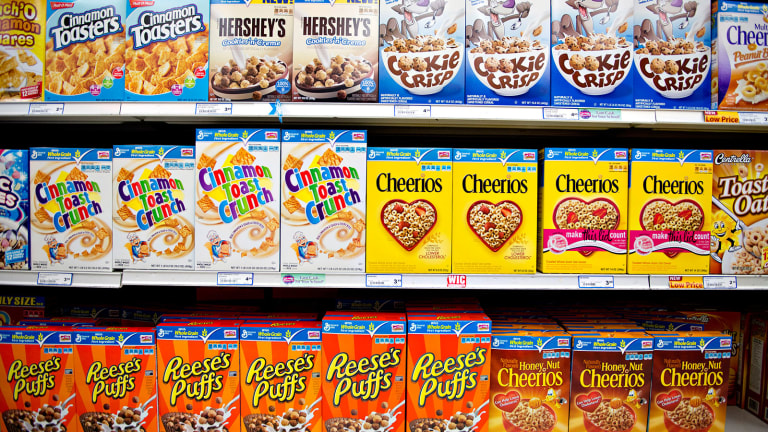 General Mills CEO: Why Our Cereal Sales Won't Stay Soggy
General Mills had a challenging quarter in its cereal business, but its executives see reasons to be optimistic.
General Mills' (GIS) - Get General Mills, Inc. Report  suffered a sharp reversal in U.S. cereal sales in its most recent quarter, but the company's executives don't expect its cereal sales to stay soggy for very long.
On Thursday, the Minneapolis-based maker of Cheerios and Yoplait yogurt reported fiscal second quarter net sales of $4.42 billion, down 6% from the prior year, and short of Wall Street's estimates for $4.61 billion. Sales were held back by the impact of the strong dollar and greater competition in the cereal and yogurt aisles, and earnings, excluding one-time items, rose 2% to 82 cents a share, missing analyst estimates for 83 cents a share.
The weak performance of General Mills' bread-and-butter cereal business, where sales in the U.S. fell 5% year over year following a gain of 4% in the previous quarter, likely upset Wall Street the most. Shares of General Mill were down about 3.8% in midday trading.
General Mills chairman and CEO Ken Powell told TheStreet that the poor showing in cereal was "largely due to our biggest customer promoting less; it was a bigger reduction than we anticipated." Powell was referring to Walmart (WMT) - Get Walmart Inc. Report  , which represents about 30% of General Mills' sales in its U.S. retail segment and 21% of its total net sales overall, pulling back on cereal promotions during the quarter. This likely caused Walmart's economically-sensitive customers to buy less breakfast cereal or to seek out cheaper store brands. 
General Mills cereal sales are still up 1% year to date, however, and according to CFO Don Mulligan, they remain on track to increase during the full fiscal year, which ends in May.
Powell said the anticipated rebound in cereal sales is likely to be fueled by new products that address growing consumer preferences for healthier ingredients. In January, General Mills' Reese's Puffs and Trix cereals will hit the market free of artificial ingredients and flavors, and supported by a good bit of marketing. "There is a lot of interest in these artificial ingredients...as in consumers don't like them," said Powell.


General Mills' cereal business could churn out better sales soon. Here's what the new Trix cereal without artificial colors will look like.
The bowl of Trix will look a little different, however. "In the case of Trix, we have removed artificial colors and replaced them with naturally-derived colors, so you will see a different look," explained Powell, adding, "but, we think that because Trix is naturally-colored, and it has the same great taste, it will be a benefit for us."
Meanwhile, fans of General Mills' Lucky Charms brand will have to wait for a natural version of that popular cereal to arrive. According to the company, it has not found a natural color option that works the way it would like to for its marshmallow cereals such as Lucky Charms.
By January, General Mills expects 75% of its cereals to be free of artificial flavors and colors, with the total reaching 90% by the end of 2016. General Mills is out in front of its arch-nemesis in the cereal aisles, Kellogg's (K) - Get Kellogg Company Report , in cleaning up its cereals ingredient list, which could help it gain market share early on in 2016.
Kellogg's is on track to discontinue use of artificial ingredients in its cereals and other products by 2018. Right now, half of all cereals produced for North America by Kellogg are made without artificial flavors, while 75% are made without artificial colors.
Elsewhere, the quick rebound in interest for gluten-free Cheerios, which suffered through a recent recall, bodes well for the company.
In October, General Mills recalled an estimated 1.8 million boxes of its new gluten-free Cheerios and Honey Nut Cheerios cereals due to an incident that may have added wheat into the products. Said Powell, "The response (to gluten-free Cheerios) has been quite good; baseline sales dipped for one week immediately after the recall as some affected product was pulled off the shelves, but then it bounced back very nicely at a good level."
After seeing modest declines in baseline sales, which the company defines as full-priced, un-promoted sales, of Cheerios over the past few quarters, said Powell, sales have now reversed and are up 3% in large part due to the new gluten-free option.
General Mills slightly reduced its sales and profit goals for 2015. The company is now forecasting sales, absent the impact of currency fluctuations, to fall by a low-single digit percentage compared to previous guidance of flat. On a constant currency basis, earnings are pegged to rise by a low single digit percentage from the prior year. Previously, General Mills forecasted mid-single digit growth in earnings per share.