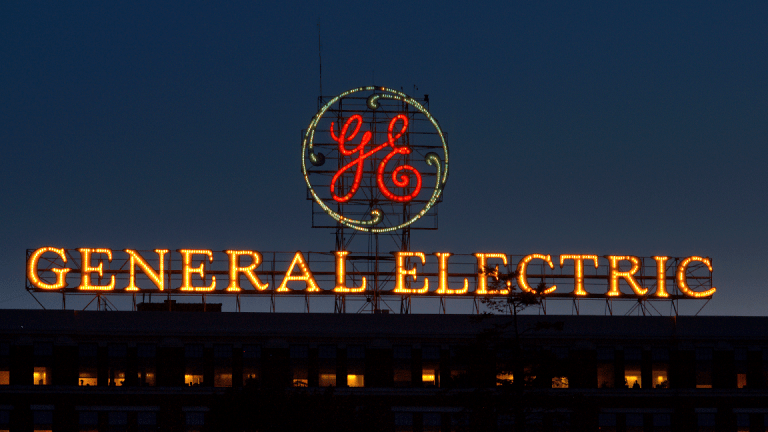 Publish date:
This General Electric Selloff Offers Great Entry Opportunity: Market Recon
The game, my friends, is afoot, and the adventure has just begun with General Electric.
The game, my friends, is afoot, and the adventure has just begun with General Electric.
"He took his time looking around for anything interesting to salvage, but found only broken bits of what once was." -- A.B. Shepherd
Electric Boogaloo
General Electric (GE) - Get Report closed at $23.43 Monday night, down nearly 4% on the day. The stock is now more than 25% lower year to date. Over this same time span, the Dow Jones Industrial Average, of which GE is a component (as well as an anchor) has moved 15% to the upside. Just to remind the folks, we did learn that Warren Buffet's Berkshire Hathaway (BRK.A) - Get Report had gotten itself completely out of the stock this past summer. Got to hand to that kid from Omaha.
New CEO, and now Chairman, John Flannery has been moving very aggressively to streamline the firm and to break with the past. You would think, on the surface, that this would be positive for the stock, given that this name has largely gone nowhere this entire millennium. Yes, I know the stock crashed in 2008/2009 with the rest of the market and bounced from there. So did everyone, and so did everything. The fact is that the stock traded as high as $35 in year 2000 and never touched that level again, despite the fact that central banks around the planet have herded investors into assets such as equities and real estate.
The tenure of Jeffrey Immelt at the helm of General Electric is a tale of colossal failure. That's not what matters to investors right now. What matters now would be: is John Flannery the leader that this firm needs at this time to see itself through to recovery?
Remember, Flannery did successfully run the firm's healthcare segment. He does "get it". He has really just gotten started cutting costs and getting prior leadership out of well-fortified positions. The firm reports third-quarter earnings next Friday. The street expects to see $0.50 a share on revenue of $32.6 billion. There are no whispers on these numbers that I have heard. Small wonder. I don't think a lot of people really know what to expect. Flannery will have to talk to us at that time, and he is expected to address the world in November. That's also likely when the firm will necessarily officially cut full year 2018 expectations. The ugly is not all out yet, but how much of that ugly has already been speculatively priced in? Maybe a great deal. It's hard to tell.
Still, the street is not positive on this name, even after naming Trian Fund Management co-founder Ed Garden to the board. That move was the news behind Monday's selloff. To me, and I am no expert on General Electric, there has been pain. There will likely be more, especially as the firm attempts forward guidance coming out of next week's earnings release.
As an investor, it becomes difficult to pick a bottom. It always is, so I will not attempt to do that. This is why, when one attempts to take on a long position meant as an investment and not as a quick trade, one should "tranche" one's way in. I think GE has more of a shot in this world than apparently Wall Street does. I like that Flannery is aggressive. I like the fact that angry activist investors are now on board. I really, really like the 4.1% dividend yield, whose preservation Flannery had already told us that he would prioritize.
I have successfully traded this name in the past, but had been out of it for most of the 2017 meltdown. I admit, I jumped back in early, with a purchase of what I would consider 20% of a long position in this name in early August after Immelt stepped down as CEO. I "took advantage" (we'll see about that) of Monday's puke-athon to get long the second tranche, landing me at about 40% of where I want to go. You can still sell a Nov. 24 $23.50 straddle for about $1.50, so there is still plenty of opportunity to lower net costs. Know what? The game, my friends, is afoot, and the adventure has just begun. Rock and roll.
Catastrophe Smack-Down
We all knew bad news was coming. I mean, if one is sentient, then one had to be aware that catastrophe losses to the insurers would be extreme this year. American International Group (AIG) - Get Report tried to clue the public on Monday as to just how bad this might be. In response to a succession of natural disasters that CEO Brian Duperreault referred to as unprecedented, the firm allowed for hits that will total more than $3.0 billion due to Hurricanes Harvey, Irma, and Maria, as well as the earthquakes that hit Mexico.
Industry-wide, insurers and re-insures are expected to pay out more than $100 billion in claims, with many firms expected to see third-quarter profits flattened, or possibly more than flattened. This would be a tough space to invest in for at least the short-term. AIG remains in the middle of its 2017 range after a strong September rebound. The stock is off a little less than a full percent in early Tuesday trade.
Keep in mind that this stock had technically suffered a "death cross" in early September which has not (at least not yet) materialized into a major downturn. I am not in love with the dividend either. I mean 2.1% is not bad, it's just not enough for me to play daredevil. I become a lot more interested should we see prices below $59.50. Earnings are due on Thursday, Nov. 2. I don't think there's any way to realistically anticipate a revenue number. There could be an options-related play going in, but that's it, just an options play, and that's just a maybe. The equity would be taboo for now, at least for me.
Chart of The Day: General Electric, January 2000 to Present
Shares have gone virtually nowhere....
Sarge's Trading Levels
These are my levels to watch today for where I think that the S&P 500, and the Russell 2000 might either pause or turn.
SPX: 2561, 2552, 2544, 2535, 2529, 2519
RUT: 1520, 1513, 1506, 1499, 1491, 1484
Today's Earnings Highlights (Consensus EPS Expectations)
After the Close: (CUDA) ($0.17), (HCSG) - Get Report ($0.31)
___________________________
Join Jim Cramer, CNBC's Jon Najarian and Other Experts Oct. 28 in New York
Jim Cramer will host CNBC's Jon Najarian, TD Ameritrade's JJ Kinahan, famed analytics expert Marc Chaikin and other market mavens on Oct. 28 in New York City to share successful strategies for active investors.
You can join them as they discuss how smart investors can make the most of options trading, futures contracts, fundamental and quantitative analysis and great ETFs to buy right now. Participants will also get a chance to meet Jim and other panelists and take photos.
When: Saturday, Oct. 28, 8 a.m.-3 p.m.
Where: The Harvard Club of New York, 35 West 44th St., New York, N.Y.
Cost: Special early bird price: $150 per person. (Normal price: $250)
Click here for the full conference agenda or to reserve your seat now.
More of What's Trending on TheStreet:
At the time of publication, Stephen Guilfoyle was long GE, although positions may change at any time.