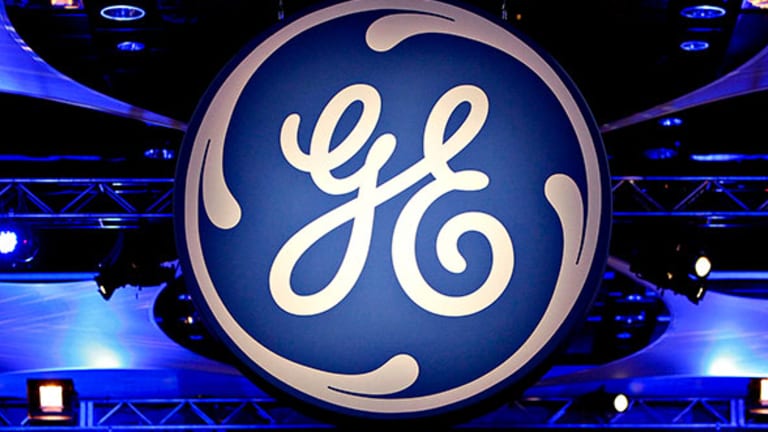 GE, Tyco May Continue to See Downside in $40-Oil World
There may be room for oil and gas-exposed industrials to see further upside in 2016, according to RBC Capital Markets analyst, but some may fail to wow us further.
Several industrial companies with exposure to the energy patch could surprise the market with further upside in 2016, according to RBC Capital Markets analysts, and yet some, such as General Electric (GE) - Get General Electric Company Report, Tyco International (TYC) and Dover (DOV) - Get Dover Corporation Report, give reason to heed caution. 
RBC noted May 9 that GE, Dover, Emerson Electric (EMR) - Get Emerson Electric Co. Report and Actuant (ATU) make a list of industrials within its coverage universe that will see sales most negatively affected by a continued slump in the oil and gas industry in 2016.
Among these, RBC expects Dover and Actuant will see some of the greatest improvement in oil and gas industry sales in 2017, if oil bounces back. GE, Dover and Emerson, will be propped up by natural hedges, which include potential offsets in their portfolios that would likely benefit from lower oil prices such as aerospace, power generation, and consumer, RBC said. 
"GE's oil & gas business has certainly been a drag on earnings, but this is well understood," said Jack Mohr co-manager of the Action Alerts PLUS Charitable Trust Portfolio, which owns GE. "It's also important to recognize that it represents under 13% of sales and 9% of profits, with the weakness more than offset by strength across its multi-industrial complex. Any turnaround in [oil and gas] will serve as a free call option on shares, as analysts are modeling worst-case-scenario."
Amid a slow-growth macro environment, Mohr explained, the company has made strong progress on its key transformation initiatives and is ahead of plan for the sale of its capital assets along with the integration of Alstom Energy.
"Beyond this, we think investors under appreciate several aspects to the story, including the potential of GE Digital's data analytics business, the company's steadily diminishing reliance/correlation to global GDP growth, and emergence as a world-class, multi-industrial Internet of Things juggernaut," he said. "The stock's industry-high dividend yield (over 3% vs. 1.7% average) and massive buyback ($18 billion expected this year) also help drive our investment thesis."
GE's hedge can be seen in recent moves this week.
On Monday GE's Marine Solutions department signed a deal to provide electric systems to the world's largest container shipping business, Maersk Line. The deal, is yet another sign that GE's CEO, Jeff Immelt, is pulling out all the stops to return GE to its more industrial roots as the company scraps the final remnants of GE Capital, leaving only a handful of financial operations integral in supporting GE's central businesses.
The company announced Tuesday that it would acquire the heat recovery steam generator (HRSG) business of Korea's Doosan Engineering and Construction in a deal valued at $250 million.
Meanwhile, RBC forecasts Honeywell (HON) - Get Honeywell International Inc. Report, Flowserve (FLS) - Get Flowserve Corporation Report, IDEX (IEX) - Get IDEX Corporation Report seeing less of a decline in 2016 than the aforementioned players, but these companies continue to see a significant year-over-year sales slump in 2017 based on RBC's model. 
Therefore, the question for RBC coming out of the 2016 Offshore Technology Conference last week was: Now that oil and gas-exposed multi-industry names have rallied roughly 15% since the early February bottoming in crude prices, performing roughly in line with the other non-oil names, is there more upside to these shares?
To determine that, it's important to first understand the difference between the factors that influence the stock market short-term and the factors that influence industrials' actual earnings. 
"Given that Multi-Industry players are not selling the physical commodity, oil customer [capital expenditure] activity is what ultimately drives earnings" for these companies, RBC's Deane Dray and Matthew McConnell wrote Monday. "While daily moves in oil prices can drive stock sentiment, the Multi-Industry oil & gas equipment earnings is ultimately driven by energy sector capex rather than direct commodity prices."
Unfortunately, RBC said multiple companies have voiced the view that demand will not improve until 2017 at the earliest.
Indeed, we've seen this from oil and gas production giants such as ConocoPhillips (COP) - Get ConocoPhillips Report, and oilfield equipment providers such as Baker Hughes (BHI) have echoed the sentiment through expectations of a continued decline in U.S. oil rigs through 2016. Although, to the contrary, oil and gas refiners, such as Valero (VLO) - Get Valero Energy Corporation Report, have recently portrayed optimism for global demand. 
Regardless, a majority of exploration and production companies, such as ConocoPhillips, BP (BP) - Get BP Plc Report, and ExxonMobil (XOM) - Get Exxon Mobil Corporation Report, have expressly cut capex guidance for 2016, and it remains unclear whether or not oil prices will stabilize to the point that any producers revise that guidance positively this year. 
But that doesn't mean some companies haven't been puffing their chest in an attempt to soothe investors and take advantage of day-to-day stock driving catalysts, such as the idea for adding rigs in 2016, which has been mentioned in the same breath as Anadarko and Permian basin operators like DiamondBack Energy (FANG) - Get Diamondback Energy, Inc. Report and Newfield Exploration (NFX) .   
"Operators seem to be competing with each other to show they can be the first to re-ramp activity because of improving efficiencies and lower well costs," Sterne Agnee analyst Tim Rezvan noted Monday. "We acknowledge the rampant reduction in full-cycle costs we are seeing, but believe this commentary is not in investors' best interests, considering we have little conviction that [West Texas Intermediate crude] will hold the $40 [per barrel] level this summer."
Oil and gas prices and poor first quarter earnings are certainly still driving some negative stock reactions, RBC's Dray and McConnell wrote. Given the persistence of oil and gas pressures throughout 2015, however, it is reasonable to assume the oil and gas levered names could surprise to the upside against down-and-out expectations in first quarter results, the analysts said.
"But again, we continued to see some further downside in select names," they cautioned, pointing to GE, Dover and Tyco, as well as Ametek (AME) - Get AMETEK, Inc. Report, Graco (GGG) - Get Graco Inc. Report, as examples. 
"As we wrap up [first quarter] earnings season, it is clear there is still more recalibration needed for oil & gas-levered companies, though the bounce in crude into the mid-$40s has supported the bull case even if fundamentals have not yet definitively turned," Dray and McConnell wrote. "Should crude continue to hold the $40 level, we expect that investors will be increasingly willing to look through ongoing challenged results given each quarter should be that much closer to the stabilization/inflection point."