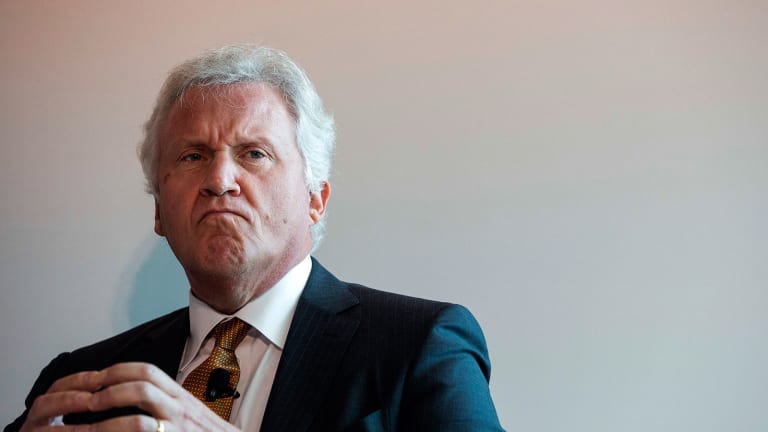 GE's Next Acquisition Could Be in Oil and Gas: Here Are the Targets
General Electric CEO Jeff Immelt made it clear he intends to start spending his company's $150 billion war chest on oil and gas assets. Here are the targets.
Editors' pick: Originally published March 11, 2016
When General Electric (GE) - Get General Electric Company (GE) Report chairman and CEO Jeffrey Immelt spoke at energy conference IHS CERAWeek last month, he made his intentions clear: His company wants to get bigger in the oil and gas industry. He said the company's balance sheet is strong and it's time to "fill in" its portfolio.
"We're not hamstrung by the cycle," he said. "It's an opportunity to be an even more important part of the industry."
Great fortunes are made in troughs, or so the saying goes, and the oil and gas industry is going through a doozy. Oil prices have fallen 70%, companies are laying off workers -- 1,000 announced at Anadarko Petroleum just this week -- and production is being halted. So it's a good time for a contrarian like Immelt to jump in and pick up some bargains. "We're in a period of slow growth and volatility," Immelt said. "You need courage to act."
The company certainly has the balance sheet to do a deal. It is expected to have more than $150 billion in cash once it's through its divestiture program, which includes its property portfolio and its financial services units. It's all part of Immelt's plan to move GE away from risky businesses and toward becoming a "simpler, more valuable" company involved in solving the world's problems.
"Our best days are ahead," he said last year.
GE spokesman Seth Martin wouldn't comment beyond what the company has said previously: "We're always evaluating opportunities." But analysts say the most likely candidates are the assets regulators are forcing Halliburton (HAL) - Get Halliburton Company (HAL) Report and Baker Hughes (BHI) to sell in exchange for a blessing for their merger. They most likely include Baker Hughes' business that involves "completions," or finishing oil and gas wells once they're deemed promising, and Halliburton's drill bit and directional drilling business, which involves controlling the direction of the drilling, including horizontally, to get more out of a well, both onshore and off. They are global franchises that are number one or two in their respective segments and would instantly make GE the third largest oilfield services company after Schlumberger and Halliburton-Baker Hughes.
Weatherford International (WFT) - Get Weatherford International plc Report is another possibility. While it would be a turnaround opportunity for GE, it's a distant fourth in the categories Halliburton and Baker Hughes are selling. And while it is one of the largest providers of artificial lifts (systems that boost the flow rate of crude oil through pumping or injecting gas), GE already bought Lufkin Industries, which is also big in that business.
Another possibility is for GE to sign a joint venture in which Weatherford would run all of the Baker Hughes-Halliburton offshoots for it. Weatherford's CEO Bernard Duroc-Danner has even come out in favor of the idea, according to one analyst who asked not to be identified. But the analyst doesn't like any kind of GE hook-up with Weatherford.
"It seems to make a lot less sense when you can buy much better franchises without any debt or operational weaknesses," the analyst said. "It seems like taking on more than necessary and it would raise more anti-trust issues."
At IHS CERAWeek, Immelt wasn't specific about the company's intentions. But he noted that there are opportunities in technology ("analytics are becoming more important than science," he said) and in storage, from finding ways to house solar energy to stockpiling production when oil prices tumble.
The CEO also said the company was interested in focusing on services that can provide "self-help" and "flexibility" to oil and gas customers, many of which could really use it. "In a shale gas field, if you can offer an immersible pump that gets a 5% boost in recovery, you can benefit right away," he said.
Immelt also implied that he may look beyond the U.S. for opportunities.
"While it's hard to be an investor in Brazil today, you have to be long in countries that are out of favor," he said.
GE is no slouch when it comes to acquisitions. The company bought the wind turbine unit of bankrupt Enron in 2002 for $358 million; it now generates about $10 billion in revenue. In 2010 GE shelled out $3 billion for Dresser, which provides compression, flow technology, measurement and distribution products and services to mostly oil and gas companies. And last year it finalized its purchase of Alstom's power and electricity grid operations for $13 billion.
Time and again, Immelt appears to be interested in new lines of business that expand its mighty industrial complex.
"Diversification helps at a time like today," he said. No doubt.