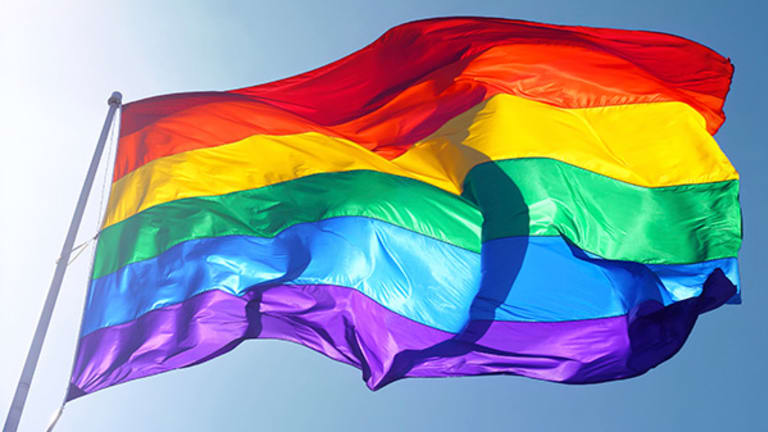 Gay Pride Celebrations; Climate Change Conference; Auto Sales Report: 10 Things Happening Next Week
While American gay pride celebrations focus on the Supreme Court's marriage ruling, negotiations press on in the Greek debt crisis, and the United Nations hosts a conference on climate change
NEW YORK (TheStreet) -- The timing of gay pride marches in major U.S. cities could hardly be better this year, coming on the heels of the Supreme Court ruling that same-sex marriage is a right guaranteed by the Constitution.
The parades, including the country's largest in New York City, are among several events to watch in the coming week, which will also see another deadline for Greece and Fourth of July extravaganzas in Manhattan.
Here are 10 things you'll need to know about:
1. -- On the heels of Friday's Supreme Court ruling legalizing same-sex marriage comes New York City's Pride March, which kicks off on Sunday, June 28, at noon. Following a lavender line from 36th Street and Fifth Avenue to Christopher and Greenwich Streets, the procession will pass the Stonewall Inn, a gay bar and site of a 1969 police raid and subsequent riots generally credited with touching off the modern gay rights movement.
2. -- Former White House National Economic Council Director Lawrence Summers is among the speakers scheduled to address the Swiss International Finance Forum in Bern, the Swiss capital, on Monday, June 29. Summers, who left his position at the White House in 2010, now advises Silicon Valley-based financial analysis startup OpenGov. He's also been vocal on the Greek debt crisis, penning an opinion for The Washington Post on the subject earlier this week.
3. -- United Nations General Assembly President Sam Kutesa will host a conference on climate change at United Nations headquarters in New York starting at 9 a.m. on Monday, June 29. The meeting is meant to drum up momentum for a December climate summit in Paris. That conference's planners are hoping that it will end with a worldwide agreement to cut carbon emissions on the order of the Kyoto Protocol, which expired at the end of 2012.
4. -- Greece faces two hurdles on Tuesday, June 30. First, the country must repay €1.6 billion to the International Monetary Fund, and second, its bailout deal from EU runs out. In negotiations with creditors this past week, Greek Prime Minister Alexis Tsipras played the role of intermediary, trying to get a spending and tax reform deal that went far enough for creditors but didn't offend players within Greece. As of June 26, an agreement between Greece and its creditors was still far from certain, with German Finance Minister Wolfgang Schauble saying the deal is a tossup, according to Politico.
5. -- Standard & Poor's Case-Shiller Home Price Indices will determine whether home prices continued to climb through April. Data for March, released in May, showed the indices gained 4.1% at an annualized rate, compared with 4.2% in February. Those single-digital rates represent a change from the previous two decades, which saw much more volatility.
6. -- Motor vehicle sales for June will be published on Wednesday, July 1. As other indicators, such as orders for domestically produced factory goods, have stalled or fallen, auto sales have been accelerating: For May, sales were just under a seasonally adjusted annualized 17.8 million, the highest in a decade, according to Reuters.
7. -- Time Warner Cable (TWC) will have its annual shareholder meeting at the New York Institute of Technology in Manhattan starting at 10 a.m. on Wednesday, July 1. On Thursday, Charter Communications (CHTR) filed its application with the Federal Communications Commission to buy the company. The acquisition was announced in late May, a month after rival Comcast (CMCSA) dropped its bid to buy the New York-based company.
8. -- June numbers from the ISM Manufacturing Index will be released at 10 a.m. on Wednesday, July 1. The five-component index rose from 51.5% in April to 52.8% in May, besting a survey of economists by MarketWatch that predicted a 51.8% reading.
9. -- Monthly jobless numbers for June are expected from the U.S. Department of Labor on Thursday, July 2. May saw 2015's biggest monthly increase yet when the economy added 280,000 jobs. Still, the unemployment rate rose one tenth of a percent to 5.5 for the month.
10. -- New York plays host to myriad Independence Day events each year. Head down to Staten Island for the Travis Fourth of July Parade, a small-town event that begins at noon and is complete with a red, white and blue house-decorating competition. Then, pop over to Coney Island for the annual Nathan's (NATH) Famous Fourth of July International Hot Dog EatingContest at 2 p.m. (Last year's winner ate 61 frankfurters in 10 minutes.) Finish the day by catching the Macy's Fourth of July Fireworks, set off on and around the Brooklyn Bridge and visible from a variety of bars, parks and other scenic points along the East River starting at 9 p.m.