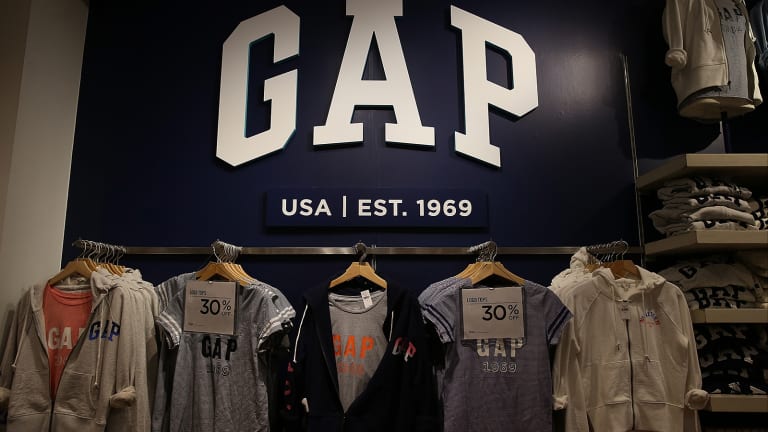 Publish date:
Gap CEO Discusses Turnaround, Says Store Closures Were 'Overdue'
Gap is hoping its plan to close 175 underperforming stores can can ultimately reinvigorate the sales of products for its namesake brand.
Gap is hoping its plan to close 175 underperforming stores can can ultimately reinvigorate the sales of products for its namesake brand.
NEW YORK (TheStreet) -- Shutting 175 underperforming Gap stores is an "overdue" measure, Gap Inc. (GPS) - Get Gap, Inc. (GPS) Report CEO Art Peck said on Tuesday.
"They did not deal with the product in an appropriate way," he said about the venues slated for closure.
At Gap's 2015 investor meeting in San Francisco, the retailer's chief executive admitted that some of the company's failures have been "self-inflicted" and that the company plans to refocus on selling on-trend products that consumers want to buy. 
"None of us are happy with the performance now," Peck said.
The Gap company, which includes Old Navy, Banana Republic and other brands, has faced tough times since its number of stores reached a peak of 1,400 stores in the 2000s. Most of the decline has come at its namesake store. Same-store sales at Gap stores dipped 10% in the quarter ended May 2.
This week's announcement of store closures is the second round of cutbacks in two years and will leave 800 remaining branches of Gap's namesake stores. Gap said the closures should not impact previous earnings-per-share guidance of $2.75 a share and $2.80 a share for the fiscal year, excluding one-time charges related to the closures.
Gap president Jeff Kirwan said his team members looked closely at stores to decide which ones were not worth trying to turn around. He said they ultimately chose to eliminate stores that lacked enough foot traffic or that didn't "the best impressions of the brand" when corporate visitors looked at them in person.
"We have made trade-offs," he said about the process of scaling back the number of stores. "Where we could have made a mistake is if we just made a financial decision."
Kirwan said that the Gap is not just taking stagnant stores out of the mix but is also investing in its corporate team so as to better predict or adapt to trends and bring them to market faster. The rising popularity of fast-fashion retailers such as H&M and Forever 21 has been one big reason for sales declines at the Gap. 
Peck addressed concerns that Gap might lose even more customers by taking away their preferred stores. "I hate the idea of closing stores," Peck told investors, "because I hate the idea of conceding market share."
But, he said, Gap will regain those customers if the company can make the cuts, focus on improving quality without raising price and "get it behind us."
The latest round of store closures will cost Gap $300 million in sales and one-time expenditures of $140 million to $160 million. Gap estimates it will save $25 million a year beginning in 2016. 
At the market's close on Tuesday, Gap's share price was $38.75, reflecting a rise of 1.44% for the day.
This article is commentary by an independent contributor. At the time of publication, the author held no positions in the stocks mentioned.