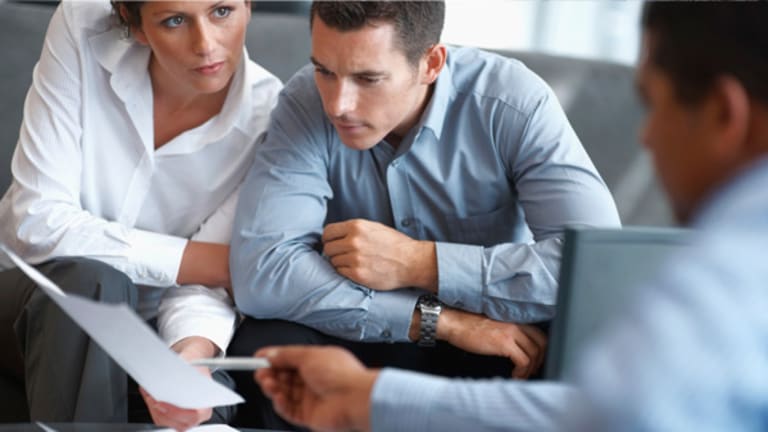 Gannett Deserves a Second Read
There's more to Gannett than paper and ink.
NEW YORK (TheStreet) -- Gannett (GCI) - Get Gannett Co., Inc. Report did something yesterday that it has been unable to do for more than four-and-a-half years; the stock closed above $20 for the first time since June of 2008. There were no trumpets, no alarm bells, and no fireworks as a result of this feat, but it does appear that investors are once again starting to take notice.
Best known for its newspaper business, and in particular for being the parent of
USA Today
, it's been a somewhat long road to recovery for Gannett. The company was all but given up for dead in early 2009, as the stock slid below $2. The dividend was slashed 90% from 40 cents to 4 cents, and a level of debt that previously was not much of an issue became problematic as advertising sales went into one of the deepest slumps ever experienced. Trading at $2, the company's market cap was just over $450 million, turning a former large cap arguably of "for widows and orphans" quality into a small-cap name with lots of debt and no prospects in a dying industry.
At least, that's what the market saw. But those who took a look under the hood would have seen a company that was still generating gobs of free-cash flow and attempting to get its financial house in order by selling off some assets, paying down debt, and extending debt maturities. As off the latest quarter end, Gannett had $1.4 billion in net debt, down from $3.7 billion at year-end 2008.
The company has also been resurrecting the dividend, which now stands at 20 cents per quarter. That's half of the pre-crisis dividend, but a long way back from 4 cents. Despite Gannett's run-up above $20, the stock still yields 4%, and there may be sufficient cash flow to further raise the dividend.
Even with the stock's 60% run since last June, shares still trade at just 11 times trailing earnings, and just under 9 times 2013 consensus estimates. Incidentally, the consensus has been pretty conservative with the estimates and Gannett seems to routinely beat the consensus, including 6+% upside surprises in the past two quarters. We'll see if Gannett can surprise again when the company reports fourth quarter results on Feb. 4, but I suspect that the Street is staring to become a bit less skeptical.
Perhaps it's beginning to sink in that Gannett is more than just a newspaper company, owning 23 TV stations in 15 states and the District of Columbia that reach 21 million households, or about 18% of US population. The company also has digital unit that includes
CareerBuilder
and 120 web sites that are associated with local publishing and television markets. Last quarter, the broadcasting and digital segments accounted for 32% of total company revenue, but more than 68% of operating income.
Clearly, there's more to Gannett than paper and ink.
This may never again be a $90 stock, but the recovery has been compelling.
This is a great example of the potential benefits of buying what no one else wants to own, and ultimately reaping the benefits. Of course, it does not always work out that way, and you've got to do your homework first. Sometimes investors shun companies for good reasons. The true art is determining when the crowd is wrong. It's not easy, and takes patience, nerve, and the ability to sometimes take a beating.
At the time of publication, the author was long GCI.
This article is commentary by an independent contributor, separate from TheStreet's regular news coverage.
Jonathan Heller, CFA, is president of KEJ Financial Advisors, his fee-only financial planning company. Jon spent 17 years at Bloomberg Financial Markets in various roles, from 1989 until 2005. He ran Bloomberg's Equity Fundamental Research Department from 1994 until 1998, when he assumed responsibility for Bloomberg's Equity Data Research Department. In 2001, he joined Bloomberg's Publishing group as senior markets editor and writer for Bloomberg Personal Finance Magazine, and an associate editor and contributor for Bloomberg Markets Magazine. In 2005, he joined SEI Investments as director of investment communications within SEI's Investment Management Unit.
Jon is also the founder of the
, a site dedicated to deep-value investing. He has an undergraduate degree from Grove City College and an MBA from Rider University, where he has also served on the adjunct faculty; he is also a CFA charter holder.