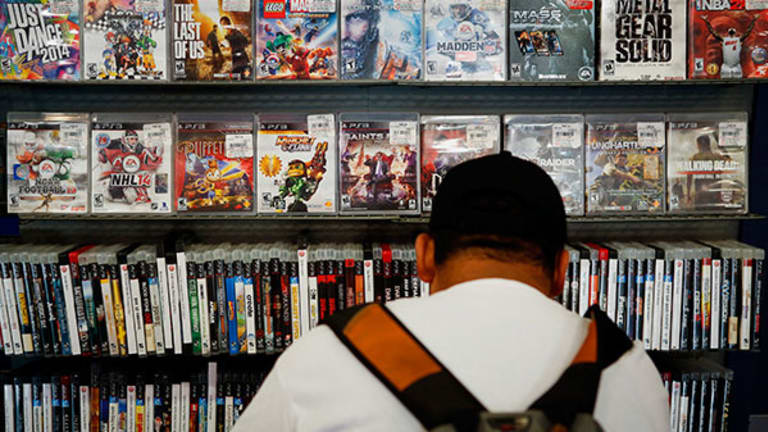 GameStop Is Shooting Up, Buy Now Before It Moves to the Next Level
GameStop had already made big gains this year before its earnings beat Thursday, and thanks to lingering pessimism about the gaming market, the retailer's still trading at a hefty discount.
NEW YORK (TheStreet) -- Investors have poured tons of money into video game retailer GameStop (GME) - Get Free Report Its shares were up more than 20% on the year as of Thursday's close, dominating not only the broader averages, but also besting the 2.74% gains in SPDR S&P Retail ETF (XRT) - Get Free Report. And as of 1 p.m. Friday, they'd tacked on another 7%.
All that enthusiasm has been for good reason.
GameStop, the largest pure-play video game retailer in the U.S., delivered fiscal first-quarter revenue and earnings Thursday that beat Wall Street estimates, sending its shares higher by another 6%. Investors placed the right bet.
Headquartered in Grapevine, Texas, GameStop on Thursday reported fiscal first-quarter net income of $73.8 million, or 68 cents per share, topping the average analyst estimate by 9 cents. First-quarter revenue of $2.06 billion, up 3.5% also came in ahead of consensus estimates by some $50 million.
And with the company expecting full-year earnings to be in a range of $3.63 to $3.83 per share, implying a 10% annual increase on the high end, investors can still do well here. This is because the improvements GameStop is making in its business are likely to lead to it delivering more earnings beats in the next couple of quarters.
Why the confidence? Consumers love video games, as evidenced by strong video game console sales from the likes of Sonyundefined, which recently raised its own earnings estimates for the second time in three months, citing stronger-than-expected demand for video games. And this should bode well for GameStop, which sells both new and pre-owned video games
Plus, the stock's price doesn't reflect this growth potential. Despite its strong performance so far in 2015, GameStop is still relatively cheap, trading at just 11 times trailing earnings. This compares favorably to the average stock in the S&P 500, which trades at a P/E of 21.
If GameStop was priced on par with the S&P 500, shares would be valued today at around $70, not $40. And GameStop looks even cheaper when factoring 2016 earnings estimates of $4.38 per share. This means at its Thursday's closing price of $40.92 per share, the stock was valued at just nine times forward earnings, which is half the average forward multiple of S&P 500 stocks.
Not to mention, GameStop pays a 36-cent quarterly dividend that yields 3.60% annually, compared to an average yield of 2% for dividend-payers in the S&P 500. In the words, GameStop has all of the qualities value investors should be looking for.
There are, naturally, valid reasons why this stock was being discounted. Over the past couple of years, growth has been hard to come by. GameStop has been hammered by the same shift in consumer game-buying trends that has impacted the broader gaming industry: It saw a 23% plunge in its new video game software sales in the past three years. Accordingly, Wall Street is taking a wait-and-see attitude before rewarding GameStop with a P/E ratio on par with averages. But those waiting for the "all clear" signal will be too late to profit.
GameStop was broken for a moment, but now it appears ready for long-term growth. That the company is still aggressively expanding its Technology Brand stores is a good start. Assuming the company can accelerate growth in that segment over the next two to three years, GME shares, now trading at a meaningful discount, should reach the $50 to $55 level in the next 12 to 18 months.
This article is commentary by an independent contributor. At the time of publication, the author held no positions in the stocks mentioned.