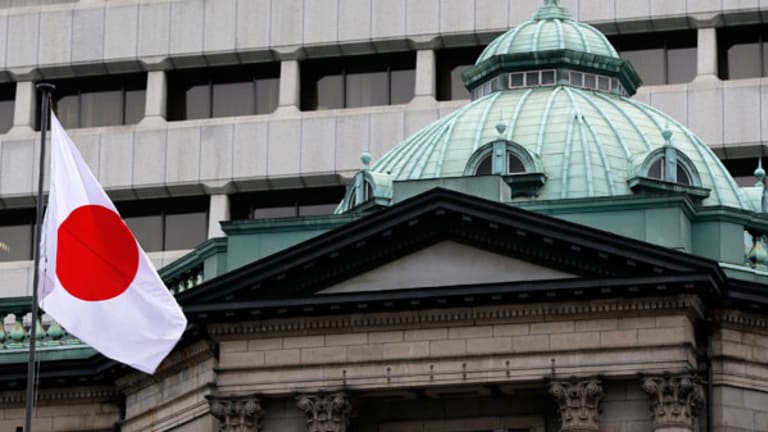 Publish date:
G7 Gives Bank of Japan Stimulus the Green Light
Bank of Japan's bold stimulus programs are artificially weakening the yen, making the country's exporters a buy for 2013.
Bank of Japan's bold stimulus programs are artificially weakening the yen, making the country's exporters a buy for 2013.
NEW YORK (TheStreet) -- The G7 meeting on May 11 produced some favorable results for the Bank of Japan, with the final statements essentially suggesting that the group's finance ministers will not openly criticize recent policy moves to weaken the yen.
As part of the Bank of Japan's historic stimulus program, currency devaluation is viewed as an important precursor to building a sustainable recovery in Japan's export-driven economy. At this month's meeting, the G7 reiterated its comments from February, which showed no intention to
This opens the door for the Bank of Japan to continue adding to its easing program if current measures fail to generate inflationary pressures and promote visible growth in Japan. Moves in the currency markets are starting to gain wider attention, however, as the USD/JPY has seen forceful moves through the central psychological level at 100. This is the first time the USD/JPY has traded at these levels since 2009, with the yen dropping more than 15% against the dollar (and 13% against the euro) year-to-date.
Focusing on Banking Rules
The May G7 meeting comes at a time when the global economy is showing a sluggish pace of recovery and clear growth imbalances are present in certain areas of the world. This week's retail sales numbers in the U.S. showed declines for the second consecutive month, and the next round of GDP data out of the eurozone indicated recessionary conditions for the first quarter.
Given the weakness in the broader economic environment, it is not surprising to see concern that Japan is artificially guiding its currency values in order to engineer a recovery fueled by exports. This is especially true when that recovery might come at the expense of other nations.
Also see: Biggest Loser: My Fight Against Big Debt >>
At this stage, true progress in the global growth story cannot be seen as a given, so it is somewhat surprising to see the G7 to avoid the topic of currency manipulation altogether. When we look at the comments made by representatives from each member nation, the focus is being placed on restructuring lending rules to prevent banks from becoming "too big to fail." The central goal is to shut down major lenders before they fail, in order to maintain a stronger semblance of financial stability and avoid excessive volatility in asset markets.
Additional areas of discussion came with the need for governments to place fewer austerity requirements in debt-troubled areas. These proposals were met with resistance from Canada, the United Kingdom and Germany, while the U.S., France, and Italy saw these ideas as favorable.
Member countries arguing for reduced austerity requirements have suggested that a slower pace in budget cuts will enhance flexibility and help restore fiscal order in troubled areas. With the depth of these discussions, it is clear that the G7 has placed its focus on bigger picture issues and that there is no perceived need to verbally influence Japan to alter its currency-weakening stimulus plans.
Opportunities for Investors
When looking at Japan's planned programs and their implicit approval by global banking bodies, there are ways for investors to benefit from long term movements likely to follow as a result of expected currency changes.
Specifically, this means selling assets that are denominated in Japanese yen. Continued weakness in the yen is expected for the long term, largely propelled by Japanese investors moving out of their domestic currency and into foreign bonds with higher yields.
These activities will drive up currency pairs like the USD/JPY, and put selling pressure on yen ETFs like the
CurrencyShares Japanese Yen Trust
(FXY) - Get Report
,
ProShares Ultra Yen ETF
(YCL) - Get Report
and the
Proshares Trust II
(YCS) - Get Report
.
Also see: Dicker: U.S. Energy Independence Is Nigh >>
For investors focused on stocks, Japanese export companies should be an area of interest. The fast-weakening yen improves earnings prospects for companies like
Toyota Motors
(TM) - Get Report
,
Sony
(SNE) - Get Report
and
Honda
(HMC) - Get Report
. Some of this upside activity has already been seen in Panasonic (the second largest TV manufacturer in Japan), which rallied strongly after releasing forecasts showing the company expects to return to profitability in 2013.
Stock trends like this are expected to continue for Japanese exporters as long as Bank of Japan is able to move forward with its stimulus programs, with the intention of ending 15 years of deflation in consumer prices. This month's G7 meeting supports this outlook, as Japan managed to avoid peer criticism and public censure despite the clear results its reflationary policies are having on its currency values. A weaker yen means broader support for Japanese export companies, and a bullish bias should be attached to this sector for the remainder of the year.
Also see: This Omaha Stock Blows Away Berkshire Hathaway >>
At the time of publication the author held no positions in any of the stocks mentioned.
This article is commentary by an independent contributor, separate from TheStreet's regular news coverage.
Richard Cox is a university teacher in international trade and finance. His articles appear on a variety of Web sites, including
,
, FX Street and others. Investing strategies are based on technical and fundamental analysis of all the major asset classes (stock indices, currencies and commodities). Trade ideas are generally based on time horizons of one to six months.