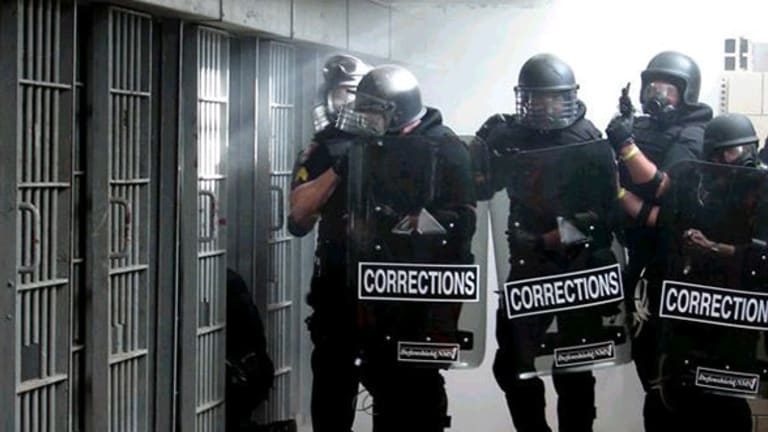 Publish date:
G4S to Face Court Of Public Opinion as Employment Vetting Questioned
Analysts, prior to today's revelation, had downgraded the stock on slow progress of its turnaround effort and possible downgrade in credit rating due in large part to previous scandals
Analysts, prior to today's revelation, had downgraded the stock on slow progress of its turnaround effort and possible downgrade in credit rating due in large part to previous scandals
Beleaguered security contractor, G4S (GFSZF) , found itself mired in another public relations nightmare on Monday after it was revealed that the alleged gunman in the Orlando nightclub massacre was a G4S employee for almost nine years.
The revelation calls into question the vetting practices of a so-called leading security contractor, that provides cash transport services and staff to prisons and immigration detention centers. It also calls into question the efficacy of the turnaround effort that has been underway since knight-in-shining-armor CEO Ashley Almanza joined the firm June 2013.
G4S has stated that Omar Mateen underwent company screening procedures and passed FBI background checks before joining the firm. The company's North America division confirmed Mateen was an employee and said it was cooperating fully with investigations by authorities.
Shares in the U.K.-based company have lost nearly half of their value since 2013 when the group announced a restructuring and turnaround plan. The shares fell as much as 7.5% in London this morning, to touch lows of 173.0 pence ($2.45), after it was revealed that Mateen had been employed by the company since September 10, 2007.
Under the turnaround strategy announced in 2013, the group set out to hive off underperforming or non-core businesses and to reduce debt on its balance sheet. The group has sold 23 businesses with turnover totaling GBP900 million since 2013. In 2015, it raised GBP281 million from disposals and is expecting to raise GBP250 million - GBP350 million in the current year.
Most recently, the company announced it was selling its U.S. youth services business, which operate 32 training, residential and treatment centers for young offenders. The majority of the centers are in Florida. It is also selling G4S Israel and its U.K. children services business. 
However, its efforts to reduce its bloated balance sheet are yet to yield fruit, given that net debt-to-Ebitda sat at 3.0 times when G4S last updated the market, which is only a fraction below the 3.1 times net debt-to-earnings the group had when the turnaround was announced.
Slow progress on balance sheet repair was one of the factors cited by analysts at Barclays when they cut their rating on the stock in March, to the equivalent of a hold. Barclays cited lower than expected revenue growth, slow repair of the balance sheet and the potential for a credit rating downgrade as being behind their decision to downgrade G4S.
On March 29, 2016 S&P re-affirmed a credit rating of 'BBB-' long-term and 'A-3' short-term with a negative outlook.
Analysts have a median price target of 205 pence for G4S, and as of June 10, 22 analysts surveyed by the Financial Times advised investors to hold their position in the company.
The current incident is just the latest in a long line of scandals to have battered the reputation of G4S, however, it is the first major incident in North America. G4S earned 23% of its revenues in North America during 2015, from a mixture of public and private clients. Only time will tell to what extent the group's reputation and business will be impacted by the weekend's events.
In December 2014 G4S found itself in the midst of a race scandal when several of its guards were found to have exchanged racist text messages when staffing deportation flights from the U.K.. The texts came to light when one of the detainees died during the flight after an incident in which the guards in question were allegedly forced to restrain the victim.
In March 2014, G4S agreed to repay GBP109 million to the U.K. government after it was caught overcharging the public purse for the remote monitoring of deceased prisoners. The group repaid the over-billed money in order for it to be eligible to tender for more public service contracts.
In October 2013, a G4S security guard was convicted of murder by a Glasgow, Scotland court after he was found to have bludgeoned a delegate to death while he was supposed to be providing security at a medical conference.
In February 2013, the group announced it had taken a charge of £88 million after it failed to secure enough security staff for the London Olympics, prompting the government to draft in members of the armed forces to provide security for the event.