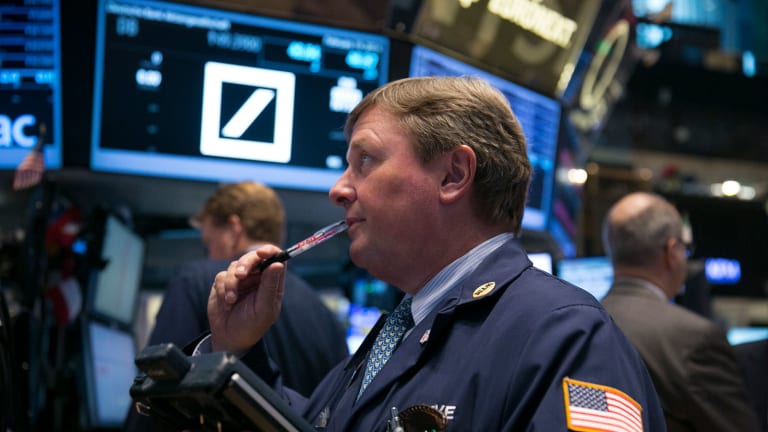 Futures Rudderless Ahead of GDP Release on Friday, Asia Mixed
Was GDP sluggish or buoyant in Q2? And still no word on stimulus from the Bank of Japan and prime minister Abe.
Futures for U.S. markets were directionless late Thursday as investors anxiously await a report on second-quarter GDP that will be released Friday morning and will show whether economic growth accelerated or remained sluggish in the past quarter.
The Dow Jones Industrial Average was unchanged while futures for the S&P 500 were off 0.01% and Nasdaq 0.1% higher at 9:31 p.m. EDT.
The GDP numbers will be released before the start of trade Friday, and investors fear they'll show growth stagnated around the first quarter's 1.8%, especially after disappointing earnings figures from Ford (F) - Get Report . The GDP figures are historic rather than predictive and are likely overshadowed by the Federal Reserve's more forward-looking Wednesday statements that the economy appears to be performing well.
U.S. stock markets closed mixed Thursday as solid earnings from tech titans such as Facebook (FB) - Get Report and Apple (AAPL) - Get Report pushed the Nasdaq 0.3% higher to 5,154.98 -- its highest point this year. The S&P also closed 0.16% higher while the Dow ended the day 0.09% lower as falling oil prices pulled energy stocks lower.
Asian stocks opened mixed Friday as well, as Japanese investors continue to wait on stimulus measures from both the Bank of Japan and the country's prime minister. Japan's Nikkei was off 0.15% and Hong Kong's Hang Seng 0.16% at 9:54 p.m. EDT while Korea's Kospi gained 0.34%.
European markets closed lower on Thursday on a mixed bag of earnings reports and as investors there awaited the economic and stimulus info out of the U.S. and Japan. Germany's Dax slipped 0.43%, London's FTSE 0.44% and the Cac in Paris 0.59%.
The pound followed European stock markets lower on Thursday but recovered 0.15% in early Asian trade to $1.3179 at 10 p.m. EDT. Industry standard Brent crude also reversed course in Asia, gaining 0.07%, to $42.73 per barrel for September delivery. U.S. West Texas crude slipped further, losing 0.1%, to $41.10 for September delivery at 9:49 p.m.
In extended trading, shares of Google parent Alphabet (GOOGL) - Get Report gained 4.1%, to $797.23, after the company beat analyst expectations with its second-quarter earnings. It earned $8.42 per share in the past three months compared to analyst forecasts of $8.04. Revenue rose 21%, to $21.5 billion.
Over on decliners, hard disk makers Seagate (STX) - Get Report and Western Digital (WDC) - Get Report suffered in after-hours trading after Western Digital swung to a $351 million loss in its final fiscal quarter, which ended in June. The company attributed the loss to its Sandisk acquisition and said that without the charges it would have made 79 cents per share, well off the $1.51 of a year earlier.
Still, the earnings were better than analyst projections of 71 cents and $3.44 billion in profit but investors didn't like the steep decline in earnings. The results tainted peer Seagate, which lost 2.76%, to $31.70.
Action Alerts PLUS, which Cramer co-manages as a charitable trust, is long FB, AAPL and GOOGL.