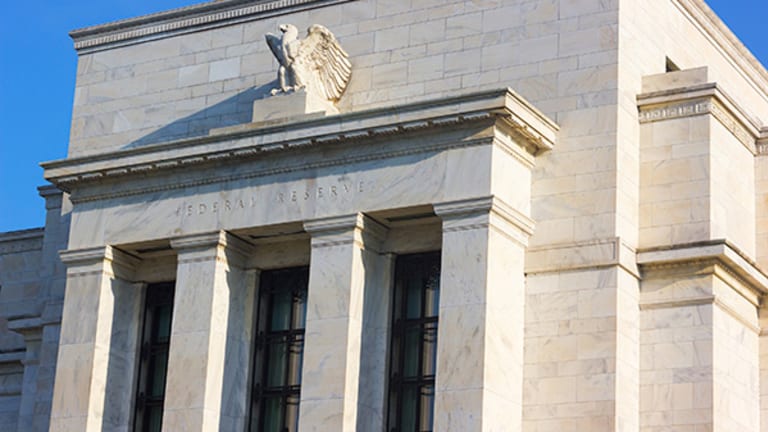 Futures Point Higher Ahead as Investors Expect Fed to Take No Action
Asia opened mixed as investors in Japan digested positive earnings and their Chinese counterparts fretted about finding a top.
Investors Tuesday night cheered another day of mostly rosy earnings and appeared disinterested in the Federal Reserve's Wednesday meeting with futures for U.S. stock markets clearly higher as Asian markets opened mixed.
Futures for the Dow Jones Industrial Average were up 0.15%, the S&P 500 .012% and Nasdaq 0.62% at 9:25 p.m. EDT.
The upbeat futures reflect the widely held belief that the Fed will leave interest rates unchanged despite encouraging economic news and better-than-expected earnings. Investors will instead look to digest meeting notes in the coming days for news about a possible increase in September after the U.K.'s path to an EU-free future becomes even more clear, calming markets.
U.S. markets closed mixed on Tuesday as a decline in same-store sales at McDonald's (MCD) - Get Report threw shade over an otherwise upbeat earnings season. The S&P gained 0.03% while the Dow fell 0.1% and Nasdaq ended the day 0.24% higher.
Asia took a cue from the U.S., opening mixed as Japanese traders focused on positive earnings. Tokyo's Nikkei gained 1.3% while the Hang Seng in Hong Kong slipped 0.07% and Korean Kospi pared 0.03% at 9:20 p.m. EDT.
The mixed markets in the U.S. and Asia follow a rare up day in Europe, which has been bruised by terror attacks and the Brexit vote. Germany's Dax ended Tuesday up 0.49%, France's CAC 0.15% and London's FTSE 0.21%.
The pound continued to have trouble finding a foundation, slipping 0.1% to $1.3134 at 9:46 p.m. EDT after closing higher in New York.
Oil is also proving slippery with industry standard Brent crude off 0.2% to $44.78 a barrel for September delivery and down 0.28% to $42.80 for a barrel of West Texas crude, also for September delivery, at 9:34 p.m. EDT.
Earnings were the story in extended trade Tuesday. Microblogger Twitter (TWTR) - Get Report tumbled 10.89% in after-hours trading to $16.44 after the company said sales and user growth had slowed. In the current third quarter it expects revenue in the range of $590-$610 million, below the $678 million analysts had forecast.
In the second quarter, Twitter said revenue rose 20% over the second quarter of 2015 to $602 million but Wall Street was looking for revenue of $606.77 million for the quarter. Still, it beat on earnings per share with 13 cents versus analyst hopes of just 10 cents.
On the plus side, investors cheered Apple's (AAPL) - Get Report surprise earnings beat by sending the stock 6.81% higher to $103.25 after the Cupertino, Calif.-based company reported earnings of $1.42 per diluted share, surpassing analysts' estimates of $1.38 per share.
Revenue came in at $42.4 billion, topping analysts' projections of $42.1 billion.