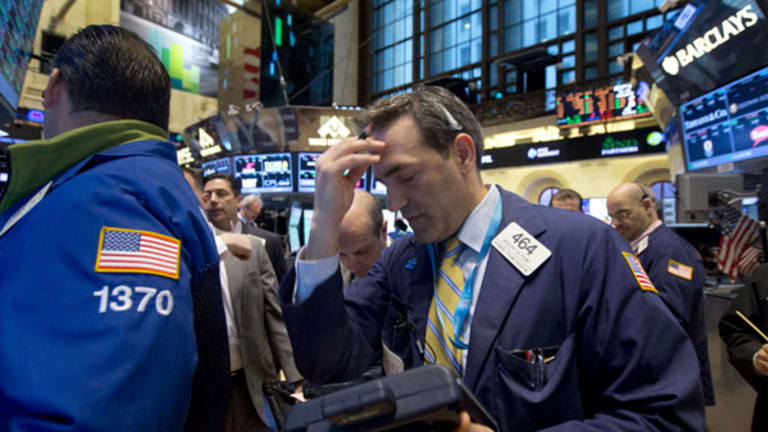 Futures Point Downward for U.S. Markets as Asia Opens Lower
Investors are beginning to wonder if earnings season can support the latest records.
Futures for U.S. stock markets pointed downward Tuesday night after a mixed day on Wall Street where strong earnings failed to sufficiently answer investor doubts about how high the record-setting summer can go.
The indicator for the S&P 500 was off 0.14%, the Dow Jones Industrial Average 0.1% and the Nasdaq 0.14% at 10:50 p.m. EDT.
The downward indication is a sign investors are wondering whether or not this earnings season can sustain the back-to-back records set on Wall Street in the past two weeks. A miss on subscriber numbers by streamer Netflix (NFLX) - Get Report on Monday hammered the company's stock Tuesday -- down 13.13% -- and continues to weigh on traders' minds despite strong figures from banks.
The S&P closed down for a second day, paring 0.14% while the Dow set yet another record after six straight days of gains. It closed up 0.14% at 18,559.01. The Nasdaq lost 0.38% as investors there clearly fretted over Netflix.
The U.S. wasn't the only mixed stock market on Tuesday. Bourses in Europe also had trouble agreeing on a direction as mostly strong earnings data contrasted with gloomy economic indicators in the U.K. and Germany. The DAX in Frankfurt fell 0.81% while London's FTSE gained a scant 0.03%. Meanwhile in Paris, investors sold the CAC down 0.63%.
Asian markets opened in the red as investors feared the mixed close in New York means the record-setting days are over - for the moment. The Nikkei was off 0.75% at 8:55 p.m. EDT with Hong Kong's Hang Seng down 0.6% and South Korea's Kospi off 0.47%.
The pound followed suit with these markets and entered a second day of declines in early Asian trade, off 0.18% at $1.3077 at 9:12 p.m. EDT. Meanwhile, oil recovered after two down days with industry standard Brent crude up 0.21% at $46.76 per barrel for delivery in September and West Texas crude up 0.11% to $44.70 for delivery next month at 8:48 p.m. EDT.
Earnings impacted extended trading with Microsoft's (MSFT) - Get Report rosy report pushing it 4.2% higher to $55.34. Investors cheered its Office 365 subscription growth, resulting in a 19% increase in consumer revenue in the fourth quarter and 5% growth in business-related Office revenue. They were also pleased with revenue at its Azure corporate server business doubling.
Shares in drugmakers Valeant Pharmaceuticals (VRX) and Progenics Pharmaceuticals (PGNX) - Get Report also got a shot in their extended trading arms after fresh FDA approvals. An FDA committee recommended approval of a new Valeant treatment for psoriasis while the regulatory body gave its OK for Relistor, which was developed jointly by the two to treat opioid-induced constipation.
Valeant gained 4.33% to $24.56 while Progenics exploded 36.64% to $6.75.