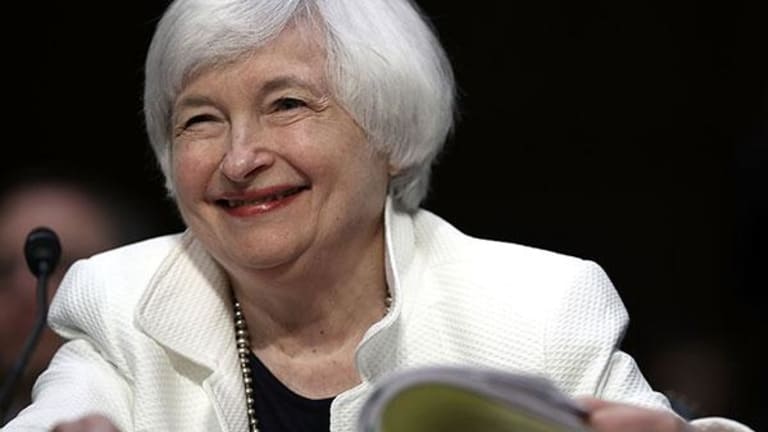 Futures Head Higher After Fed Says Economy Looking Good
Asia markets are lower as investors await news of stimulus packages form the Bank of Japan and Prime Minister Abe.
Futures for U.S. markets were upbeat late Thursday after the Federal Reserve offered a mild yet upbeat report on the economy that has most pundits now expecting a rate increase in December.
The Dow Jones Industrial Average was up 0.11%, the S&P 500 0.14% and Nasdaq 0.03% at 10:00 p.m. EDT.
The futures point to a higher opening Thursday as investors work through a mixed day of earnings with tech stocks like NXP Semiconductors and Groupon warming investors after disappointments from Coca-Cola (KO) - Get Report and Whole Foods Markets (WFM) .
Investors had also hoped for a stronger signal from a Wednesday Fed meeting, though the central bank said risks to the economy had "diminished."
The mixed earnings led to mixed market closes Wednesday with the Dow down a slim 0.01% and the S&P 0.12%. Meanwhile Nasdaq, spurred on by a 6.5% gain in shares of iPhone inventor Apple (AAPL) - Get Report , closed 0.58% higher.
Asia opened mixed, but all bourses turned sour by 9:56 p.m. EDT when the Nikkei in Japan was off 0.99%, the Hang Seng in Hong Kong 0.07% and South Korea's Kospi 0.39%. Japanese investors are waiting to see if the Bank of Japan acts after a two-day meeting starting Thursday -- Prime Minister Abe is reportedly preparing a $265.3 billion stimulus package to counter deflation and the economic threats of the Brexit decision.
Europe had an up day Wednesday with Germany's Dax shaking off weak earnings from Deutsche Bank to close 0.7% higher while London's FTSE gained 0.39%. France's CAC gained 1.19%.
In other fundamentals, industry standard Brent crude was up 0.3% at $43.61, while West Texas crude gained 0.38% to $42.08. Both prices are futures for September delivery and were correct as of 10:09 p.m. EDT.
The pound gained just under 1% in Wednesday trading and continued to gain in early Asian trade, adding 0.09% to $1.3221.
The yen gained 0.2% to .95 cents.
Discount site Groupon (GRPN) - Get Report found a deal in extended trading Wednesday, adding 23.81% to $4.68 after it posted second-quarter revenue of $756 million, up 2% from the same quarter a year earlier, resulting in a 1 cent per-share loss. Analysts had expected $711 million in revenue and a 2 cent loss.
Shares in organic grocer Whole Foods lost their freshness in after-hours trade, sliding 5.17% to $31.90 after the company's second quarter same-store revenue fell 2.6%, greater than the 2.4% expected by analysts. Overall revenue rose 2% to $3.7 billion, a record, leaving it with 37 cents a share in earnings, below the 43 cents a share of the second quarter of 2015, but in-line with forecasts.