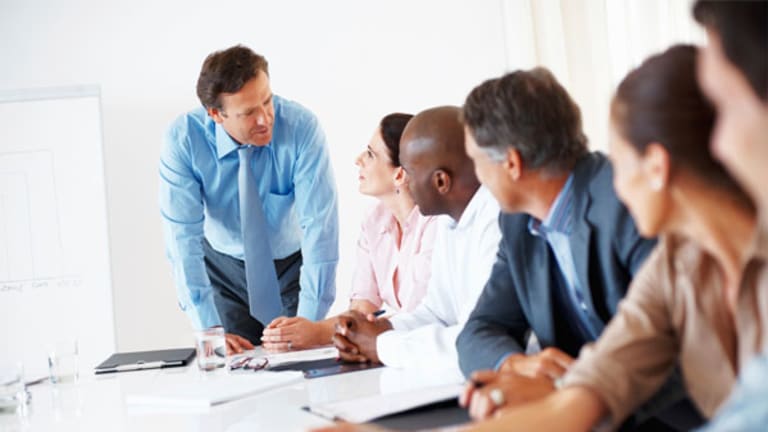 Fudged Budgets a Recipe for Failure
Integrity is central to a good business practice. Linking incentives to a percentage quota system encourages dishonest forecasting.
The following commentary comes from an independent investor or market observer as part of TheStreet's guest contributor program, which is separate from the company's news coverage.
NEW YORK (
) -- It's October -- the season for Halloween, football . . . and budgeting. Many executives dread October. They consider it a wasted month as they move from meeting to meeting, playing games to reduce next year's quota. They accuse others of sandbagging as they manipulate their own forecasts.
The script for these games is relatively straightforward -- each participant claims that next year's business environment will be unusually difficult and, if quotas are not lowered, the company will lose its sales force. Participants routinely prepare volumes of biased data in the same way a politician uses half-truths to intentionally deceive.
At a large U.S. telecom, the top enterprise Sales Center vice president (of 45 Sales Centers) is masterful at budgeting. He attributes 50% of his success to October negotiations. He uses a two-step process. First, he finds creative ways to transfer slow growth accounts to his peers. Then, he spins convincing stories about precarious business conditions in his customer organizations. Every year he is able to negotiate a quota that peers consider a low hurdle. And, virtually every year, his sales center exceeds quota.
Follow
TheStreet
on
and become a fan on
Not only does such behavior create cynicism, but inaccurate forecasts can be very harmful to the company as a system.
Another sales center vice president at the same telecom company was a top 10% performer. In the last two weeks of every quarter he would tell the business unit president that success was unlikely. The president passed this forecast to the CEO who used it to prepare analysts. Yet, each quarter the VP "magically" closed deals in the final hours to exceed quota. After several warnings and despite excellent revenue performance, the president fired him. Dishonest forecasts created havoc across the company -- and made his managers look foolish.
Why do respected executives practice such deceptiveness? Because it works. Consistently exceeding quota produces outsized incentives and promotional opportunities.
Realigning the budgeting system with company interests is actually quite simple. The problem is not the budgeting process itself. The problem is that we couple incentive pay with forecasting.
The Problem
Most incentive plans begin paying out at a given threshold; let's say at 75% of quota. If you do not deliver 75% of quota, you receive no incentive pay. From 75% to 100% the formula pays $x for every $y of revenue. After reaching 100% of quota, the plan may accelerate to two times. At 110% of quota, the accelerator may move to three times or more. Lowering quota increases personal wealth. In a 2001, Harvard Business Review article, Michael Jensen called this, "Paying people to lie."
The Solution
The first and most important step for improving forecast accuracy is to decouple budgeting from pay. Replace the traditional incentive plan with a linear plan that pays from dollar one or from incremental performance from last year. In a linear plan, people are paid for actual performance vs. performance to a negotiated budget. This eliminates all benefits from deceptive budgeting and simplifies the incentive plan. Simplification is critically important.
One of my first consulting projects was for the newly formed
MCI Communications
company. We started the project by reviewing the sales incentive plan. MCI sales operations staff proudly presented us with a stack of papers outlining the plan. This, they insisted, was a fair incentive plan.
It was true -- the plan was fair. It was carefully designed to have an answer to nearly every fairness concern. But the result was a tome that no one understood. Sales reps told us that "It's like Jeopardy. At the end of the month we open the envelope, 'and the answer is ...' "
A perfectly fair plan is an admirable goal, but the purpose of an incentive plan is to increase effort. If no one understands it, that purpose cannot be met. A linear incentive plan is easily understandable.
But compensation alone will not solve the problem. Improving forecast accuracy requires strong sales management. Successful sales executives maintain personal relationships with key account decision makers. This makes hiding information difficult. Strong sales executives also insist on weekly pipeline reviews. Pipelines that mysteriously dry up each October should be suspect. Managers who consistently make inaccurate quarterly or annual forecasts must be called out and disciplined. A lack of integrity creates organizational chaos.
Years ago in graduate school, I read a fascinating study that found that the most successful criminal organizations had the highest levels of integrity. Makes sense. If I promise to pay you $10,000 to make a hit and then I don't pay up, there will be chaos. Whether in gangs or in corporations, successful organizations must maintain systems of integrity.
Hall is managing director of Human Capital Systems (www.humancapitalsystems.com), a firm that designs systems for improving workforce performance. He is also an instructor in Duke Corporate Education's teaching network and author of The New Human Capital Strategy. Hall was formerly a senior vice president at ABN AMRO Bank in Amsterdam and IBM Asia-Pacific's executive in charge of executive leadership and organization effectiveness. During his tenure, IBM was twice ranked No. 1 in the world in Hewitt/Chief Executive magazine's "Top Company for Leaders." Hall completed his Ph.D in industrial-organizational psychology at Tulane University, with a dissertation on people management practices of Japanese corporations.