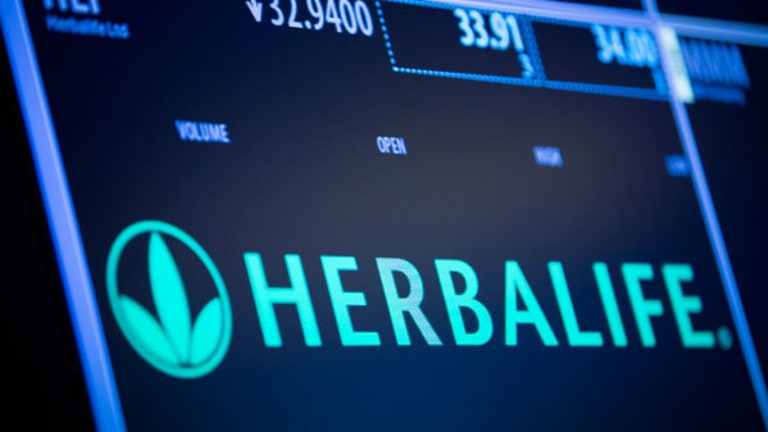 NEW YORK (TheStreet) -- Wednesday was a volatile trading session for shares of Herbalife (HLF) - Get Herbalife Nutrition Ltd. Report. 
Despite more allegations of wrongdoing by hedge fund manager Bill Ackman -- who has a rather sizable short position in the name -- the stock opened relatively strong. In fact, by 11:00 a.m. EDT, shares were higher by as much as 5%, to $69. 
A few hours later, the first big headline appeared: Shares of HLF, HALTED.
For an active trader, the word "halted" is one of the worst in the world. You're locked into a position that you have no way of exiting or hedging until it is resumes trading. 
Usually, when the security resumes trading, it's messy action and the trader either gets crushed, or makes a fortune. A real world coin toss. 
Shares of Herbalife proved no different, plunging down to $54, more than 20% off session highs. Then shares reversed higher by $6 from there, finally ending the day at $60.57. In mid-morning trading Thursday, shares were down about 5% at $57.60 on the Nasdaq.
Wednesday was crazy. But in the ensuing year, it's only likely to get crazier. 
Read: Apple and IBM Remain Must-See Charts
The Federal Trade Commission yesterday served Herbalife with a civil investigation demand. Essentially, it is investigating the company for any wrongdoing. It should be pointed out that this does not mean the company is guilty of any wrongdoing, it's only being investigated for it. 
The results -- which may take up to a year, and possibly longer to find out -- could be the all clear! for bulls, or the opening of the floodgates for short-sellers. 
With such a wide range of possible outcomes, it's very hard to look at this from an investing standpoint.
Traders are going to be all over this thing. And why wouldn't they be? It's a trader's paradise. Herablife is a very volatile stock, and has huge price swing potential. But for an investor, is it really something you want to be in, long or short?
I guess you have to ask yourself, How much conviction do I have?
If you truly believe the company is a pyramid scheme that will literally be shutdown, then I guess you could stay short. If you believe that the opposite is true, and the stock is undervalued, then I suppose you could stay long.
But seriously, how much conviction could you possibly have? If you're not a wealthy fund manager with plenty of connections or have enough money to investigate for yourself, how can you truly pick a side, with 100% accuracy? 
Simply put: You can't. 
For me, man, there are so many other stocks I'd rather be in before Herbalife. Even if it is an undervalued, non-pyramid scheming company. 
Look at shares of Google (GOOG) - Get Alphabet Inc. Class C Report, Celgene (CELG) - Get Celgene Corporation Report, Under Armour (UA) - Get Under Armour, Inc. Class C Report, Michael Kors (KORS) , and Facebook (FB) - Get Facebook, Inc. Class A Report. 
Read: Mutual Funds That Take the Slow-Trade Route to Excelling
Sure, a lot of those names look stretched from a valuation standpoint. But no one's questioning the business models, certainly not the FTC!
I'm not saying that all of these stocks are going to double this year. All I'm saying is that if you want superior growth and were willing to take on the risk of Herbalife, why not lower the risk a bit, and buy one of these stocks? They have proven, legitimate businesses. 
While there's a lot of wiggle room in the FTC's ruling, it's almost a binary event -- that is, this ruling will either be super bullish, putting to rest all of the accusations of wrongdoing, or super bearish, where Herbalife's business model is unacceptable. 
Sure, there could a smaller infraction, say, where the company is doing something that it shouldn't be, but the result doesn't destroy the integrity of its whole business model. Even if this is the case I would consider it bullish, since the business model would overall, still be acceptable.
Read: A Chart You Should See: Progressive Disappoints
So in a way, it really is like a boom-or-bust scenario. I don't like those, from an investing standpoint. 
Even more ironic than the typical bull versus bear arguments, you have hedge fund titans battling it out too. Carl Icahn has a large long position, while Ackman has his large, now infamous, short position. Will the latter's reputation finally be rectified?
Only time will tell. But we'll do the watching from the sidelines, or at least, I will. 
This article represents the opinion of a contributor and not necessarily that of TheStreet or its editorial staff.
DISCLOSURE: At the time of publication, the author was long Facebook. 
-- Written by Bret Kenwell in Petoskey, Mich.
This article represents the opinion of a contributor and not necessarily that of TheStreet or its editorial staff.
Bret Kenwell currently writes, blogs and also contributes to Robert Weinstein's Weekly Options Newsletter. Focuses on short-to-intermediate-term trading opportunities that can be exposed via options. He prefers to use debit trades on momentum setups and credit trades on support/resistance setups. He also focuses on building long-term wealth by searching for consistent, quality dividend paying companies and long-term growth companies. He considers himself the surfer, not the wave, in relation to the market and himself. He has no allegiance to either the bull side or the bear side.