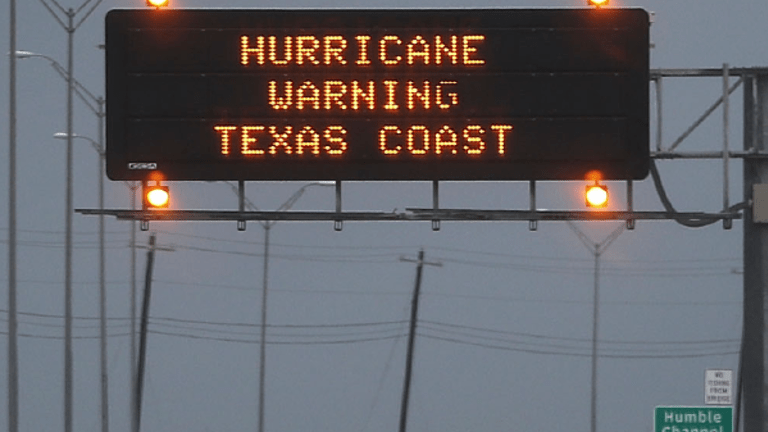 From Little League to the White House; Hurricane Stocks to Watch -- ICYMI
Here's what you need to know now for Friday, August 25.
Look, it's August and trading volume is telling you just about all you need to know.
Trying to make heads or tails of most things is difficult with such light volume. Not to mention the fact that this week -- with President Trump's speeches and Jeff Bezos closing his deal to take over Whole Foods Market (WFM)  aside -- didn't really provide any indication about whether the markets can continue to hold around all-time highs or climb higher.
The end of the week scoreboard showed: Dow up 0.14%, Nasdaq down 0.09% and S&P 500 up 0.17% on Friday.
Fed Chair Janet Yellen was in Jackson Hole, Wyo. for the annual Economic Policy Symposium and made brief comments on strengthening employment figures in her speech Friday, but spent the majority of her talk addressing the efficacy of financial regulations. In short, nothing new... yet.
Hurricane Harvey, which is expected to make landfall in Texas late Friday, is sure to interrupt life for those in the gulf coast states this weekend and while TheStreet will be monitoring the storm we will also be monitoring the storm's impact on some key industries. Think oil -- Exxon Mobil Corp. (XOM) - Get Exxon Mobil Corporation Report  , Royal Dutch Shell plc (RDS.A)  and Anadarko Petroleum Corp. (APC) - Get Anadarko Petroleum Corporation Report  , insurance and home repair (Home Depot HD et al).
The retail rollercoaster continued as GameStop Corp. (GME) - Get GameStop Corp. Class A Report  and Ulta Beauty Inc. (ULTA) - Get Ulta Beauty Inc Report  tumbled 10% apiece on Friday after disappointing earnings (Ulta beat, go figure). Meanwhile Chipotle Mexican Grill Inc. (CMG) - Get Chipotle Mexican Grill, Inc. Report , currently a holding in Bill Ackman's portfolio, could face thinning margins and shave some off its per-share earnings in the near term as avocado prices increase. The stock, which has lost more than 60% of its value since 2015 highs, finished the day up about 2% to $308.79 a share.
This is an excerpt from "In Case You Missed It," a daily newsletter brought to you by TheStreet. Sign up here.

Photo of the day: The Boys of Summer
On Saturday evening you'll likely be tuned into the most hyped boxing match in ages as pro boxer Floyd Mayweather takes on Mixed Martial Arts fighter Conor McGregor. But on Sunday over on Disney's DIS ABC network two little league teams will play for the annual Little League World Series title. The game isn't going to gross the type of money boxing will, but for many of those who tune in to the ball game it's a welcomed reminder of our youth and a nostalgia play for ESPN and ABC. Little League has seen million boys and girls come up through its system from all walks of life over its 78-year history. Some have made it to the big leagues while others have had great impact on business, politics and the world of entertainment. We decided to make a little player card of some of the most impactful and well-known little league graduates, according to Little League's official website. You might recognize a few faces, including Donald Trump, the 45th president of the United States, New York real estate tycoon and a graduate of now-defunct Hilltop Little League in Queens, N.Y.
Read more from "In Case You Missed It." Sign up here.
More of What's Trending on TheStreet:
The 30 Nastiest Storms in Recent U.S. History Have Caused Mind-Blowing Damage