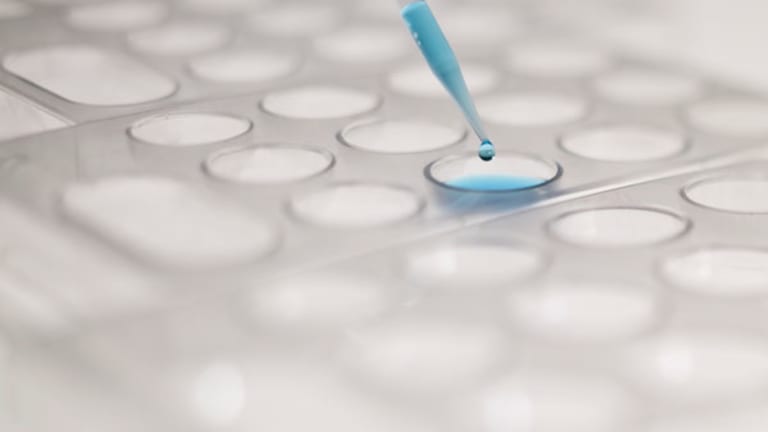 From Little Akorn Grows a Great Stock
This red-hot biotech could double again.
NEW YORK (TheStreet) -- This is the year of the small and mid-cap domestic stock, such as Akorn (AKRX) - Get Akorn Inc. Report. For many smart investors, it is the year that traditional asset allocation among stocks, bonds and gold has finally outlived it usefulness.
Data from Best Stocks Now App
I am not a believer in the traditional asset allocation models that are built on the Model Portfolio Theory that says investors need so much money in stocks -- often for growth -- and so much in bonds - often for income. And often so much in gold for security.
There are lots of places to get income besides bonds. Instead, I move around among the various asset classes as world and economic conditions dictate.
When it became obvious about 18 months ago that interest rates had nowhere to go but up, and the Federal Reserve had no other choice but to tighten at some point, I got out of the way of the freight train that was headed right for the market.
I got out of bonds, just in time to avoid the beating that bonds took this year: The U.S. long bond, as seen by the iShares Barclays 20+ Yr Treasury Bond (TLT) - Get iShares 20+ Year Treasury Bond ETF Report exchange-traded fund, is now down 14.7% for the year to date.
I have also not had any exposure to the emerging markets as they have been at the bottom of my asset class rankings since the beginning of the year. That too has helped my performance greatly in 2013 as the emerging markets as a whole are down about 9% year-to-date. Contrast this with the 24% return of the U.S. S&P 500 index.
Gold has also been a bad place to be in 2013 as it is now down over 23% year-to-date. So much for asset allocation into gold.
Instead, I have been heavily focused in small and mid-cap domestic stocks which have led the market all year long. The S&P 500 small-cap index is up a whopping 32.8% year to date.
Being in the right sectors of the market is a great place to start selecting investments. 2013 has been a year that has greatly favored pharmaceutical, biotech, and technology stocks. Of course, this is where a lot of small and mid-cap stocks reside.
Here is my current top ranked sectors from amongst the 60 that I track:
Data from Best Stocks Now App
The pharmaceutical sector, as seen by the SPDR S&P Pharmaceuticals (XPH) - Get SPDR Pharmaceuticals ETF Report ETF, is up over 54% year to date, while biotechs (iShares Nasdaq Biotechnology Index (IBB) - Get iShares Biotechnology ETF Report) are up 52%, and the Internet sector (First Trust DJ Internet Index Fund (FDN) - Get First Trust Dow Jones Internet Index Fund Report) is up 42%.
That brings me back to a stock that I own at Gunderson Capital Management, Akorn.
Data from Best Stocks Now App
The company, which is headquartered in Lake Forest, Ill., develops pharmaceuticals in specialty areas such as ophthalmology, hospital drugs and injectables.
Earnings growth over the last five years has averaged about 32% per year and the company is expected to continue to grow by about 20% per year over the next five years.
The old adage goes that from little acorns grow mighty oaks. Akorn is a $2 billion company now. When I first started following AKRX it was only a $1 billion company. Who knows how much bigger it is going to get? It was a little acorn, now it is a much larger acorn. Will it ever be a mighty oak? I don't know, but it is sure doing well right now and I'm very happy so far with my position in the stock.
While earnings growth is nice, I demand the stocks that I own be top performers as it relates to the rest of the stocks in the market. I like to invest in leaders and not laggards.
Performance
Data from Best Stocks Now App
This stock has been a terrific performer. Over the last 10 years the stock has delivered almost 27% per year to investors while the market has delivered 5.5% per year.
Over the last five years AKRX has delivered almost 62% per year while the market has delivered 15% per year. Over the last three years AKRX has continued to deliver 58% per year while the market has delivered 14%. And over the last 12 months AKRX is up 73% while the market is only up 32%!
When I compare the performance of AKRX against the more than 3,600 stocks that I track, Akorn gets a performance grade of 'A+'. It is one of the rare stocks that gets such a high grade. It also gets a momentum grade of 'A'.
Valuation
We know all about momentum stocks. These are stocks that are going higher and have high relative strength numbers (Akorn is a 93). But what about the investors who also demand value? I demand value, too! I would not own a stock that doesn't make sense from a valuation point of view. Performance alone is not enough.
Data from Best Stocks Now App
When I take next year's earnings estimates of AKRX which are 91 cents, grow those earnings by 21% per year (per consensus analysts' estimate), and then apply a multiple to those potential earnings five years from now, I get a target price of about $40 per share.
Akorn, in my opinion, still has substantial upside potential from a valuation point of view. It gets a value grade of B+. Stock Chart
What's the last test I demand of Best Stocks Now? It is the visual test, the stock chart test. I don't buy downtrends, I don't get excited by sideways trends, and I especially avoid topping out and rolling over trend like we just saw with Tesla (TSLA) - Get Tesla Inc. Report. How is the current one-year chart of Akorn?
Courtesy of StockCharts.com
AKRX flies through the visual test with flying colors.
The stock broke out in August of this year. It's been going up ever since and it broke out again recently to new all-time highs. Akorn passes my performance test, my valuation test, and my visual test.
Data from Best Stocks Now App
Out of 3,648 stocks in my database, Akorn comes in at #43. It is a stock that I currently own at Gunderson Capital Management.
This article was written by an independent contributor, separate from TheStreet's regular news coverage.