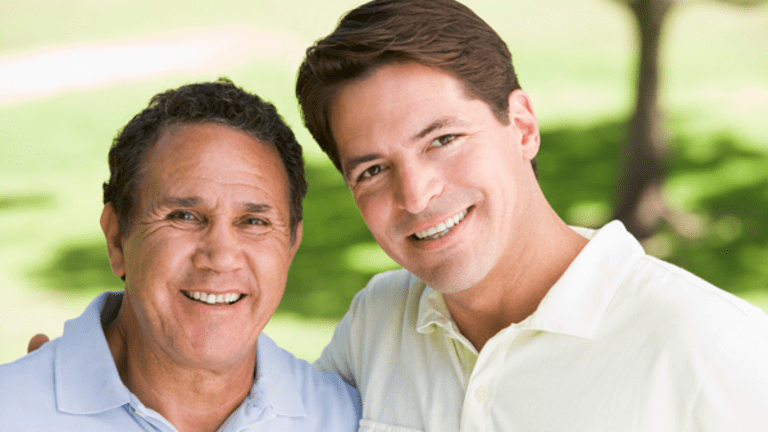 From Dad's Perspective: Ask Noah
When a widowed father focuses too much on his son, it's time to set some boundaries.
NEW YORK (TheStreet) -- Q: My dad is successful, attractive, intelligent but at 57 has no dating life whatsoever. Mom passed away at 52, four years ago, from cancer. Dad hasn't been involved with anyone since. He's now placed all his focus on me and my life. Obviously this is very stressful. I'm a 26-year-old guy and want to live my own life. I know I can't force him to date, but how can I help, if at all?
A: Your mom was young when she passed away, and your parents' love story was nowhere near complete. There is no established timetable for grieving such a loss, and dating may not be the answer for him right now.
The desire you have "to live my own life" is understandable, but this will only be accomplished by setting clear boundaries with your dad, not by pushing him into dating scenarios he isn't comfortable with. Have you ever even discussed with him whether he wants to begin dating?
It seems you're disproportionately focused on your dad's inability to move past the loss of his wife. I wonder if it's easier for you to focus on his grieving process rather than your own. Is your dad's focus on you the sole source of your stress, or are your feelings also a very natural reaction to handling the loss of mom in your earlier 20s?
The best way to help your dad is to be honest with yourself. Switch your focus -- stop obsessing on how your dad's life needs improving. Instead, assess how your own life is going. Do you feel satisfied with the choices you have made since your mom's passing?
Tell your dad that you need more privacy. Explain that when his radar is fixated on your every action it is suffocating and prevents you from establishing your independence.
Have a bit more patience with your dad and yourself. We all process loss differently and gain closure in our own time.
Happy holidays, and thank you for taking the time to write.
I would like to wish all ASK NOAH loyalists and TheStreet.com community a healthy and prosperous new year!
Questions and comments can be sent to ASK NOAH at nskass@gmail.com.
Have a profitable and peaceful week,
Noah
Noah Kass is a psychotherapist specializing in addiction, relationship issues and work stressors. He has been Clinical Director at The Dunes: East Hampton and Realization Center in Union Square. Mr. Kass was a frequent guest on MSNBC's "The Dylan Ratigan Show," featured in a segment called "Kass' Couch" and regularly blogs for The Huffington Post.