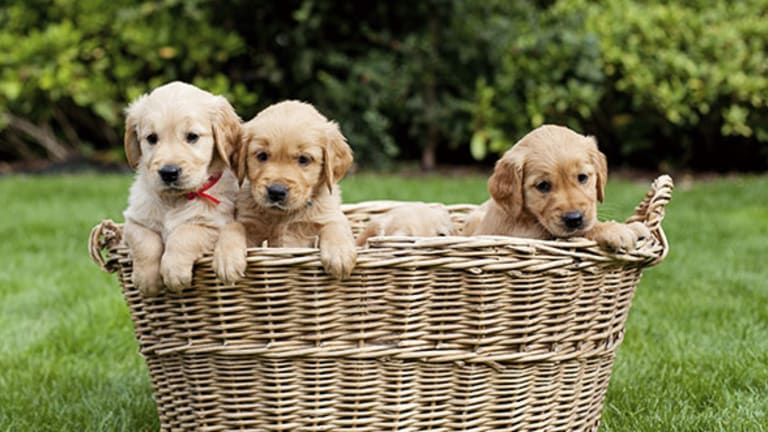 Freshpet Is Growing Fast, but the Numbers Make the Stock a Dog
Pet food purveyor Freshpet may have fresh ideas, but investors would be better served avoiding this puppy as it suffers through a few years of growing pains.
NEW YORK (TheStreet) -- Specialty wholesale pet food distributor Freshpet (FRPT) - Get Report, which went public last November, has huge ambitions. After raising almost $160 million in its initial public offering last year, the maker of healthy food for cats and dogs recently laid out its plans to grow its U.S. distribution locations from their current 13,000 to 35,000. 
The Secaucus, N.J.-based company, which sells its products under brands such as Dognation, Dog Joy and Nature's Fresh, wants to be a leader in refrigerated pet foods, and says its products are better alternatives to dry or canned food. Its recent results, including a 35% year-over-year jump in third-quarter revenue, would suggest that customers agree.
What investors should focus on, however, is how the company, founded in 2006 and still operating at a loss, plans to make money. Nearly tripling the number of outlets it serves will come at the expense of near-term profits.
As of the most recent quarter, expenses climbed almost 7% year-over-year, resulting in an operating loss of $1.3 million. This is because its costs, which account for 54% of its revenue, exceeded gross margins, which stand at 48%. And considering Freshpet shares are trading at 204-times full-year 2015 earnings estimates of 9 cents per share -- compared to an average forward P/E estimate of 17 for S&P 500 I:GSPC stocks -- there's just too much risk here for investors to bite on.
FRPT Year to Date Price Returns
data by
Freshpet stock closed Friday at $18.43, down 1.71%. The shares are up 8% year-to-date, outperforming not only the broader averages, but also the SPDR S&P Retail ETF (XRT) - Get Report, which is up just 2.8%, and includes prominent retailers like Kroger (KR) - Get Report and Whole Foods (WFM) .
Its stock price, however, still implies above-average risk. Specifically, the company's earnings growth projections assume strong outperformance for several years, compared to larger, more-established competitors like PetSmart (PETM) -- the U.S. market leader.
It's true that Freshpet is benefiting from consumers who are shifting towards healthier eating habits and lifestyles. As consumers' eating habits change, so do their opinions about what sorts of foods they should offer their pets, whom they see as members of the family. And Freshpet is also capitalizing from the wider availability of its products, now sold in prominent retailers like Wal-Mart (WMT) - Get Report , Target (TGT) - Get Report and Kroger.
Still, with Freshpet due to report fourth-quarter results Tuesday -- its second reporting period as a public company -- investors should avoid the stock and not bet too much on the company's promises. While Freshpet may have fresh ideas, investors would be better served avoiding the growing pains that are likely to emerge.
This article is commentary by an independent contributor. At the time of publication, the author held no position in the stocks mentioned.