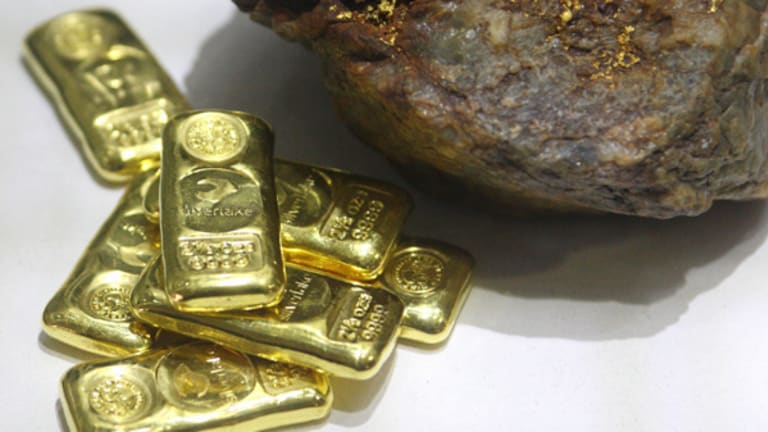 Publish date:
Freeport-McMoRan in a World of Debt
The gold and copper miner has enough challenges and red flags -- now it's making $9 billion in acquisitions and taking on more debt.
The gold and copper miner has enough challenges and red flags -- now it's making $9 billion in acquisitions and taking on more debt.
NEW YORK (TheStreet) -- I'm all for making smart acquisitions that are immediately accretive to earnings and diversifies a company's income streams.
But when it involves taking on a total of $20 billion in debt and paying rich premiums for the companies bought, I'm dubious at best.
The market's reaction to
Freeport-McMoRan Copper & Gold
(FCX) - Get Report
announcement that its made an offer to buy
Plains Exploration & Production
(PXP)
for $6.9 billion in cash and stock was not what FCX was hoping for.
(This story sounds good in many ways, as you can hear in this interview
with TheStreetDirector of Research Stephanie Link
. I'd encourage you to watch it as a good way to get the overview.)
Shares of FCX ended the trading day on Wednesday down 16% at $32.16 while shares of PXP soared 23.44% to close at $44.50.
As if that wasn't enough excitement for one day, FCX also said it would spend $2.1 billion for
McMoRan Exploraton
(MMR)
. FCX will also assume $11 billion of the debt of the acquired companies.
According to an Associated Press report
released after FCX's press release, "The addition of the two companies will create a natural resources conglomerate with assets ranging from oil rigs in the Gulf of Mexico to mines in Indonesia.
"Plains Exploration, based in Houston, produces oil in California, Texas and the Gulf of Mexico, along with natural gas in Louisiana. McMoRan Exploration, based in New Orleans, is developing natural gas resources that lie deep below shallow water regions of the Gulf of Mexico."
Don't get me wrong, I'm all for recapturing past competencies and diversifying into the energy sector. But even analysts like Brian Yu at Citigroup who held fast to his "buy" recommendation were scratching their heads concerning the logic of the acquisitions and the high prices paid.
"We see little if any synergies between the copper mining and oil and gas drilling business to offset the premium valuation paid," Yu wrote. "Investors can get the same diversification in their portfolio at a much lower cost."
FCX, which saw its last quarterly earnings growth drop by almost 22%, moves from being a company with around $3.5 billion in total debt to now having (according to Yu) more than $16 billion. Yu reportedly said this gigantic increase in debt is manageable with some capital spending maneuvers.
Jim Cramer's protege, Dave Peltier, finds you Stocks Under $10 picks with explosive upside potential. See what he's trading today with a 14-day FREE pass.
The market reaction created an enormous amount of selling of FCX shares on over 10 times average daily volume. FCX's $1.25 annual dividend, which had represented a payout ratio of 37% of the company's earnings, is the first big question mark many investors will face.
Unless renegotiated, Freeport will pay around $50 a share in cash and stock for Plains, representing a takeover premium of nearly 39% based on the company's closing share price,
according to a statement by the company made on Wednesday
.
Shareholders of McMoRan stock will get $14.75 in cash and 1.15 units of a royalty trust for each share. The terms of the transactions are supposed to close by the second quarter of 2013. The following chart gives you an overview of the three companies' share price history during the past year.
data by
Part of the shock was how abruptly this mega-transaction was announced, and that it was at a time when FCX, the world's largest publicly traded copper company, has seen its share price performance matched by competitors like
Southern Copper
(SCCO) - Get Report
, which doesn't have the gold production and reserves that FCX has. The comparative chart below illustrates the price comparison now.
data by
Institutional shareholders including
BlackRock
(BLK) - Get Report
, which held 3.1% of Freeport as of Sept. 30, have blasted the way Freeport announced the deal and tried to explain it in a conference call Wednesday.
"Congratulations on making one of the worst teleconferences I've ever heard to justify a deal," was the comment reportedly made by the manager of BlackRock's $12 billion World Mining Fund, when he spoke with Freeport Chief Executive Officer Richard Adkerson on the company's conference call. "I haven't heard anything on this call that in any way justifies why these companies should be put together."
This suggests there will be plenty of explaining left to do by FCX and the possibility of a shareholder backlash that the officers and directors who announced this lofty transaction may not have been anticipating.
All shareholders can do for now is to listen and watch carefully. The after-shocks of today's momentous events, including the share price of FCX having the single biggest one-day drop since December 2008 when the company suspended its dividend, are just beginning to unfold.
At the time of publication the author had a position in FCX.
This article was written by an independent contributor, separate from TheStreet's regular news coverage.
Jim Cramer and Stephanie Link actively manage a real money portfolio for his charitable trust- enjoy advance notice of every trade, full access to the portfolio, and deep coverage of the latest economic events and market movements.