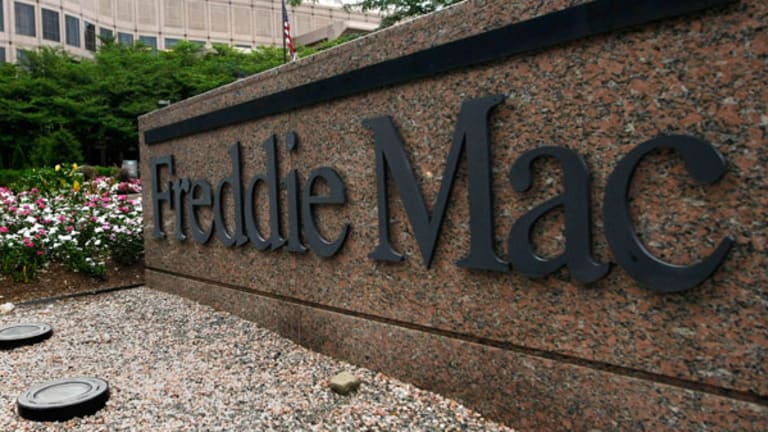 Freddie Mac and Fannie Mae Find Big Reasons to Rally
If you wanted two stocks that would soar over 50% you'd have bought these vilified mortgage moguls.
NEW YORK (TheStreet) -- Go figure!
A couple of government-sponsored penny stocks are soaring on explosive volume as the resurrection of the mortgage market continues. Today's reassuring words from the
Open Market Committee seemed to help fuel the frenzy in these two almost forgotten publicly traded pariahs.
The
Federal National Mortgage Association
(FNMA)
, commonly called Fannie Mae, and the
Federal Home Loan Mortgage Corporation
(FMCC)
, known as Freddie Mac, are alive and kicking in spite of the role they played in the mortgage industry debacle of 2008.
My fellow
TheStreet
contributor
has been keeping us posted on the incredible rally of these two government-sponsored enterprises, or GSE. The plot thickens with every passing hour.
Around the same time Fed Chairman Bernanke gave his press conference after Wednesday's FOMC meeting, the news broke that Freddie Mac has filed suit against 15 big international banks (including three of the biggest in the U.S.), accusing them of manipulating the Libor interest rate and causing massive losses for the GSE.
The Libor, or London interbank offered rate, provides the basis for trillions of dollars in global financial instruments including mortgages, bonds and consumer loans. In a report
Wednesday we learned the unsavory details.
The report states: "In a growing scandal, two big British banks and Switzerland's largest have been fined hundreds of millions of dollars for manipulating Libor by U.S. and British regulators. A U.S. watchdog has found that Freddie and its larger sibling Fannie Mae together may have lost more than $3 billion on their investments from banks' rate-rigging."
This seems somewhat ironic and $3 billion sounds like small change when we remember that American taxpayers have up to now paid about $170 billion to rescue Freddie and Fannie, which suffered huge losses from profligate mortgage practices.
Both FNMA and FMCC were rescued by the U.S. government in September 2008 as one of the worst financial crises in modern history exploded on the scene. The two mortgage companies may be "penny stocks" but they are big players in the world of mortgages and financing house purchases.
These oft-maligned companies still own or guarantee about half of all U.S. mortgages, which equates to nearly 31 million home loans. Not to be left in the dust, Fannie Mae spokesman Andrew Wilson said Wednesday FNMA is considering its own lawsuit for the same reasons.
When you consider the stock price swings on both these GSEs in the last couple of days you'd find the whole affair even more incredulous.
For instance, on Tuesday FNMA shares traded as low as 10 cents and ended the trading session on Wednesday at $1.08, up over 50% for the trading session.
Freddie Mac stock rebounded from 29 cents on March 14 to also close much higher today at $1.09, up almost 56% for the day on over 22 times normal volume. These kind of one-day moves are hard to find as well as mystifying.
This is especially true for FNMA
which filed an "NT 10-K"
with the Securities and Exchange Commision on March 14 notifying it of a delay in filing its latest earnings report.
On Nov. 2, 2012,
FNMA reported that in the third quarter
it had $1.8 billion of net income. That brought the total for the first nine months of last year up to a reported $9.7 billion of net income and put the company on track for its first up year since 2006.
A
is a picture that paints a thousand words.
The long, precipitous plunge of the share prices of both FNMA and FMCC might be over for now. Perhaps to sound optimistic we can say both stocks appear to have bottomed.
To gain a broader perspective of today's breathtaking action with FNMA and FMCC I again encourage you to read
the three-part report by my colleague Philip van Doorn
titled "Fannie and Freddie Stocks are Still Hot." This drama is far from over and there's likely more money to be made.
At the time of publication the author had no position in any of the stocks mentioned.
This article was written by an independent contributor, separate from TheStreet's regular news coverage.
Jim Cramer and Stephanie Link actively manage a real money portfolio for his charitable trust- enjoy advance notice of every trade, full access to the portfolio, and deep coverage of the latest economic events and market movements.