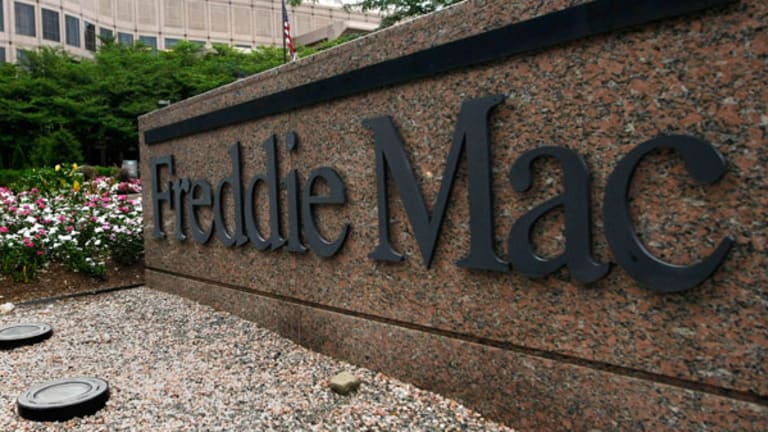 Freddie and Fannie Trades Bet on Elizabeth Warren
The evil twins behind the housing crisis may yet rise from the dead.
NEW YORK (TheStreet) -- Fannie Mae (FNMA) and Freddie Mac (FMCC) , the evil twins blamed for the housing crisis, seem to be coming back from the dead.
As our Philip van Doorn reports
, the hope is, both can recapture massive tax valuation allowances with which they could repay some of their government bailouts.
The full recapture of the deferred tax assets would provide Fannie and Freddie with $93.2 billion, going quite a long way to a fully redemption of $188.3 billion in preferred shares held by the government.
Back in 2007 Freddie and Fannie were seen as licenses to print money. Both sold at over $60/share. The latest speculative bubble has both of them trading at around 85 cents/share.
The two companies were rendered worthless by the bailout's terms, under which the Treasury Department got preferred stock paying a 10% dividend whether or not they were profitable. This meant they were borrowing to pay dividends.
Reuters says that only $58 billion of the bailout has been repaid.
Both are now profitable on an operating basis.
But wait, there's more.
Marketwatch
reports a bipartisan group of U.S. senators introduced the
which would keep the government from just funneling money from loan guarantees into the Treasury, and perhaps let Fannie and Freddie arise like little Frankenstein monsters. The sponsors are Bob Corker of Tennessee, David Vitter of Louisiana, Mark Warner of Virginia and ... Elizabeth Warren?
That's right, gang, speculators are betting on Elizabeth Warren to save Fannie and Freddie. Warren, former Harvard professor, designer of the dreaded Consumer Financial Protection Bureau, and mild-mannered populist who defeated the Clark Kent stand-in, Scott Brown, last November to become senator from Massachusetts. THAT Elizabeth Warren.
Absent some new guidance from Congress, the Federal Housing Finance Agency is planning its own restructure, described at
This would be a market utility, separate from Fannie and Freddie, that would replace their system for turning mortgages into securities.
It's this move by FHFA Acting Director Edward DeMarco, who was first appointed by former President Bush and then re-appointed by President Obama in 2009, that seems to have lit a fire under reform.
Mortgage Orb calls DeMarco indestructible
, like styrofoam or Cher, because the Administration has yet to move forward on housing reform and because Republicans would oppose any reform-oriented replacements.
Still, the
Rochester Democrat & Chronicle
reported
nine attorneys general recently called for his ouster
because he refuses to grant write-downs of principal on mortgages that remain under water; 45 Congressional Democrats are also calling for DeMarco to go,
according to the Huffington Post.
So you have business demanding reform because it wants to make mortgages, liberals demanding reform because they hate the present rules, and a bill to do the job supported by a bipartisan coalition. Does this make FNMA or FMCC worth 85 cents a share?
Just remember, if you're putting money into these stocks today, you're betting that Washington can break through its gridlock and produce something that will make you a profit. The roulette wheel is spinning on that. Want to place the bet?
At the time of publication, the author had no investments in the companies mentioned here. But his mortgage is current.
This article is commentary by an independent contributor, separate from TheStreet's regular news coverage.