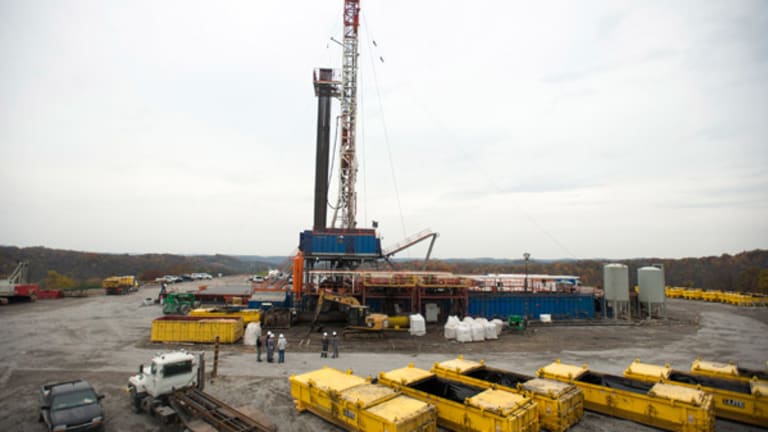 Fracking Won't Stop Even With Oil Staying at Multi-Year Lows
Some small operators may be gone in a year and some complicated extraction sites may no longer be drilled. Real estate and geography are now as important as drilling innovation.
NEW YORK (TheStreet) -- With oil prices near multi-year lows, there's growing debate surrounding the question of whether expensive hydraulic fracturing can continue to propel the U.S. oil boom in the wake of low oil prices. 
The short answer: Yes. The more comprehensive answer: Yes, but some small operators may be gone in a year and some complicated extraction sites may no longer be drilled. 
When investors now look at this space, they need to be more selective because real estate and geography are now as important as drilling innovation.
Hydraulic fracturing, or fracking, is the process of extracting natural gas from shale rock layers deep within the earth.
"In some of the more marginal areas, [the cost is] as high as $80 per barrel, while in the core higher margin areas, it can be as low as $40 per barrel," said Bud Brigham of Brigham Resources, which is currently drilling in the Eagle Ford shale of Texas.
The inference is clear: The players extracting at $80 a barrel are nervous. Dan Dicker, author of Oil's Endless Bid  and energy contributor at TheStreet, takes it a step further.
"If we are mid-2015 and trading around $80 [per barrel], there's going to be a lot of blood," Dicker said. "Companies you've never heard of [will be gone] -- with market caps below a billion with bad acreage."
"Periods like this compel us to target the best areas of the best plays domestically," Brigham said. "It's much like real estate in that regard: location, location, location. It's the more marginal players that are most at risk in the extreme down cycles."
There's that word again: "marginal."
The basic message in real terms: This price swoon is going to clear out all the suckers (i.e. bad operators who were profiting only because oil was so ridiculously high).
Knowing an exact cost of extraction is next to impossible -- both Dicker and Brigham agree that you should not trust all that you read on that subject -- but you can get a feel for where the best and smartest money is flowing on the drilling side.
Bud Brigham may be a good start for you. He's not a household name like Harold Hamm of Continental Resources (CLR) - Get Continental Resources, Inc. Report or T. Boone Pickens, but his story is a good one. Brigham received his University of Texas education in geophysics, took an initial $25,000 investment in 1990 and built Brigham Exploration. Remember that name? Traded under ticker BEXP?
Well, Brigham built up hundreds of thousands of acres in North Dakota's Williston Basin, became an expert horizontal driller and sold the company to Norwegian oil giant Statoil (STO) for $4.5 billion in 2011. Not a bad return for 21 years of hard work. 
After selling, he initially developed some real estate interests in and around Williston, N.D., which emerged as the heart of the Bakken fracking revolution. But he couldn't stay away from the drilling. Now he's back in the game, this time in Texas. He launched Brigham Resources and has three rigs up and running.
"The opportunity was too good to pass up," he said, undeterred by current market prices. "I do think significant growth is (still) very likely, but whether that includes going public or not I just don't know."
Brigham then brings up a point not being made enough in this debate about fracking's viability in a lower oil-price environment: Lower fuel prices also lower the cost of drilling.
"In a lower oil price environment, the costs of operating will come down such that the breakeven price for a given area also comes down. "So it's a geologically/economically diverse moving target," says the geophysicist.
This article is commentary by an independent contributor, separate from TheStreet's regular news coverage.