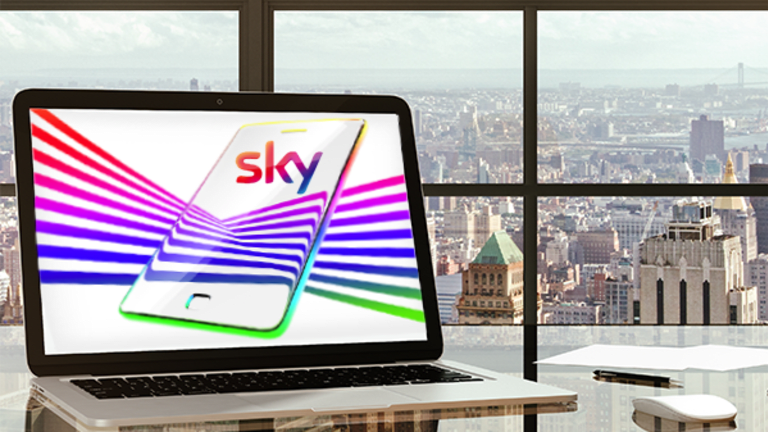 Fox's Sky Bid Reflects Big Changes in Media Since Failed Run at Time Warner
Fox's run at London-based Sky, the European satellite operator, shows just how far the media industry has changed in the two years since the Murdochs tried to buy Time Warner.
The times really are changing.
Two years ago, Rupert Murdoch's 21st Century Fox (FOXA) - Get Fox Corporation Class A Reporttried and failed to buy Time Warner (TWX) , an enormous producer of television and film content, in a stock-and-cash offer valued at about $80 billion. The thinking all the way back in 2014 was that owning lots of content was a can't-miss proposition. The more, the merrier.
Flash forward to this week, when Fox has secured an agreement with London-based Sky, the European satellite TV operator that sells Internet and pay-TV connections. The Murdochs' decision to pursue the 61% of Sky that Fox doesn't already own for £11.7 billion ($14.8 billion) is rooted in a completely different view of today's media industry.
In 2016, it's all about distribution. Content, while important, isn't necessarily king.
Rather than earmarking cash for more content, the Murdochs have elected to bolster their broadband position in Europe to be in a position to better sell streaming services to customers in the U.K., Germany, Austria, Ireland and Italy, where Sky operates. (The Sky deal will be funded by a new £12.2 billion bridge loan.)
Fox CEO James Murdoch, in a conference call, urged investors not to think about Sky as purely a satellite TV company but as the conduit to selling new and different video packages -- some that have yet to be created. Owning broadband distribution, he said, is a smart hedge at a time when subscriptions to traditional pay-TV continue to erode, especially in the U.S. 
"[It's] the ability to innovate in terms of the consumer experience that's really important," Murdoch said on the investor conference call. "And in some cases, owning that capability and that customer relationship directly, or on a wholly owned basis, is advantageous."
While discounting concerns about debt and capital allocation, Murdoch stressed that owning all of Sky is "really around innovation, around the customer experience, innovation around discovery of content, innovation around monetization models."
Time Warner CEO Jeff Bewkes has made similar comments in recent weeks following his company's decision to sell to AT&T (T) - Get AT&T Inc. Report  in a deal valued at $85.4 billion. Being part of a giant distribution company, Bewkes said last month, will make Time Warner more attractive to creators of TV and film who are looking to more directly reach consumers who want to access their entertainment, video and music on digital devices rather than through a pay-TV contract.
"We think we can innovate new services and forms of content and experiences faster and better together, and that will benefit not just us, but all our business partners and consumers all over the world," Bewkes said on a Nov. 2 investor conference call. "You're looking at a new world of more mobile products, more short-form products, virtual reality; all kinds of exciting developments. That's why we're doing this merger."
For Fox, the Sky deal comes as John Malone's Liberty Global (LBTYA) - Get Liberty Global Plc Class A Report and Virgin Media (VMED) have emerged in recent years as stronger rivals in the U.K., and in competition with Liberty in Ireland, Germany and Austria. Having complete control over Sky will give Fox more flexibility to match its rivals, Murdoch said.
The decision to double-down on distribution also follows some encouraging third-quarter results from Fox's cable TV group, its largest business. Revenue from the sector jumped 10% in the quarter over 2015 to $3.8 billion, as profit increased to $1.4 billion. Of course, Fox News's record-breaking year helped drive higher advertising sales, but affiliate fees also rose, proving the company's networks still retain reach and popularity.
More concerning for Fox was the weakness at its broadcast network, which unlike CBS (CBS) - Get CBS Corporation Class B Report continues to struggle. Broadcast TV revenue and profit both slipped last quarter.
But rather than buy additional networks or cable TV channels, the Murdochs have elected to spend on distribution. Acquiring the rest of Sky isn't so much a counter to Time Warner teaming up with AT&T as it's about shoring up its own operations.
And these days, that means distribution.