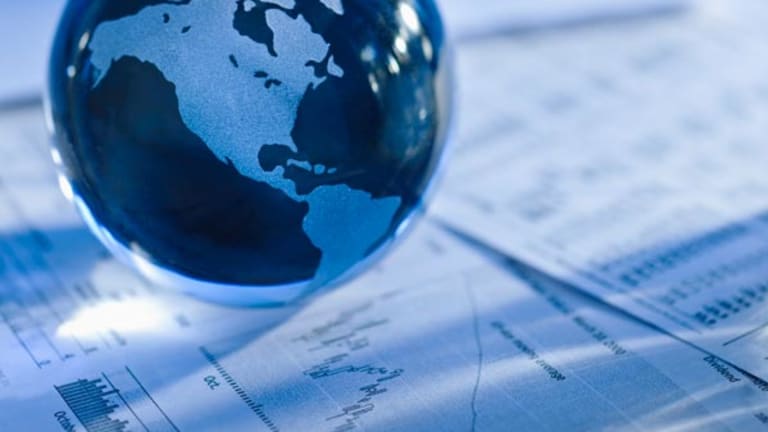 Publish date:
Four Humble Financial Market Predictions for 2013
Jonathan Heller says going over the 'fiscal cliff' won't be a big deal, gold and silver will shine, restaurants will struggle, and farm and timber-related stocks will yield a bountiful harvest.
Jonathan Heller says going over the 'fiscal cliff' won't be a big deal, gold and silver will shine, restaurants will struggle, and farm and timber-related stocks will yield a bountiful harvest.
NEW YORK (
) -- The past several years, I've been asked to write a year-end column that attempts to predict some of what will happen in the ensuing year. I've delivered these columns reluctantly as I have never been a fan of trying to prognosticate the future.
This year, no one asked, but I'm delivering it anyway. Take it all with a grain of salt. If it's anything close to past years, one-third of these calls will come true, one-third will be miserably wrong, and one-third will be half right and half wrong.
1.
The "Fiscal Cliff" will be a nonevent in the short term
. Painfully, this has been nearly every pundit's focus over the past several months; no deal has been done yet, and there are just days left in 2012.
Although there's still a possibility of some type of agreement being reached before we ring in 2013, even if we "go over the cliff," the effects will be short-term. The world will not end, and the
Dow
won't go to 5000.
There may be some volatility, but this will end up being a more modern version of Y2K. I do have longer-term fears, however, because I believe that the proverbial can will be kicked down the road yet again on entitlement reform and spending cuts. Most everyone fears the molehill (fiscal cliff); I fear the mountain (unsustainable spending and debt).
>>Also see: Don't Avoid Dividend Paying Stocks in 2013
2.
Gold and silver will shine
. Although metals' performance overall for 2012 was disappointing, I still believe they'll do well in an environment where uncertainty reigns and the U.S. government continues to run the monetary printing presses on overdrive.
Some gold bulls are beginning to disappear, but I don't believe that the run is over. How about $2,000-an-ounce gold and $40-an-ounce silver sometime in 2013? Incidentally, I made the same call last year and was dead wrong. Although it's very difficult to predict the price of anything in a 365-day period, in the longer term, the continual flood of dollars will mean higher metals prices. Once our fiscal issues come home to roost, Uncle Sam will do what it does best -- attempt to inflate our way out of it.
3.
Restaurant stocks will struggle
. I've been a restaurant bull for much of the past four years but am concerned about the sector in 2013. Rising commodity costs -- if you buy that presumption -- will force margins lower and/or increase menu prices to consumers. The question is whether consumers will be willing to pay up. They'll still eat out -- that's what Americans do -- but perhaps not as much. The specter of the full implementation of the "Affordable" Care Act in 2014 may also weigh heavily, although some companies, such as
Darden Restaurants
(DRI) - Get Darden Restaurants, Inc. Report
, are finding ways to limit coverage by moving more workers to part-time status.
>>Also see: In 2013, Resolve to Stop Overtrading
4.
Farmland, timber, water, other tangible assets should do well
. I continue to like agriculture, and have exposure through some small names such as
Alico
(ALCO) - Get Alico, Inc. Report
and
Limoneira
(LMNR) - Get Limoneira Company Report
. I closed out of a position in Argentine farming name
Cresud
(CRESY) - Get Cresud SA Sponsored ADR Report
but will be looking for a new entry point.
Timber has been an excellent asset class over the years, with a low correlations to stocks; investors can get exposure through
Plum Creek Timber
(PCL)
,
Rayonier
(RYN) - Get Rayonier Inc. Report
and
Weyerhauser
( WT). Or, for broader exposure, there's the
iShares S&P Global Timber & Forestry Index ETF
(WOOD) - Get iShares Global Timber & Forestry ETF Report
. For a combination land/water/agriculture play there's
PICO Holdings
(PICO) - Get PICO Holdings, Inc. Report
, which has been disappointing in recent years, but owns an interesting array of assets.
>>Jim Cramer: Real-World Deals
That's it. Just four broad calls for 2013.
I'll revisit these periodically and will likely take some lumps.
At the time of publication, Heller was long ALCO, LMNR and PICO
.
Jonathan Heller, CFA, is president of KEJ Financial Advisors, his fee-only financial planning company. Jon spent 17 years at Bloomberg Financial Markets in various roles, from 1989 until 2005. He ran Bloomberg's Equity Fundamental Research Department from 1994 until 1998, when he assumed responsibility for Bloomberg's Equity Data Research Department. In 2001, he joined Bloomberg's Publishing group as senior markets editor and writer for Bloomberg Personal Finance Magazine, and an associate editor and contributor for Bloomberg Markets Magazine. In 2005, he joined SEI Investments as director of investment communications within SEI's Investment Management Unit.
Jon is also the founder of the
, a site dedicated to deep-value investing. He has an undergraduate degree from Grove City College and an MBA from Rider University, where he has also served on the adjunct faculty; he is also a CFA charter holder.