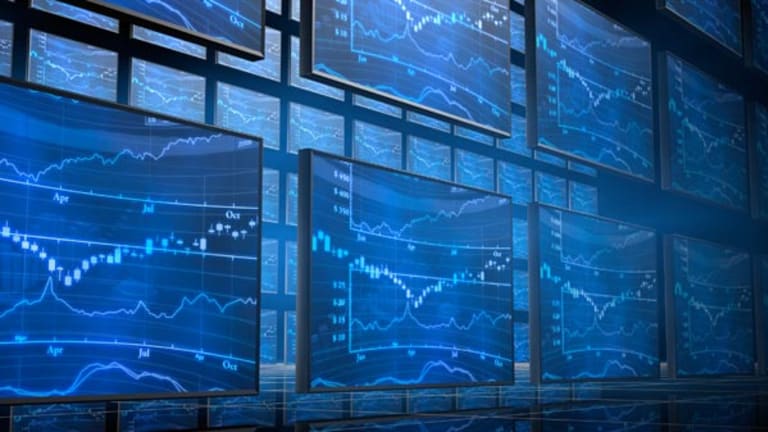 Fortinet Must Secure Market Share
As dominant as its products may be, Fortinet may remain a laggard for the foreseeable future.
NEW YORK (TheStreet) -- With so much of our daily lives being so heavily reliant upon computer/smartphone connectivity, I believe there will always be demand for companies that protect the world's precious data against cyber criminals. While Fortinet (FTNT) still enjoys a meaningful chunk in the enterprise network security market, the company has been unable to manufacture growth and establish any sort of momentum.
Consequently, shares of Fortinet, which is down more than 6% year-to-date, have grossly underperformed market leaders
Check Point
(CHKP)
, which is up 21%, and
Cisco
(CSCO)
, up 18%. Although there is credible evidence to suggest that Fortinet's revenue struggles are more market-related than execution failures, investors are nonetheless feeling "insecure" about the company's direction -- and with good reason.
Three months ago, when Cisco announced its
for anti-hacking giant
Sourcefire
( FIRE), it was clear that Cisco, which had already been on an acquisition spree, was looking to leverage its strong enterprise presence in hardware with higher-margin security services.
By virtue of Cisco paying 12 times revenue for Sourcefire, which amounted to a 30% premium, there's no denying it was an expensive deal. But this did little to move Fortinet's stock, which the Street then rushed to proclaim as "cheap" relative to Sourcefire's deal. Some even suggested that
IBM
(IBM)
, among others, should buy Fortinet.
Fast-forward three months later, not only has there been no deal, but Fortinet's stock is actually trading below where it was prior to Cisco's announcement. On Wednesday, the company will report its third-quarter earnings results and management will try to sell the Street on Fortinet's plans not only to revive growth, but also on ways the company plans to fight off its own cyber threats known as the competition.
The Street will be looking for 11 cents in earnings per share on revenue of $151 million, which would represent close to 11% year-over-year revenue growth. While this would reflect a deceleration of growth from the 14% posted in the July quarter, it would be nonetheless encouraging if Fortinet was able to post double-digit growth in a market that is still struggling with corporate IT spending.
Billings, which grew 10% in the July quarter, will be a closely monitored metric of how well revenue is expected to be as the year enters its last quarter. Bulls will disagree, but I believe aside from Fortinet's revenue growth struggles, it has been the company's weaker-than-expected performance in billings that has kept the stock from advancing relative to its other high-multiple peers, like Checkpoint.
The other issue is that the security services industry has become highly congested with several new entrants such as
Aruba Networks
(ARUN)
, which has begun to position itself for the growing demand of threat-prevention. And given Fortinet's current market standing and its strong reputation for quality, the company's products are often on the higher-end in terms of price.
Consequently, with shrinking corporate budgets, IT leaders have shown a willingness to sacrifice quality for affordable pricing, which has impacted Fortinet's market share. By contrast, during that span,
Palo Alto Networks
(PANW)
has strung together impressive numbers, including 54% revenue growth in the recent quarter.
To that end, absent a meaningful change in Fortinet's strategy to uncover ways to produce above-average growth and margins, I don't see any catalysts -- beyond an acquisition -- that will push this stock higher. Not to mention, the stock is already expensive with a P/E that is 4.5 times higher than Cisco and 3 times higher than CheckPoint.
So, while I've always appreciated Fortinet's strategy of acquiring higher-margin business, management must now re-evaluate the effectiveness of that approach on the basis of these new entrants, like Palo Alto, for which profit is not yet a priority. They want market share. Couple this with Cisco's recent buy of fast-growing Sourcefire and it looks as if Fortinet -- as dominant as its products may be -- may remain a laggard for the foreseeable future.
At the time of publication, the author held no position in any of the stocks mentioned
.
Follow @saintssense
This article was written by an independent contributor, separate from TheStreet's regular news coverage.
Richard Saintvilus is a co-founder of
where he serves as CEO and editor-in-chief. After 20 years in the IT industry, including 5 years as a high school computer teacher, Saintvilus decided his second act would be as a stock analyst - bringing logic from an investor's point of view. His goal is to remove the complicated aspect of investing and present it to readers in a way that makes sense.
His background in engineering has provided him with strong analytical skills. That, along with 15 years of trading and investing, has given him the tools needed to assess equities and appraise value. Richard is a Warren Buffett disciple who bases investment decisions on the quality of a company's management, growth aspects, return on equity, and price-to-earnings ratio.
His work has been featured on CNBC, Yahoo! Finance, MSN Money, Forbes, Motley Fool and numerous other outlets.
Follow @saintssense