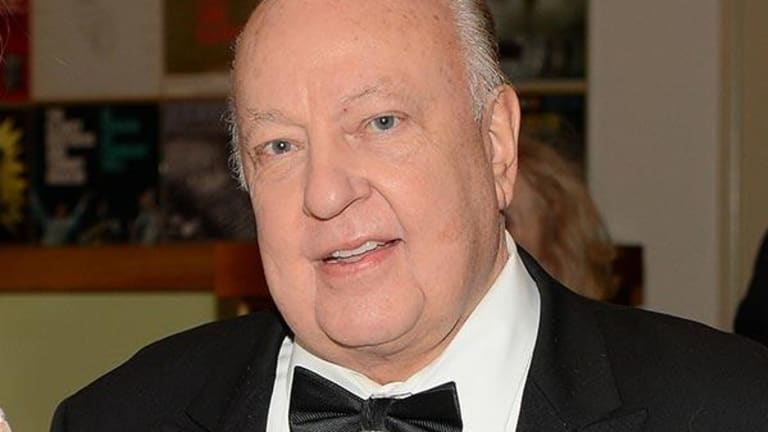 Roger Ailes, Former Fox News Chief and Conservative Kingpin, Dies at 77
The co-founder of Fox News built the network into a conservative empire and then was ousted following allegations of sexual harassment.
Updated from 9:18 a.m. with additional information. 
Former Fox News chairman and CEO Roger Ailes, who founded and built the network into a powerful arbiter for conservative politics before being ousted amid numerous allegations of sexual harassment, died Thursday, his wife said. He was 77. 
"I am profoundly sad and heartbroken to report that my husband, Roger Ailes, passed away this morning," Ailes' wife, Elizabeth, said in a statement to Matt Drudge, who was first to report the news. "Roger was a loving husband to me, to his son Zachary, and a loyal friend to many."
A media consultant for former Presidents Richard Nixon, Ronald Reagan and George H.W. Bush, Ailes rose through the ranks of television networks and conservative politics before joining with 21st Century Fox's (FOX) - Get Fox Corporation Class B Report Rupert Murdoch to create and launch Fox News in 1996. The idea of the network was born with the goal of giving conservatives an alternative to Time Warner's (TWX) CNN, which had become as important to news gathering as any of the four major broadcast networks.   
With an imperial management style, Ailes led Fox News as it recast the Republican Party and by extension, much of U.S. politics. The network also became a cash cow for the Murdochs' media empire, an integral part of the cable-TV business. 
"Ailes was arguably one of the most consequential figures in the last 30 years in American politics," said Nicco Mele, director of Harvard University's Shorenstein Center on Media, Politics and Public Policy. "He helped to shape the very essence of who the Republican Party is today. There's no doubt that Donald Trump owes a lot to Roger Ailes' vision of conservative media." 
Yet Ailes tenure at Fox News will forever be marred by the many women who worked at the network who came forward to allege instances of sexual harassment. When former Fox News anchor Gretchen Carlson filed a lawsuit filed in New Jersey last summer, her explosive charges leveled reverberated well beyond the network's newsroom, for a short time eclipsing the presidential race which was heading toward its respective conventions.
Fox announced Ailes' dismissal from the company on July 21 just hours before Trump accepted the Republican Party's presidential nomination, adjust two weeks after Carlson filed her lawsuit. 
Ailes, though, would deny Carlson's allegations, and similar charges by other former Fox News employees, that he made their jobs contingent on sexual relations. Fox settled the Carlson lawsuit for $20 million. After his ouster, Ailes continued to advise Trump, as he had earlier in the campaign, through the Republican's victory in November.
In retrospect, it's clear that Trump had taken a page out of the Fox News playbook, demonizing traditional media outlets and institutions while embracing the network's sensibilities even if it meant insulting segments of society.
"It is not an overstatement that without Roger Ailes, there is no Donald Trump," political journalist Chris Cillizza tweeted in the wake of the news of Ailes' passing. 
For Ailes, Fox News was a labor of love, and the crowning achievement of a lifelong push to get the Republican Party to embrace television on its own terms. Having co-founded the network in 1996 with Executive Chairman Rupert Murdoch, Ailes built a powerful medium that consistently won the ratings war while providing Fox more than $1 billion in annual profit.
Indeed, Ailes shaped the network to fit his own personality: brash, provocative, opinionated. As U.S. politics become more divisive in the 1990s, the network fueled that divide, engender as many fans as it did critics. Ailes tossed aside pretensions of impartiality, long the mantra of U.S. journalism.
As if to stick a finger in the eyes of The New York Times, famous for its motto, "All the News that Fit to Print," Fox News embraced the moniker "Fair and Balanced" and later "We Report, You Decide" despite criticism that the network was a mouthpiece for the Republican Party.
But Fox News' ratings were indisputable, affording Ailes outsized power to boost a candidacy or destroy him or her. It embraced and celebrated the Tea Party movement, helping to fuel candidacies such as Dave Brat, who upset Virginia congressman and Republican House Majority Leader Eric Cantor in 2014. 
"In U.S. politics, in the media landscape, in how we think about news, in the rise of 'fake news' and cable news, we underestimate the extent to which this is a world that Ailes really shaped," Mele added.
Yet Ailes' passing comes at a tumultuous time for Fox News. Not only was Ailes forced out of the company in July, but star anchor Bill O'Reilly dismissed dismissed in April following similar allegations of sexual harassment and boorish behavior toward women.
Like Ailes, Fox News paid millions of dollars to women to avoid litigation over sexual harassment. Fox earlier this month said that $45 million had been paid to settle employee sexual harassment charges.  
Adding to the recent tumult, longtime Fox News executive Bill Shine, an Ailes protege who had taken on the programming duties after his departure, was pushed out of the company on May 1 as James Murdoch sought to demonstrate to the company's employees that Fox was serious about changing the network's workplace culture.
Shine is also the subject of sexual harassment charges leveled at the network by former employees, one of a series of pending lawsuits against Ailes and Fox News. 
After Ailes' departure, O'Reilly and anchor Sean Hannity closed ranks, arguing that the network had bent to the wishes of its longtime liberal opponents. Internally, Megyn Kelly, a rising star at the network, reportedly was criticized for telling Fox executives that she too had been sexually harassed by Ailes. In January, Kelly left the network for NBC News.
Even as O'Reilly left the network and was replaced by Tucker Carlson, the network has continued to win its ratings battle against Time Warner's (TWX) CNN and Comcast's (CMCSA) - Get Comcast Corporation Class A Report MSNBC. April was no different, with Fox attracting an average prime-time audience of  2.4 million viewers, compared with 1.56 million for MSNBC and 998,000 for CNN.
Yet Fox, like the Republican Party, is at a demographic crossroads. While Fox News routinely beats CNN for total viewers, the median age of Fox News' primetime audience is 68 compared to 59 at CNN, according ti Nielsen. And even as Fox often wins the 25-to-54 demographic that advertisers most covet, CNN's wins have increased since Trump was elected president in November.
Nonetheless, Fox News makes most of its money not through advertising but through fees paid by cable-TV providers. As more consumers opt for skinny bundles, cutting-the-cord on traditional pay-TV offerings, the Murdoch's will be harder pressed to ensure that Fox News can retain its wide distribution. And the fees that go along with it.