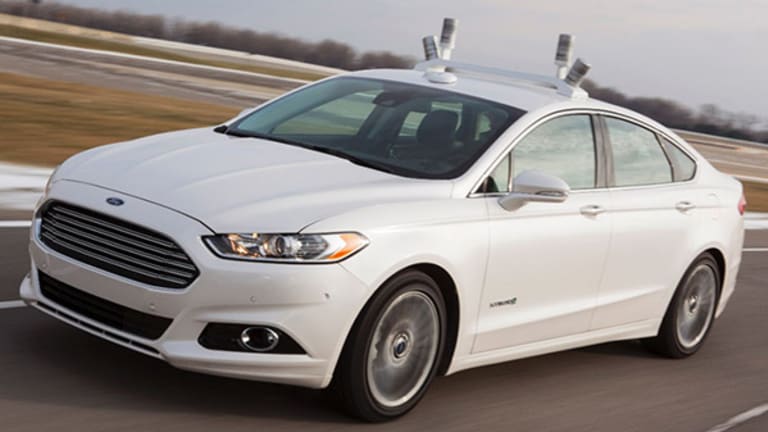 Publish date:
Forget Tesla: Here Is the Best Connected-Car Technology Stock to Buy Right Now
Electric vehicles are the future, but Qualcomm is profiting from web-enabled ones today.
Electric vehicles are the future, but Qualcomm is profiting from web-enabled ones today.
The new Model 3 electric car from Tesla Motors has grabbed the auto world's attention, mainly for its shocking (in a good way) sticker price of $35,000 before government incentives, the cheapest car Elon Musk's company has ever made.
That means you will be able to drive off in a new Tesla for less than the upcoming General Motors Bolt, which will list around $37,500 before incentives.
But no matter who wins the electric-vehicle race, there is one trend that is certain to skyrocket in the next few years, covering electric and gasoline-powered cars alike. That would be the connected car or vehicles that dial in to the web for everything from music streaming to downloading software patches that head off technical problems before they leave drivers stranded.
And technology stocks, not car companies, are the best way to play this trend.
According to BI Intelligence, 75% of the forecast 92 million cars shipped globally in 2020 will be connected.
BI Intelligence sees the market growing at a compound annual rate of 45% over the next five years, which is 10 times the growth of car sales as a whole.
Qualcomm  (QCOM) - Get QUALCOMM Incorporated Report is one tech company that is putting itself in the pole position as connected-car technology takes off. Its main business is supplying chips for mobile devices, a market that has slowed as most people have ditched their old-school flip phones for smartphones and are hanging onto them for longer than ever.
But what most investors don't realize is that Qualcomm has been quietly moving into new markets for years, backstopped by its high research spending (21.7% of 2015 revenue) and healthy balance sheet, with $16.5 billion in cash.
The chip giant isn't the only tech stock staking out a spot in the market.
Competitor Broadcom also makes automotive chips. And in January, Nvidia unveiled the Drive PX 2 computer, which gives self-driving cars a better sense of the road around them.
But Qualcomm has a big lead, thanks to the more than 20 million vehicles worldwide already using its Snapdragon LTE modems.
In January, Qualcomm said that Audi would use its Snapdragon 602A processor to power the infotainment and driver-assist system in its 2017 models.
The company hasn't ignored the electric-vehicle market, either. Its Halo technology allows electric vehicles to recharge wirelessly, as long as they are parked in a parking spot equipped with Halo's ground-based pad.
The ultimate goal is to embed Halo in roadways, effectively giving electric vehicles limitless range.
Whether that futuristic vision comes to pass, Halo's growth is continuing. Qualcomm recently granted U.K.-based engineering firm Ricardo a license to develop, make and supply Halo-based technology to car makers.
Qualcomm reports fiscal 2016 second-quarter earnings on April 20, and analysts expect earnings of 96 cents a share, down from $1.40 a year earlier. But profits should resume their rise in the fiscal third quarter, with earnings forecast at $1.02 a share, topping 99 cents a share a year earlier.
If history is any guide, Qualcomm will surprise to the upside. In the last four quarters, it has topped the consensus forecast by an average of 9.3%.
The average 12-month stock price target from analysts who follow the company is $60, suggesting it could gain 20% from its current level of $50.50.
And while growth drivers such as connected cars, drones and virtual reality kick into high gear, investors will be well paid, thanks to the company's quarterly dividend, which yields 3.8%, miles ahead of the S&P 500's average of 2.2%.
The bottom line? No matter what happens on the electric-vehicle front, the line between the automotive and tech sectors will continue to blur, and Qualcomm is sitting in the driver's seat.
The best tech stock under $8.There is a battle raging in the fast-moving world of Silicon Valley. Just as VHS tapes snuffed out Betamax and CDs killed cassettes, the winner of a new "gold standard" for data is about to be crowned. Here is a small company that figured out a way to corner this new $10 billion market, no matter who comes out the winner. Click here to learn more.
This article is commentary by an independent contributor. At the time of publication, the author held no positions in the stocks mentioned.