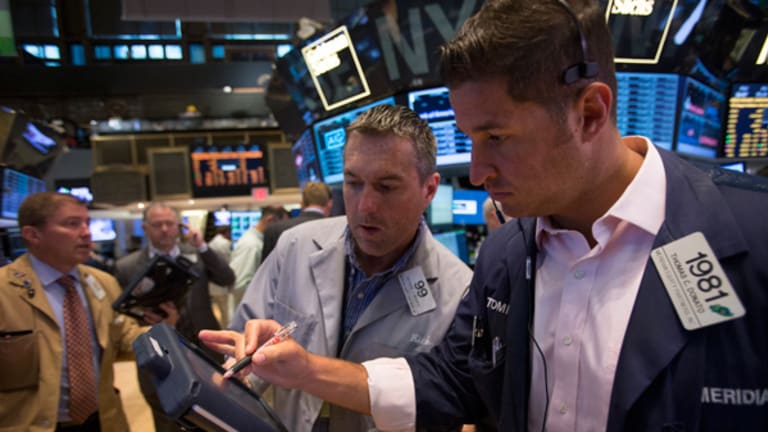 Forget Growth vs. Dividend; Buy Both
The debate over dividend stocks vs. growth stocks is as old as the market itself. Why not benefit from both types of stocks?
NEW YORK (TheStreet) -- When you're building an investment portfolio, you may feel like you're forced to choose among growth stocks, value stocks and blue-chip dividend stocks.
And many investors get tunnel vision and try to stick to only one strategy.
But the beauty of the market is that you can combine strategies.
For example, you can go for both grow
and
dividend stocks. You can weight each type of stock differently in your portfolio depending on your risk tolerance, which obviously will be influenced by your age.
Let's say our investor is 30-years-old. He could allocate, for example, two-thirds of his equity exposure into growth stocks and the other one-third into blue-chip dividend stocks. To be clear, this is only for this investor's equity funds, meaning he can have other funds in cash or fixed-income.
However, a 50-year-old investor might want to have a slightly less volatile, safer exposure to equities. Although a dividend stock may not
always
be safer than any given growth stock, it is generally assumed that dividend stocks are less volatile, and therefore, less risky.
The older investor might prefer to have two-thirds of her equity allocation in dividend stocks, while putting the other one-third in growth stocks. Allocate the positions in whatever percentage you'd like, but it's undeniable that each group has its own advantages.
The debate has raged for a long, long time. Over long periods of bull runs, growth stocks outperform. Then, when stocks take a bit of breather and chop up and down for a few years, having a low-volatility stock with a reinvested dividend pays off nicely too.
That's not to say solid dividend payers can't grow as well. Take
McDonald's
(MCD) - Get McDonald's Corporation Report
for example. The stock hasn't been overwhelming the bulls in 2013, but anyone invested in the name for the last 10 years has been quite pleased.
In 2003, the stock was trading for a measly $23 or so. Today, even as it's approaching six-month lows, the stock is trading for roughly $95, up about 313%, with a 3.25% dividend yield to boot.
But there's no denying the 900% rise in
Google
(GOOG) - Get Alphabet Inc. Report
since its 2004 IPO. Same with companies such as
Visa
or
Mastercard
(MA) - Get Mastercard Incorporated Report
, which have had incredible runs over the past few years, and have not indicated changing that trend any time soon.
I'm in my mid-20s, which is why I've stacked my portfolio with these higher-beta stocks. I want more exposure to big potential winners in the intermediate term. I don't necessarily need the safety and protection of a blue-chip stock, no matter how consistent it is. But that doesn't mean I don't want
any
exposure to them.
Growth is only growth for so long. In five to 10 years, many growth names run themselves irrelevant, or in other words are no longer growing like they once were. On the contrary, blue-chip stocks can consistently churn out moderate growth for decades, while maintaining low valuations.
In this case, I want to build a model portfolio consisting of six stocks in total. Because I am young and can afford the consequences of being wrong, I'm going to select four growth names and only two dividend payers. Here's what it looks like:
For my growth names, I have selected stocks that continue to outperform the market year after year. Sure,
Starbucks
(SBUX) - Get Starbucks Corporation Report
doesn't have the prettiest chart from 18 months ago, and a recent court ruling has dampened Visa's near-linear run. But these four names have incredibly optimistic outlooks, are the leaders in their respective fields and print money like the
Federal Reserve
. The three-year performance is undeniable.
On the contrary,
Coca-Cola
(KO) - Get Coca-Cola Company (The) Report
and McDonald's could have significant headwinds in the short and intermediate terms, especially the latter company. Declining same-store sales growth, along with increased competition and input costs continue to weigh on the stock price.
But despite the potential multiyear slump these stocks
might
have, their brand recognition, international exposure, and strong dividend make them hard to ignore. McDonald's has raised its dividend by 10% or more in each of the last 10 years, with the exception of 2008, when it
only
raised the payout by 9.33% in the midst of the financial crisis.
Coca-Cola, while not sporting as big of a yield or as big of increases, has bumped its dividend higher by 7% or more in each of the last 10 years, with the exception of 2009, when it increased it by only 4.75%.
Although the usual 8-cent annual raise is consistent, it would be nice to see the company aim for a 10% increase in its dividend, especially while only having a payout ratio of 52%. This would require a 3-cent per share increase to the current (2013) quarterly dividend, and based on 2014 EPS estimates, it would raise the payout ratio to only 54.6%, while the annual dividend would increase 10.7%.
But this is also a blessing in disguise. As a shareholder, you have the comfort of knowing the company could raise the dividend if it wanted to, while also knowing there's a very low likelihood that you will wake up one morning to news that it was cut.
Both growth and dividend strategies have their own advantages and disadvantages, but nothing bans investors from combining the best of both worlds.
-- Written by Bret Kenwell in Petoskey, Mich.
At the time of publication, the author was long shares of V, MA, MCD, KO and SBUX.
This article is commentary by an independent contributor, separate from TheStreet's regular news coverage.
Bret Kenwell currently writes, blogs and also contributes to Robert Weinstein's Weekly Options Newsletter. Focuses on short-to-intermediate-term trading opportunities that can be exposed via options. He prefers to use debit trades on momentum setups and credit trades on support/resistance setups. He also focuses on building long-term wealth by searching for consistent, quality dividend paying companies and long-term growth companies. He considers himself the surfer, not the wave, in relation to the market and himself. He has no allegiance to either the bull side or the bear side.