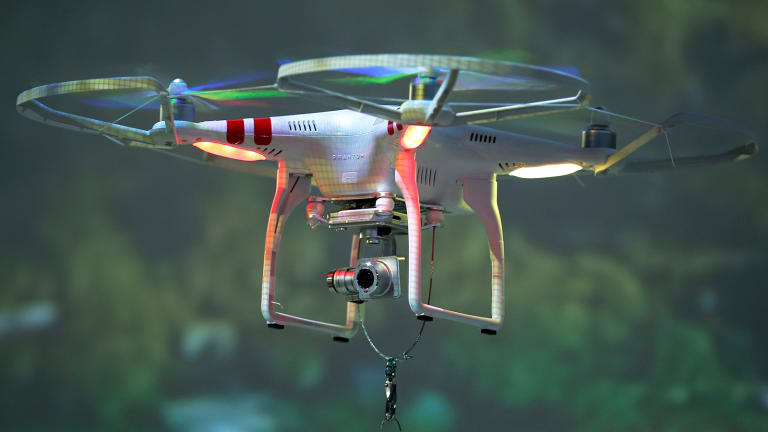 Publish date:
Forget GoPro: Here's a Better Way to Invest in Drone Technology
This company makes a critical component for unmanned aircraft. And today it's at a bargain basement price.
This company makes a critical component for unmanned aircraft. And today it's at a bargain basement price.
Editors' pick: Originally published March 7.
Whether the idea of unmanned aircraft gives you the heebie-jeebies or delights the tech geek inside you, there's no denying that drones are one of the hottest technology developments of the century so far. It's a market that's growing -- and fast.
However, with most manufacturers far from IPO, and with commercial application still waiting on approval from the Federal Aviation Administration, it can be tough to pinpoint the best way for investors to make profits. Luckily, right now there's one company on the market that provides an approach to play the growing drone industry, and at fire-sale prices.
Companies such as Amazon, Alibaba, and Alphabet (Google's parent) are at the forefront of campaigning for commercial drone application. They're already testing drone package delivery and will be ready to begin these programs as soon as the FAA bestows its blessing.
Meanwhile, across the U.S., drones are becoming everyone's favorite new toy. Since the FAA began accepting registration from U.S. drone hobbyists late last year, the agency has received more than 380,000 applications. And the Consumer Electronics Association forecasts that sales of drones in 2016 will increase 145% over last year to one million units.
The companies that make these one-million drones -- and the ones that the major retailers will use -- are receiving loads of investor interest. Last year, more than $855 million in venture capital funding was raised by drone manufacturers. But most of these companies are nowhere close to an IPO.
There's one company that dominates drone manufacturing. DJI is based in China and brought in $1 billion in revenue last year. About 75% of all drones registered in the U.S. through the FAA last year were made by DJI. And the company, which is among the most innovative in the world, just released its newest drone, the Phantom 4, last week.
DJI successfully raised more than $575 million in VC funding last year, more than enough for operations, so an IPO in the near future is unlikely.
However, there's one publicly traded company that makes a critical component to DJI's products, as well as the drones made by the other top manufacturers. Ambarella (AMBA) - Get Report manufactures high-definition video chipsets. They're in the cameras mounted on DJI drones, as well as in cameras manufactured by GoPro, which is preparing to launch its own drone vehicle later this year.
Earlier this month, Ambarella released earnings results from the fourth quarter. Although the company trounced Wall Street's expectations, management projections for the first quarter have been revised down.
Among the main reasons for pessimism are sluggish GoPro (GPRO) - Get Report sales. GoPro reported weaker-than-expected revenue for its major product, the Hero 4 Session cameras. Ambarella's management expects that revenue created through the company's relationship with GoPro should only account for a small portion of total revenue this quarter.
The company should recover, especially given its relationship with DJI. Analysts on the Street are forecasting a sales increase of 45% this year, despite headwinds caused by GoPro. (And when GoPro releases its next-generation camera, the Hero 5, its own business should bounce back.)
In addition, there is speculation of Ambarella becoming an acquisition target for its main competitor, Qualcomm (QCOM) - Get Report . The company has healthy cash flow and gross margins of more than 60%. By purchasing Ambarella, Qualcomm would also become the owner of top-of-the-line video chip technology, giving it -- and investors -- an advantage.
Ambarella's shares are currently priced at a steal, following the pessimistic guidance from management. Ambarella stock currently sits at around $40 per share, down 68% from its 52-week high of $129.19 on June 18, 2015. This is a great opportunity to scoop up shares of one of the hottest technology plays on the market. And once the major online retailers start using drones to bring packages to your doorstep, the demand for self-manned vehicles -- and Ambarella's chips -- will skyrocket. This dynamic sets the stage for Ambarella to be among the biggest growth stock winners of 2016.
Ambarella might not completely recover overnight, but expect exciting developments from this company this year.
We've found a small-cap biotech "rocket stock" that's about to take off. UCLA researchers are stunned by a Nobel Prize-winning cancer breakthrough that's proven in clinical trials to eliminate lethal forms of cancer with a single dose. One small company owns the patent to this life-saving treatment. Now trading at about $5 a share, the stock of this innovative company is projected to surge 2,700% on an imminent FDA announcement. Learn the details now, before the regulatory decision happens. To download the full report, click here.
This article is commentary by an independent contributor. At the time of publication, the author held no positions in the stocks mentioned.