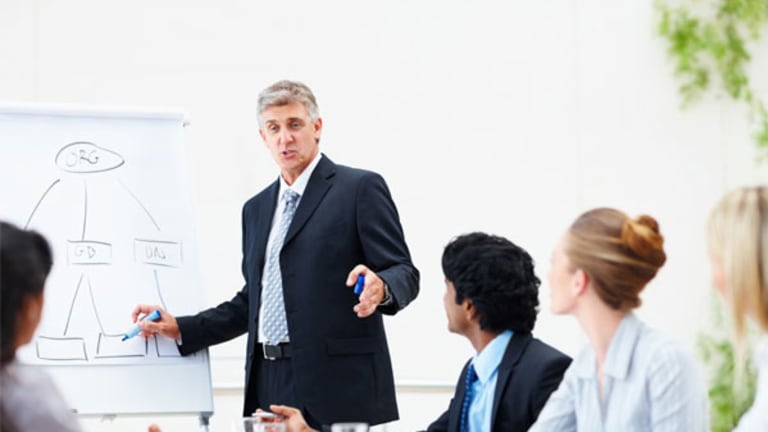 Publish date:
Forget Goldman Sachs, McKinsey Is the Real 'Vampire Squid'
Rajat Gupta's former employer creates more CEOs than any other company.
Rajat Gupta's former employer creates more CEOs than any other company.
NEW YORK (
) -- Secretive, corrupt, fingers in everything that matters? Forget
Goldman Sachs
(GS) - Get Report
: think
McKinsey & Co.
.
This private--85-year-old institution was dragged into the spotlight Wednesday after the filing of criminal charges against Rajat Gupta, its former head, for insider trading.
Former Enron CEO Jeffrey Skilling
While serving as a member of the board of Goldman Sachs, Gupta allegedly tipped off his now-infamous pal Raj Rajaratnam to the fact that
Berkshire Hathaway
was about to pour billions of dollars into the firm in 2008 at a time when markets were about as fragile as they could possibly be and investment banks were the scariest stocks of all.
Gupta isn't the first bad apple to emerge from McKinsey's ranks, or even the most infamous--at least not yet. McKinsey also taught Jeffrey Skilling how to corner California's electricity market and make profits out of thin air as President of
Enron
. Nowadays, Skilling is cooling his heels in federal prison.
Other notables from the McKinsey hall of shame include Peter Wuffli, former CEO of
UBS
(UBS) - Get Report
, whose father resigned from
Credit Suisse
(CS) - Get Report
after a banking scandal known as the Chiasso Affair. Under Wuffli's leadership, UBS's paid a $100 million fine to the U.S. Federal Reserve in 2004 for allegedly violating a U.S. trade embargo with Iran, Cuba, Yugoslavia and Libya. He and his wife founded the Elea Foundation for Ethics in Globalization in 2006, and he abruptly resigned from the top job in 2007 as the bank's shares began an extended free-fall, amassing billions in losses on risks taking during Wuffli's tenure, not to mention becoming the poster-child for Swiss banks helping clients evade U.S. taxes.
Of course many McKinsey alumnae are held in high regard. Notables include Lou Gerstner, former chairman and CEO of
IBM
(IBM) - Get Report
credited with ensuring that company's survival in the age of personal computing.
But what is impressive above all is the fact that the firm's--yes--tentacles, to borrow the famous "vampire squid" metaphor coined by
Rolling Stone
writer Matt Taibbi in an article about Goldman Sachs, are in absolutely everything.
McKinsey has spawned CEOs than any other company. In fact, according to
USA Today
, the odds of a McKinsey employee becoming CEO of a public company are 1 in 690.
Morgan Stanley
(MS) - Get Report
CEO James Gorman,
Amgen
(AMGN) - Get Report
CEO Kevin Sharer,
Boeing
(BA) - Get Report
CEO and Chairman James McNerney,
Vodaphone
(VOD) - Get Report
CEO Vittorio Colao and Marius Kloppers CEO of
BHP Billiton
(BHP) - Get Report
, are all former McKinsey consultants. Want political connections? How about former first daughter Chelsea Clinton or Louisiana Governor Bobby Jindal, both ex-McKinsey consultants.
That Gupta was passing along inside information shouldn't come as a big surprise. What do you think they do at McKinsey? What's surprising is that he got caught.
--
Written by Dan Freed in New York
.
Disclosure: TheStreet's editorial policy prohibits staff editors, reporters and analysts from holding positions in any individual stocks.