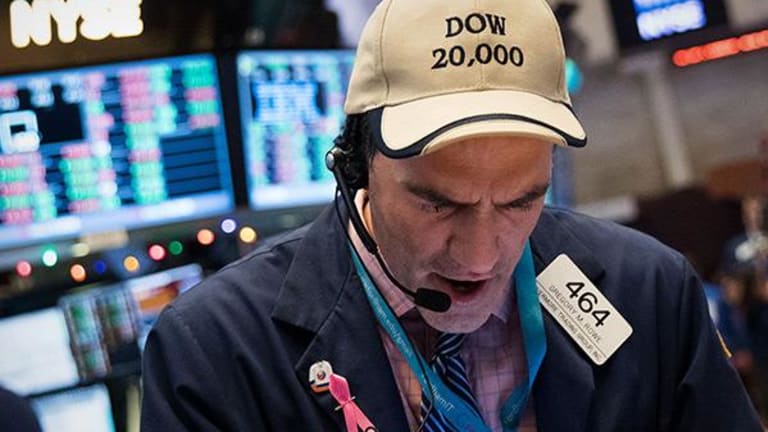 Forget Dow 20,000; Consider These 10 Hedges Instead
There's still time to protect your portfolio against the market downturn that's likely to hit during the Trump presidency.
There's still time to protect your portfolio against the market downturn that's likely to hit during the Trump presidency.
Dow 20,000? Sorry to sound like Scrooge, but cheerleading for that landmark is a waste of time and energy. The Dow hovers close to 20,000, but it won't stay at this lofty level for long. Wall Street traders wearing ball caps emblazoned with "Dow 20,000" are contrarian indicators.
Here's a lump of coal for your holiday stocking: Economists now put nearly 50-50 odds on a recession over the next four years.
The Bankrate Economic Indicator, a quarterly survey of top economists, puts the likelihood of a recession during Donald Trump's first term at 47%.
Bill Dunkelberg, chief economist for the National Federation of Independent Business, ticks off the major reasons: "Spending running out of steam, debt rising, trade balance worsens, job growth slows."
The post-election rally has tapered off in recent weeks, with the markets trading in a narrow range. Muted market behavior will likely continue during this holiday-truncated week, but don't let the tranquility fool you: Risks are mounting. Below are 10 ways to hedge your portfolio and still reap growth.
A quick summary of the investment risks ahead: The bull market is the second longest in history and stocks are overvalued. The Obama recovery is in its eighth year and recoveries historically only last about eight years. The Federal Reserve spent 2016 deferring interest rate hikes and it's now on course to accelerate them.
And then there's president-elect Donald Trump, who has shown the ability to wipe out billions of dollars in market valuation with a single tweet.
Instead of rooting for the ephemeral Dow 20,000, consider these three strategies and 10 "defensive growth" measures:
Buy gold.
High-quality, lost-cost gold miner Goldcorp is the best-of-breed gold mining stock. If you're less aggressive, consider the SPDR Gold Shares ETF, the gold standard for gold funds. Gold prices are expected to rise in 2017, as political and economic risks increase.
Buy silver.
Gold isn't the only crisis hedge among precious metals. Consider silver, which tends to be less volatile than the Midas metal because it also sports several industrial uses.
The best silver play is Silver Wheaton, a silver streaming outfit that makes an advanced payment to silver miners in return for the right to buy a designated stake of their production. Silver prices also are expected to rise next year.
Pick Trump-friendly sectors.
Aerospace/defense is almost certain to boom under the hawkish Trump, as he shovels a bonanza of federal cash into the Pentagon's coffers. Your best defense plays are aircraft manufacturing giants Lockheed Martin and Boeing. These two blue chips dominate the fighter jet market, which is on course for burgeoning multi-year demand. A safer bet is the benchmark SPDR S&P Aerospace & Defense ETF.
Another sector set to soar is construction. Trump promises a massive effort to rebuild America's shoddy infrastructure. That's good news for construction firms Fluor and Martin Marietta Materials. Both firms have their fingers in many infrastructure projects, especially roads and highways.
Financial services will thrive under Trump, as well, as his administration dismantles the regulatory oversight that Wall Street hates. Rising interest rates also will make it easier for banks to make money.
Our favorite bank is Warren Buffett's favorite bank: Wells Fargo, a money center stalwart that's the largest mortgage lender in America. For a safer alternative, consider the benchmark iShares U.S. Financial Services ETF.
Wells Fargo is a holding inJim Cramer's Action Alerts PLUS Charitable Trust Portfolio. See how Cramerrates the stock here. Want to be alerted before Cramer buys or sellsWFC?Learn more now.
---
Worried about a bear market? We've found a genius trader who makes this bold promise: "If I don't deliver 24 triple-digit winners in the next year...I'll give up $1,950." His top-tier trading service reeled off twenty-four triple-digit winners in less than a year, along with more than thirty double-digit winners thrown in for good measure. And he racks up these profits in up or down markets. Get the details here.
John Persinos is an analyst with Investing Daily. He also serves as an analyst with the aerospace/defense consulting company Teal Group. At the time of publication, he owned stock in Boeing and Wells Fargo.