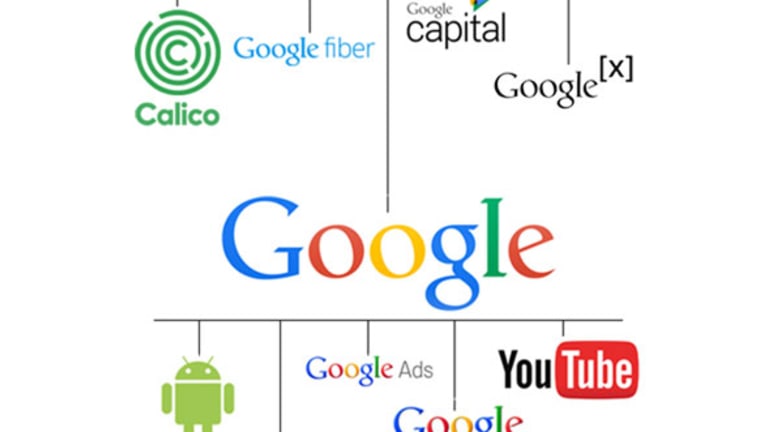 Forget Apple, Microsoft and Facebook: Alphabet Is the Big Tech Stock to Own
Here's why this reconfigured tech giant will dominate the tech sector and generate market-beating gains for years to come.
Super investor Warren Buffett once famously said: "In the short term, the market is a popularity contest; in the long term it is a weighing machine."
What the heck did the Oracle of Omaha mean by that? Simply put, Buffett doesn't necessarily wait for the market to eventually reward the merits of stocks; he chooses stocks according to their potential as companies. He emphasizes long-term ownership of a company, not just the chance for fast capital appreciation based on market dynamics.
Based on these time-tested precepts, we think Alphabet (GOOGL) should be a part of your long-term wealth building strategy. This tech behemoth is poised to overtake peers such as Apple, Facebook and Microsoft, not only in innovation but also as an investment.
Alphabet is scheduled to announce first-quarter earnings on April 21. The consensus of 43 analysts covering the company is for adjusted earnings per share of $7.96. The time to buy Alphabet is now, ahead of its next earnings report. For the reasons why, let's start with the genesis of Alphabet: the search engine Google.
Over the last 18 years, Google has become the trusted household name for search. Fewer people realize that it should actually be a household name for advertising.
Google has made most of its money from the advertising section of its business, but investors (as well as users) haven't cared much about the company's shift from search to advertising. The stock boomed, and Wall Street decided it trusted the direction of the leadership team of Larry Page, Sergey Brin and Dr. Eric Schmidt. Now, the leadership team has widened strategy again, and Google itself has been consumed by the gargantuan company named Alphabet.
Advertising may have been Google's main horse for many years, but over time, business strategy and scope started to shift. Development arms of Google explored new business in many different sectors. Alphabet, now the parent of Google, formed a holding company to split up all the individuated business thrusts and is diversified to focus on health care, glass, automotive, Internet connectivity and essentially anything that can solve a problem for a billion people or more.
This organizational shift has relieved some market confusion regarding Google's former multidirectional approach, but many retail investors have not yet grasped the understanding of Alphabet's value proposition and have yet to build a position in the stock. Here's why you should consider jumping into the Alphabet soup, for market-beating gains in 2016 and beyond.
It's important to know that Alphabet consists of two different stocks with two similar but slightly different ticker symbols (GOOGL and (GOOG) ). Essentially GOOGL (Alphabet Class A Shares) has a slightly higher price and offers investors voting rights; GOOG offers a slightly lower price and no voting rights.
Alphabet created this separation to insulate the leadership team's position from activist investors. For retail investors, the choice matters little. If you'd like to participate in company initiatives, go for GOOGL; if you just want to participate in Alphabet's growth into your retirement years, pick GOOG. We see voting shares as holding more intrinsic value over time and suggest GOOGL as our pick.
Alphabet Class A Shares are currently trading at about $775. The 52-week range for GOOGL is $529.00-$810.35. Since the end of September 2015, the stock has been on a steady growth trajectory and is again approaching its 52-week high after fending off some of February's negative macroeconomic effects. Institutions own 84% of outstanding shares, which should help insulate Alphabet from external market shocks.
In structure, Alphabet looks a bit like Warren Buffett's Berkshire Hathaway. There is one major difference, however. Berkshire Hathaway buys and runs businesses that have been around for a long time and that people understand. Alphabet owns Google, and it aims to own the majority market positions for industries that do not exist yet. An investment in Alphabet is an investment in the future macro business ventures that will solve our biggest problems.
Alphabet has a vast reach. The company now develops technologies in health care, big data, artificial intelligence, software and more. 
With a trailing 12-month price-to-earnings ratio of nearly 33, Alphabet is roughly in line with the industry's trailing P/E. The median one-year analyst price target for GOOGL is $924, which suggests the stock can gain 19% from current levels. The highest price target from analysts is $1,080, which suggests the stock can gain 39%.
One of the surest ways to make money over the long haul is to invest in companies that have a head start over rivals and own proprietary technology that's upending the status quo. Alphabet exemplifies this description.
You should also look for companies with astute management. Chasing "alpha" (the market return above benchmark) is the bet that the Alphabet leadership has made during this reorganization. If you believe, as they do, that chasing the moonshot mega problems will produce massive profits, start building a position in Alphabet today.
You see Jim Cramer on TV. Now, see where he invests his money and why Alphabet stock is a core holding of his multimillion-dollar portfolio. Want to be alerted before Jim Cramer buys or sells GOOGL? Learn more now.
Ultimate Retirement Guide: Are you making the right investment moves for your retirement, or are you blowing it by making all-too-common money mistakes? There are crucial steps that you should be taking now, to build wealth over the long haul. To find out whether you'll have enough money in your later years, download our free report: Your Ultimate Retirement Guide.
John Persinos is an editorial manager and investment analyst at Investing Daily. At the time of publication, the author held no positions in the stocks mentioned.