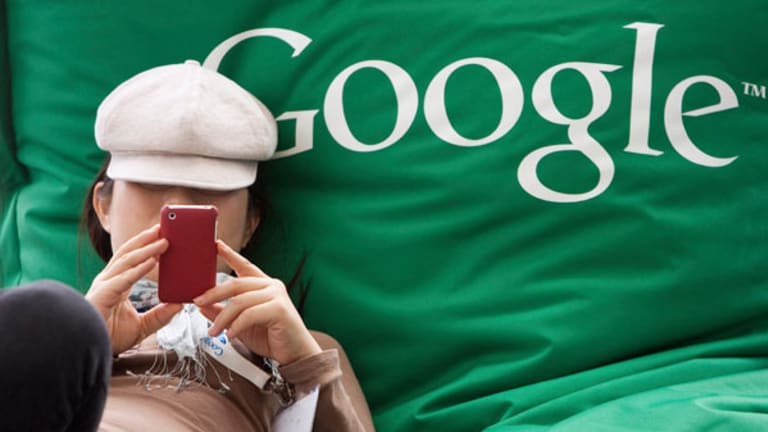 Forget Apple and Pandora, Google Can Change the Music Industry
YouTube could and probably should revolutionize the way we watch concerts.
NEW YORK (TheStreet) -- Things just fell into place for me Saturday night.
I knew Bruce Springsteen and The E Street Band were headlining the Rock In Rio festival in Brazil. In part because of the time difference, I just wasn't exactly sure when it was happening.
As I often do when Bruce and the Band are on the road, I went to the excellent
Backstreets
Web site for an update. It was 8:00 p.m. PT, which, come to find out was five minutes before Bruce's "set" (if you can call a non-stop close-to-three-hour performance a "set"). Backstreets provided a link to a Rock in Rio livestream at
Google's
(GOOG) - Get Alphabet Inc. Class C Report
YouTube
.
At that instant, I managed to control my euphoria enough to think on my feet. I fired up Google's Chrome browser, downloaded the Chromecast extension and beamed the live feed from Rio -- full-screen style -- on my (
Samsung
) television set. For about 75% of the two hours, forty-five minutes, the quality of the stream was fantastic. An in-home concert experience.
And it was free. Which is absolutely insane.
It stuns me what takes center stage and what we do or do not complain about in this society. It's so inconsistent and seemingly random.
For instance, you have what feels like the entire music industrial complex whining about royalties. Sanity only prevails when entrepreneurial artists such as
creatively use a service like
Pandora
(P)
to their advantage. Or bigger names such as Taylor Swift harness their fan bases properly turning royalties from streams and downloads into cake icing.
Then you have what feels like an entire industry complaining, yet ultimately complicit, regarding the exorbitant fees
Live Nation's
(LYV) - Get Live Nation Entertainment, Inc. Report
Ticketmaster
charges concert-goers. Sanity only prevails when a company like
Ticketfly
comes along and makes a righteous and aggressive attempt to disrupt the madness.
Instead of coming up with new ideas, it appears the music industry's agents as well as many music lovers prefer to whine and moan rather than conceive ideas to generate new forms of revenue and enhance the consumer experience.
Which brings me back to watching the Springsteen gig on YouTube.
Fan recordings of concerts, especially the good ones (from YouTubers like "The Real Concert King"), might be one of the most popular things on YouTube. I know I love them. Within hours, you can see what happened the night before at practically any show of consequence. It's a beautiful thing.
And while some bands are OK with bootlegs, it's really not right. I'm not sure about The Real Concert King, but lots of "tapers" use YouTube to tease recordings of full concerts they sell outside of YouTube.
YouTube and the music industrial complex could nip this practice by moving to a format where any act with an interest can facilitate a livestream. Charge whatever the going rate might be ($1.99, $2.99, $5.99, market price) for each show in each city on each tour. You can couple pay-per-view concerts with merchandise sales, offers to subscribe to services such as Pandora and directives to download songs from Google or wherever else.
Endless fun.
How do you combat the possibility that some people might opt to stay home, avoid the crowds, save a couple bucks and watch their favorite band from the comfort of their own living room? Or, instead of seeing multiple shows on a multi-night stand, attend just one?
Use the National Football League's convoluted blackout system. If the concert's not sold out, it's not available on YouTube. As such, YouTube could bill itself as
Your ticket to sold-out events
or whatever.
But if you're a fan like me, when your favorite tours, you'll be at all the local shows regardless. And you're likely to travel to a handful or more.
There's money in this for everybody. And,
too busy trying to pump its mobile ad business and the iTunes Store
,
Apple
(AAPL) - Get Apple Inc. Report
probably hasn't even considered getting into such a mess.
Something makes me think Google
has
thought about this. Heck, maybe they're already doing it and I have just missed it. The way I had no idea I could watch Bruce live from Rio until seconds before he took the stage.
--
Written by Rocco Pendola in Santa Monica, Calif.
Rocco Pendola is a columnist and
TheStreet's
Director of Social Media. Pendola makes frequent appearances on national television networks such as
CNN
and
CNBC
as well as
TheStreet TV
. Whenever possible, Pendola uses hockey, Springsteen or Southern California references in his work. He lives in Santa Monica.