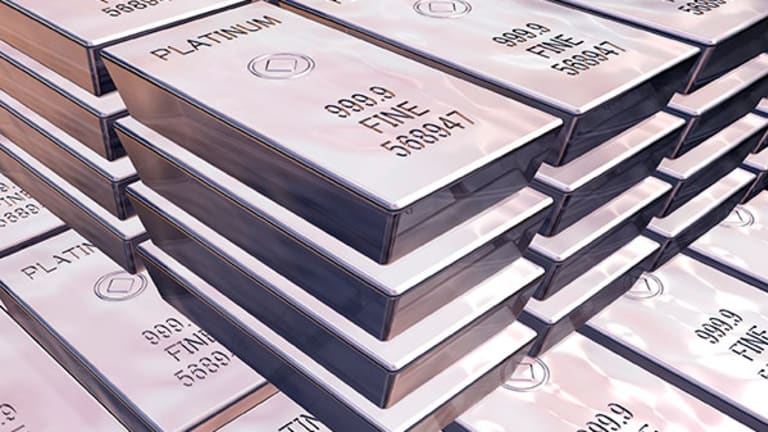 Forget About Gold -- This Is the Precious Metal to Buy Right Now
Here's a precious metal that has its prices at historic lows relative to gold. Right now could be the time to buy it.
All that glitters is not gold. Especially when another, even more precious, metal is trading at a historical discount to gold.
Many investors are familiar with the gold/silver ratio, or that recently that ratio was saying it was time to buy silver. But platinum, the "rich man's gold," has also seen its price fall relative to gold's. In fact, platinum is now cheaper than gold -- something that has only happened a few times in the past 100 years.
What this means is that platinum prices are probably going to move up over the next few months.
Platinum is the world's third-most traded metal, and there is a lot less of it than either gold or silver. It's so rare that it's been somewhat seriously suggested that asteroids be mined to find more.
Platinum is also arguably more useful than gold. It is used for everything from jewelry to LCD monitors to dental equipment. The biggest source of demand for platinum is the auto industry. It uses 40% of the global supply, mostly to make catalytic converters.
Platinum prices fell 26% in 2015. They're up 11% so far this year, but that's behind the performance of gold (up 21%) and silver (up 25%).
Platinum normally costs more per ounce than gold. For the past decade, it was on average 34% more expensive -- sometimes even double the price of gold.
But in 2015, platinum prices fell well below gold prices. The price of platinum is at its lowest levels relative to gold in 30 years, as shown below.
Right now, platinum prices are almost 30% lower than gold prices, compared with the past decade, when they've been 34% higher on average. There has been only a handful of times in the past 100 years that platinum has traded at this much of a discount to gold.
Eventually the relationship between platinum and gold prices will revert to the mean. For this to happen, gold prices need to fall and/or platinum prices have to go higher. There are a number of reasons to believe gold prices will stay high including China's interest in gold, political uncertainty, and a lot of potential new gold investors.
It's a lot more likely that platinum prices will be heading higher.
Platinum Supply and Demand
Supply and demand determine commodity prices, so it's important to understand how much platinum there is and how much is needed. Like Jim Rogers said, "Is there too much or too little?"
Platinum is quite rare, so there is a limited supply -- that's one of the reasons it's so expensive. 6.08 million ounces of platinum were mined last year, which was a 19% increase in production and a five-year high. (To put that into perspective, the amount of gold mined last year was 17 times greater.) But, it is expected that platinum production will fall 5% this year.
One reason production is slowing down is because of less supply coming from South Africa, which accounts for 70% of global production. (Russia and North America are responsible for most of the remaining 30%.)
The production decrease should be offset by platinum recycling, mainly by the jewelry and auto industries. As a result, platinum supplies will remain flat for the year.
But an increase in demand for platinum is expected. Johnson Matthey, a top catalytic converter manufacturer, issued a report forecasting that auto industry demand for platinum will increase by 2% this year. The company also predicts that other industries will increase their platinum demand by 10% in 2016.
Overall, an 861,000-ounce shortfall is expected this year -- that equals 15% of the year's production. That's 202,000 ounces more than last year's deficit of 659,000 ounces.
With more platinum demand than supply, and prices at historic lows relative to gold -- which is a pretty rare event -- expect platinum prices to increase this year and into next year.
How to Invest in Platinum
It might be easiest to use an exchange-traded fund to own platinum. The ETFS Physical Platinum Shares ETF (PPLT) - Get Aberdeen Standard Physical Platinum Shares ETF Report is a popular one that trades on the New York Stock Exchange. It is backed by physical platinum, which allows investors to track platinum prices. It also trades on the Hong Kong Exchange, code 3119. The Hong Kong version has low trading volumes, so specify your price before buying or selling.
Kim Iskyan is the founder of Truewealth Publishing, an independent investment research company based in Singapore. Click here to sign up to receive the Truewealth Asian Investment Daily in your inbox every day, for free.
This article is commentary by an independent contributor. At the time of publication, the author held no positions in the stocks mentioned.