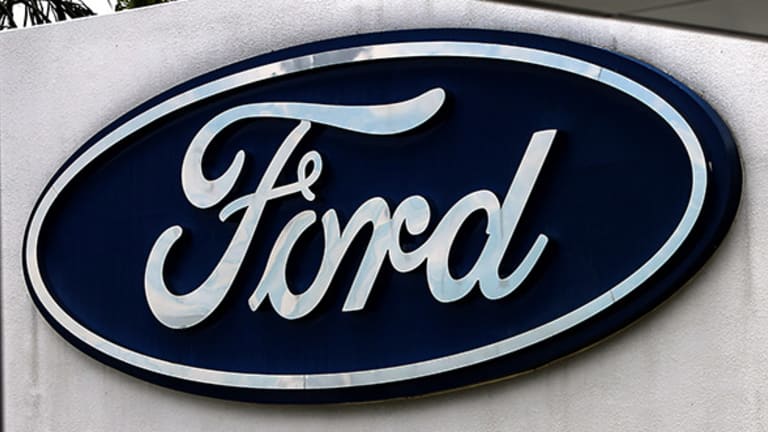 Forget About Ford's Weak Earnings Report -- Now Is the Time to Buy This Stock
A poor outlook moving forward caused Ford's stock to fall hard last week, but this may be the right time to buy.
Last Thursday, Ford Motor Company (F) - Get Ford Motor Company Reportreported quarterly earnings that disappointed in more than one way. Investors took their disappointment out on Ford stock, pushing shares lower by more than 8%.
The disappointing news countered recent trends in what has been a red-hot U.S. car industry. 
But despite the poor outlook management gave in the report, which included expectations for sluggish growth in South America, the U.S. and Asia, the company is on solid ground. The company has wisely cut production costs, and it is likely to increase margins in the near future. Coupled with the low share price, this is a good buying opportunity for investors. 
In Friday trading, the share price fell less than a percentage point. 
With the markets peaking at all-time highs, investors need to start considering what will happen when the tide goes out! They will need to protect their portfolios by owning the best-of-the-best. Find out what to own by clicking here.
For the quarter, Ford reported adjusted earnings per share of 52 cents, better than the 47 cents per share reported for the second quarter last year but much less than the 60 cents Wall Street was expecting. Revenue came in at $39.5 billion, a 6% increase when compared to the second quarter of 2015. The company experienced mixed results internationally while here at home higher incentives hurt margins.
In Europe, Ford posted pretax profits of $467 million, nearly triple the result of a year earlier, helped by an 11% increase in sales. Ford posted a pretax loss of $8 million in Asia, Ford's first loss in that region in over three years. South American losses came in at $265 million, while the Middle East-Africa market posted a loss of $65 million.
North American sales were flat when compared to last year despite the company spending $3,475 per vehicle on incentives, compared with just $2,700 last year. Pretax profits in the U.S. market dropped 5% to $2.7 billion.
Ford's CFO Bob Shanks said that the U.S. market is slowing, following an unprecedented growth streak. Management also sounded warnings about the Brexit effect, indicating that Ford will lose $200 million in sales this year due to the vote to leave the EU and $400 to $500 million a year over the next two years.
Continuing economic issues in South America will continue to hurt results in that region. Asian markets will likely continue to be affected by a weak yuan.
Shank straight told investors, "We don't see growth, at least in the near term."
Despite the "bad" news, Ford stock is among a group of investments that will beat the market this year.
First, the valuation of Ford is incredibly low. The current trailing price-to-earnings ratio is just 5.7 while the stock has a current dividend yield of 4.34%. Ford expects pretax profits to come in equal to or just slightly better than what it posted last year. So, it would appear the stock isn't trading at a low P/E to declining growth, just to a lack of growth.
To help combat that, Ford is still focusing on cost-cutting measures. In the first half of this year, the company has reduced costs by $1.6 billion. Also, the company is likely to reduce incentives, which could increase margins on each vehicle. 
Moreover, the situation for Ford may not be as bad as it suggested in its earnings. According to The Associated Press, auto analyst James Albertine from Consumer Edge Research said, "They're (Ford) trying to under-promise and over-deliver for the back half of the year."
If that truly is the case and Ford can overdeliver, buying shares at today's ridiculously low valuation could be a good decision for investors. 
Other car manufactures like Volkswagen and Toyota's are in much worse situations, as they deal with massive recalls, damaged images and an untold number of lawsuits. It's simply in a period of little growth.
Ford's low valuation, limited downside risk, solid upside return and a 4.3% dividend while you wait sounds like a great investment.
---
A blistering financial storm is about to hit our shores. When it hits, weak companies and their investors will be washed away. You need to put yourself on solid ground. And that doesn't just mean changing your investment allocations or loading up on cash.I'll show you how to protect yourself and prosper when you click here.
This article is commentary by an independent contributor. At the time of publication, the author held stock in Ford.